Greetings,


In this Issue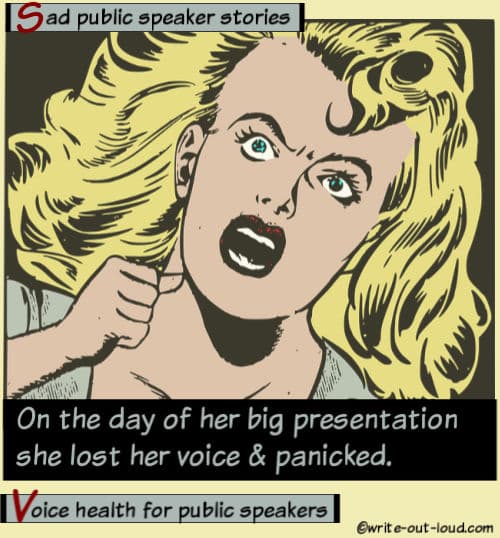 ---
Most of us don't consider voice health, until we lose it. We open our mouths to speak and 99% of the time we do so with ease. However for a large number of people 'speaking easy' is something they no longer take for-granted.
When your voice is essential
If you're a teacher, a call center worker, a coach, a radio journalist, a professional speaker, a singer, an actor, a sales-professional or involved in any other type of work relying heavily on voice, you'll know how much depends on keeping it healthy and stress-free.
You'll also know how difficult that can sometimes be.
So what you can you do to minimize the possibility of losing your voice?
Voice health tips
Here's four suggestions from my Voice Health page on my site.
1. Do warm ups
A thorough warm up routine before using your voice for any extended time rewards you twice over. Firstly you minimize the possibility of straining/stressing your voice and secondly, it helps channel any nervous tension positively.
The best warm up routine involves exercises for your body, breath and voice.
All three are covered on this page of vocal warm ups.
Allocate at least 5 -10 minutes to prepare before you are required to start work.
(If you can't manage that, and I know some of you won't be able to, at least make sure that you are breathing properly!
When I was a full time teacher having a few minutes of uninterrupted time to practice voice drills before a day's teaching would have seemed like total luxury. I understand.)
2. Don't habitually speak over background noise
If you can, move away from the source of the noise before you speak.
If you're a teacher or a trainer establish a 'hush' signal. Wait for silence, and then speak.
Incidentally, this not only saves your voice. It also gives you so much more control and authority. A much older wiser teacher taught me that when I was a bumbling novice. She saved my life!
I remember clearly how competing to win the right to be heard over kids chattering stressed my voice, and my nerves.
3. Don't force yourself to speak if you are ill
Going to work to talk all day, when you already ill (maybe from speaking too much), will compound your problems. Take the time you need to get well.
4. Professional assistance with voice health problems
I've sorted through numerous sites offering advice and have listed four. All of them offer expert advice, much of it for free.
You'll also find ongoing links to specialist services.
Please take voice health seriously, particularly if you teach.
A study cited by Voice Care UK claims that teachers are eight times more likely to suffer from voice-related health conditions than other professions.
---
Managing public speaking fear effectively
Perhaps you've tried a whole lot of things to rein in the anxiety you experience when you have to speak in public.
And maybe nothing has worked for you, yet.
I've a suggestion: self-hypnosis.
I've used it to help myself with anxiety in the past and found very beneficial.
What I am suggesting here is gentle, cost-effective, user-friendly treatment from recognized experts.
And I want to be totally upfront. If you buy a treatment package through my link, I may earn a commission.
Look and see for yourself. Click on the image below for more information.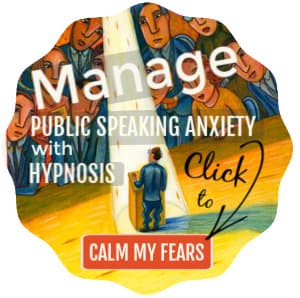 ---
Comment, share & connect
If you've got comments, feedback or questions you're most welcome to contact me through my about me page.
If you liked this issue of Speaking-Out-Loud, please feel free to send it on to any friends or family. The site url to forward so they can subscribe is Speaking-Out-Loud.
And I'd love to see you on write-out-loud.com's face book page too.
Until next time,
Happy speaking,
Susan