Greetings,


In this Issue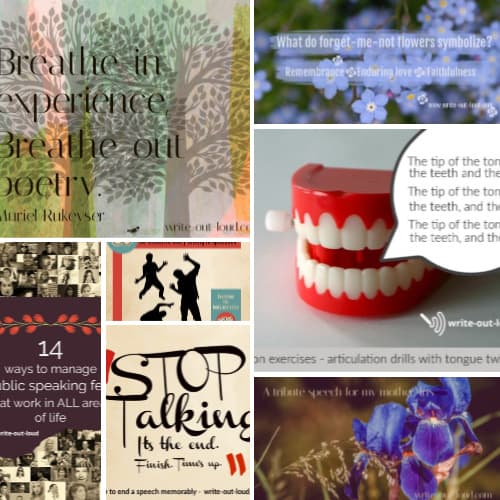 ---
7 of the best updated pages - a round up
Write a poem. Manage your anxiety. Speak clearly. Browse heartfelt eulogies. Learn how to end a speech with a bang. Tell stories with effective characterization. Read a sample tribute speech.
I've been exceedingly fortunate in these strange times of global turbulence, illness and insecurity. Firstly, I and my family are well. Secondly, we live in New Zealand. And thirdly, I've been able to use this unusually quiet time to do all sorts of website work that has been languishing on my to-do list for a long time.
Here's 7 pages that got, what we call, in my family, a 'birthday'. They were reborn through a makeover. I hope you find them useful.







---
PS.
Where ever you are I hope you and yours are well. Stay safe, stay sane and stay put. This too, will pass.
Follow on Pinterest
If you are on Pinterest please jump over and follow write-out-loud.com there!
I share all the resources you need to write and deliver successful speeches. There's tips, helpful guides for teachers, ESL learners, wedding speeches, and so much more. write-out-loud.com on Pinterest
---
Comment, share & connect
If you've got comments, feedback or questions you're most welcome to contact me through my about me page.
If you liked this issue of Speaking-Out-Loud, please feel free to pass it on to friends or family. The site url to forward so they can subscribe is Speaking-Out-Loud.
Until next time,
Happy speaking,
Susan
PS. Did you know I offer a custom speech writing service, as well as online coaching?
You'll get personal assistance tailored to meet your needs.