Greetings,


In this Issue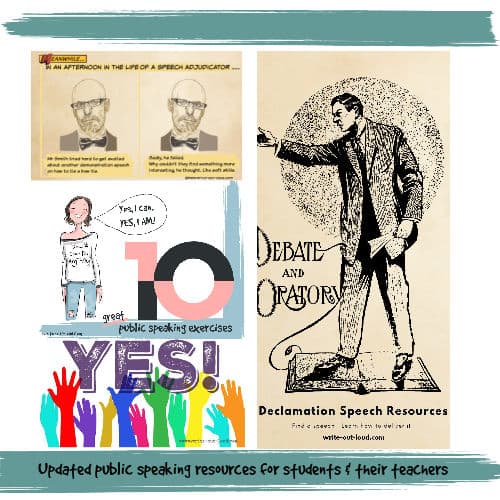 ---
6 updated resource pages - a round up
Find out how to choose a good declamation piece and deliver it well. Write a winning 'vote for me' student council speech. Improve your skills with these top 10 public speaking exercises. Dare to be different and choose a soft skills topic for your demonstration speech. Stir up some feeling with controversial speech topics. And browse a collection of example speeches.
For me, one of the benefits of this peculiar time we share where ever we are in the world, has been having space to rework many of the pages on my site.
Where needed I've revised the text, added example speeches and more resource links. I hope they're useful to you.







---
PS.
Where ever you are I hope you and yours are well. Stay safe, stay sane, wear a mask and if possible, stay put. This too, will pass.
Follow on Pinterest
If you are on Pinterest please jump over and follow write-out-loud.com there!
I share all the resources you need to write and deliver successful speeches. There's tips, helpful guides for teachers, ESL learners, wedding speeches, and so much more. write-out-loud.com on Pinterest
---
Comment, share & connect
If you've got comments, feedback or questions you're most welcome to contact me through my about me page.
If you liked this issue of Speaking-Out-Loud, please feel free to pass it on to friends or family. The site url to forward so they can subscribe is Speaking-Out-Loud.
Until next time,
Happy speaking,
Susan
PS. Did you know I offer a custom speech writing service, as well as online coaching?
You'll get personal assistance tailored to meet your needs.