Greetings,


In this Issue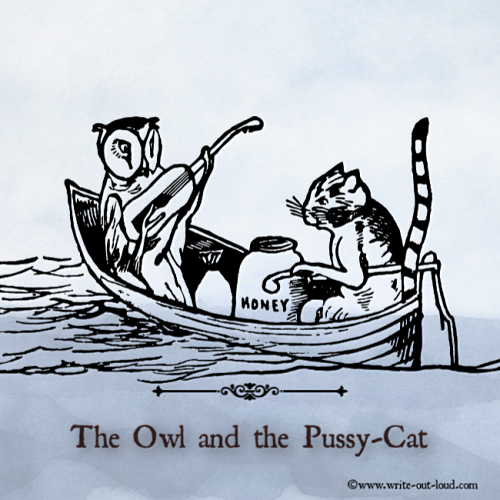 ---
How many of you learned a poem as part of your early schooling?
If you did, can you recall it now?
Can you remember the shape and taste of the words in your mouth? If you listen can you hear the beat of its rhythms? Do you remember the feelings associated with it?
Gathering speaking skills with poetry - Oh, what fun!
Here's a poem to play with, to experiment with. It's fun! Let yourself go. Romp in its rhythms, and you'll learn a lot of transferable speaking skills, with a grin on your face.
About The Owl & the Pussy-Cat
Edward Lear's delightful nonsense poem The Owl and the Pussy-Cat , along with the drawing above, was first published in a book called Nonsense Songs, Stories, Botany and Alphabets in 1871 and has been a favorite with children of all ages ever since.
The poem has been retold in story form, set to music, animated, illustrated, delivered as a chorus piece, and poked and prodded for deeper meaning. While that is elusive, it endures for its endearing, and irresistible rollicking silliness.
After 140 years its resilience is assured. This poem will not break even if you mangle, mumble and blur its words. In fact I encourage you to do your worst with it.
Ways to play with this poem
Say it loudly. Say it fast. Say it slow. Hold every second word up. Accentuate the verbs by making them as big as you can. Practice silly accents with it. Make up a "voice" for the owl and another for the pussy-cat. Say as much as you can on one breath. Exaggerate the chorus lines. Pretend to be a newsreader saying it. And then be a funeral director or a politician begging for votes. Now clap the beat as you say it. In short - have fun!
The benefits of playing with poetry
In the process you'll experience at a direct and physical level the joy, the dance, and fun-filled freedom of words in motion. You'll learn about articulation, vocal variety, pause, breath and the rhythm of language. Say the poem often enough and you'll develop useful oral skills to apply in other arenas.
Gaining competency in public speaking does not have to be earnest, serious affair!
Get the poem, listen to me say it ...
Download a printable pdf of The Owl and the Pussy-Cat
This pdf is one of 30+ support files from my ebook of public speaking games.
Listen to me read the The Owl and the Pussy-cat. This is a version I made for a child. It's deliberately quite slow and carefully enunciated.
Get the original (with illustrations) from the Gutenburg press
PS. Teach it to your child, recite it at a gathering, develop it as a chorus piece with a group of friends ...
If you need them here's some tips for reading poems aloud.
---
Almost instant speeches
The speech builder is finally live.
This is a web app which enables its user to easily "build" an effective, personalized speech in a very short time.
It's a project that's taken countless hours of development! I'm not saying it's perfect, however it works. :-)
Watch the video to find out more.
Try it for yourself. Go to the speech builder.
Your feedback is very welcome.
---
Fabulous freebie resources
Here's a wonderful compilation of freebie resources. I love that so much expertise is readily available! (Note. The first link now goes to a page saying the course has been retired. However the remainder work!) Have fun looking and remember to hand the link on to whoever needs it.
9 places to learn public speaking skills for free
And here's one more!
This time it's a handy chart of words to use instead of VERY. "Very" is very overworked! Instead of saying "very happy", use ecstatic. Instead of "very deep", try profound. Here's the link to 128 words to replace very.
---
Comment, share & connect
If you've got comments, feedback or questions you're most welcome to contact me through my about me page.
If you liked this issue of Speaking-Out-Loud, please feel free to send it on to any friends or family. The site url to forward so they can subscribe is Speaking-Out-Loud.
And I'd love to see you on write-out-loud.com's face book page too.
Until next time,
Happy speaking,
Susan