Greetings,


In this Issue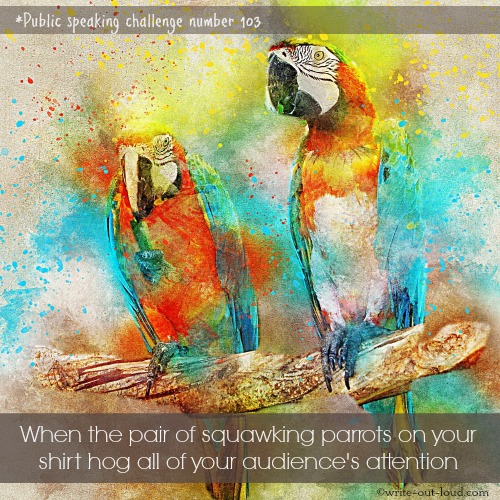 ---
How to make sure you're heard over your shirt! Or what to wear when you're delivering a speech or presentation.
The guidelines are simple.
Your task is to give a speech that is the focus of the your audience's attention and that means choosing clothes that do not detract from what you are saying.
Therefore, depending on the occasion, your speech purpose and audience, the lime green shirt with orange parrots on it you bought on holiday might not be the best choice!
So what are good clothing choices?
Be guided by the occasion.
Is it formal?
Is it informal?
Who is the audience?
What type of clothing would the audience EXPECT to see you wearing?
Ask these questions ahead of time if you don't know the answers. That may save you from the embarrassment of wearing clothes that are out of keeping with the event.
Does it fit? Is it comfortable?
Style suitability aside, choose clothes that fit well allowing you to breathe and move easily. Tight waist bands or collars can uneccessarily heighten nervous tension while a tight jacket might restrict arm movements.
Think every aspect of your selection through. For instance if you have a suit to wear:
What shirt looks good with it?
What tie?
What shoes ?
What socks?
Try all the clothes on you intend to wear and give yourself a full rehearsal of your presentation to see if they're suitable.
The bottom line is you don't want to be fussing about any aspect of your clothing at the same time as you're giving your speech. If you can't move freely, or breathe well, choose something else.
Other traps
Aside from getting the style wrong, for example turning up to speak at a formal event wearing your holiday shirt, shorts and a pair of sandals, or discovering mid-speech that your jacket hampers your gesture, there is another trap that's far too easy to fall into.
This trap is sprung when we know what we are going to wear but haven't checked ahead of time to make sure what we've selected is clean and in good order.
It's nasty to discover the shirt you intended to wear has a splodge of sauce down the front half an hour before you're due on stage! Likewise it can be devastating to discover missing buttons, dodgy zips and dangling threads.
Check. Pull everything out of your wardrobe and try it on. Clean, mend and iron if needed. Don't risk a wardrobe malfunction!
Style check
If you're unsure about the clothing you've selected ask someone whose judgement you trust for their advice.
Try ALL of the clothes you've chosen on for them so that they can see the whole picture from head to heel. Seeing ALL of you includes your face. It needs to be fully visible. If you have hair over your eyes or are wearing a hat with a large brim, you'll need change and do what is needed to be seen.
And lastly think through your jewelry - an armful of bracelets that clink and rattle with your every movement will compete with your voice. Take them off.
Dressing with care is part of good speech planning. Your clothes need to complement and support your presentation. Like it or not, you will be judged not only by what folk hear but what they see as well.
---
Here's three articles I've found interesting. I hope you do too!
Watch the Best Commencement Speeches of 2017: This is a compilation of excerpts brought to you by Time magazine. I think it's compelling viewing!
And here's a fabulous TED Talk by Julian Treasure titled "How to speak so that people want to listen" which includes a collection of useful vocal exercises.
Lastly the Toastmasters world champion of public speaking, Manoj Vasudevan, shares his top three public speaking tips.
Do you need public speaking help?
If you struggle with delivery, writing a speech or public speaking anxiety, I can help with one to one coaching sessions via Skype. They're fun and, effective. Find out more.
---
Comment, share & connect
If you've got comments, feedback or questions you're most welcome to contact me through my about me page.
If you liked this issue of Speaking-Out-Loud, please feel free to send it on to any friends or family. The site url to forward so they can subscribe is Speaking-Out-Loud.
And I'd love to see you on write-out-loud.com's face book page too.
Until next time,
Happy speaking,
Susan