Greetings,



Welcome to the December Issue of Speaking-Out-Loud write-out-loud.com's newsletter to help you effectively 'talk your walk'.

Happy holidays! Here's wishing you, as the check* says, "365 days worth of unbroken prosperity together with health and happiness".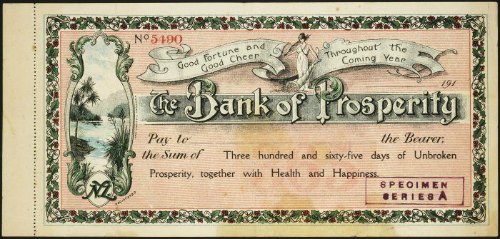 In this Issue
* A vintage novelty check circa 1910 from New Zealand printed by James Rodger & Co. Christchurch as a Christmas give-away for customers.
---
It's that time of year when many families and friends get together. Uncles and aunts arrive, cousins small and big call by, out-of-town friends drop in ... It's a time of giving, getting, sharing and yes, honing your public speaking skills. That doesn't always mean making a speech. It could be reading a story.
Some of the best and most memorable gifts, for children as well as adults, are the simple ones: a story well read.
This collection of 20 Christmas Stories contains two of my favorites: A Christmas Carol by Charles Dickens and The Gift of the Magi by American short story writer, O. Henry.
Both are wonderful and even though you may have read them to yourself or heard them multiple times, they remain fresh and vibrantly alive.
If you are not used to reading aloud here's some tips as a guide.

Read the story several times silently to yourself before attempting to read it out loud to others.
That will familiarize you with the flow of the story and the language used.
Next try some, or all of it, out loud. Use the punctuation as a guide for when to pause or stop.
Experiment with 'voices' for the characters. Scrooge is mean. Make him sound mean. Showing and telling make the story compelling listening.
Experiment with volume. Which bits need to be louder? Which passages call for a quiet voice?
How fast or slow should you go? One speed seldom fits an entire story. Where do you need to slow or speed up?
Practice, listening to yourself, and observing audience response, will help you improve
Go on. Try it. When the kids are getting jumpy from hyper-stimulation, or you simply want to feel a real sense of community turn off the television, the computer, or whatever electronic gizmo is claiming attention and read a story out loud.
---
You know you've clicked into a rich site when one hour later you're still there, absorbed. These have successfully, and very happily, kept me 'off-task' for longer than I care to admit. Just one page more, another, and another ...
Brain Pickings. It's billed as a library of cross-disciplinary interestingness and combinatorial creativity by its founder Maria Popova. What you'll find are sound tracks, art, music and wonderful posts. Superb. Set aside entire afternoons to explore.
Totally captivating Humans of New York began in the summer of 2010 as a photographic census of the city. It morphed and now shares the stories of the people in the photographs. Today Humans of New York is seen by millions all over the world. It's compelling reading.
If you find gems/pearls you'd like to share post them to our Facebook page.
---
If you've got a speech to prepare and haven't started yet, it's not too late. Panic not.
Head over to Christmas speeches and you'll find an easy-to follow, step-by-step template with an example and a selection of quotes to use.
---
If you've got comments, feedback or questions you're most welcome to contact me through my About Me page.
If you liked this issue of Speaking-Out-Loud, please feel free to send it on to any friends or family. The site url to forward so they can subscribe is Speaking-Out-Loud.
Until next time,
Happy speaking,
Susan