Greetings,



Welcome to the December Issue of Speaking-Out-Loud write-out-loud.com's newsletter to help you effectively "talk your walk".
In this Issue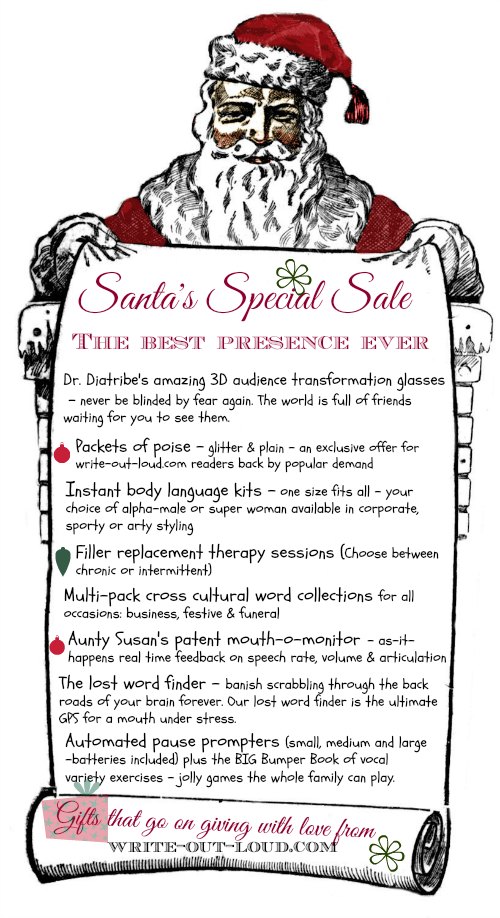 ---
If I could play the generous Santa I'd look you straight in the eye and know precisely what "speak-up", "speak-out" gift to give you. Then I'd reach into my sack of goodies and hey-presto, there it would be, gift wrapped with your name on it.
There'd be word finders for those who lose them, volume adjusters for soft and loud, poise and pause plugins, body language enhancements ... but biggest and best of all would be super-sized, eco-friendly, bespoke confidence kits. Those would never run out, cause no harm to the environment and be entirely tailored to your individual needs.
Close your eyes and open your heart. Your choice is arriving embodied in those lovely words of Goethe's:
"Whatever you can do, or dream you can do, begin it.
Boldness has genius, power, and magic in it. Begin it now."
Got it? Let's use it to share the magic of the spoken word over these holidays.
In my 2013 Christmas newsletter I included an article on the joy of reading aloud. It remains top of my giving list. That 2013 article included this link to 20 famous Christmas stories for all ages as well as a collection of how to read aloud well tips.
Now here's some more compelling links to add to those previously cited:
Happy reading! Enjoy your holidays. I'm hoping my niece and nephew are not too old for another round of Dr Seuss.
---
A round up of pages, either revamped with added information or new on the site.
Christmas maybe a time of giving but it also can be a time of stress. Use these links to help.
---
Here's a new and delightful find: The Book of Life. It's an offshoot of the School of Life, London.
You'll find a wonderfully eclectic sampling across everything: art, culture, philosophy, relationships, capitalism, work...
Go on, dip your toe in. Investigate.
---
If you've got comments, feedback or questions you're most welcome to contact me through my About Me page.
If you liked this issue of Speaking-Out-Loud, please feel free to send it on to any friends or family. The site url to forward so they can subscribe is Speaking-Out-Loud.
Until next time,
Happy speaking, happy holidays,
Susan