Greetings,


In this Issue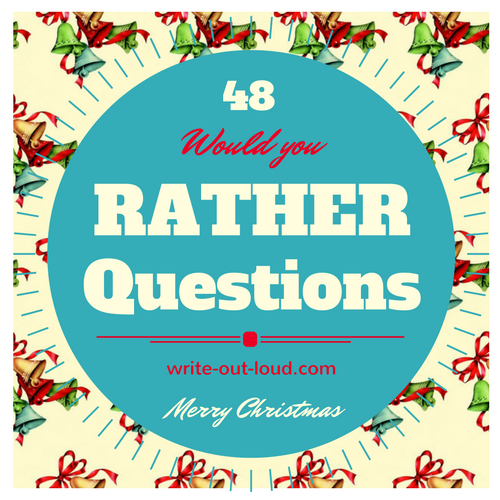 ---
Would you rather do ten kind unknown acts, or one kind act that is known by everybody?
Would you rather be kind, or attractive?
Welcome to the world of "would-you rather?" - a world of conundrums, puzzlers, quandaries and vexed questions - the perfect prompts for a round or two, or three, or more, of quick-fire speechifying.
You'll find "would-you-rather" great for:
bridging generations - everybody can play
encouraging conversations
developing imagination and whimsy
suspending reality
dispelling boredom - particularly the back seat "Are we there yet?" variety of a long journey by car
AND of course practicing impromptu speaking!
Get the questions
They're in a downloadable pdf. To get them just click on the link - Would You Rather. There are 48 questions to play with.
Instructions
Print the pdf of questions, and then cut each question out.
Put the slips of paper into a container/bag that can not be seen through.
When it is their turn to speak a player closes their eyes and picks out a slip.
Slips/questions that have been used are put to one side to stop anyone else from choosing them.
The rules
For a start keep it simple. Once the game is known add layers of complexity if you wish. However to ensure everyone gets off to a good start, and has fun, keep the rules to a minimum. Demonstrating how it's done before you begin will help the novices.
The topic selected by a player must be used by them. They can not put it back and get another.
A player must begin talking "on" the topic as soon as they have read/heard it.
Encourage talking for at least one minute but no more than two or three.
Take it up a level
Once your players are comfortable making choices and talking to support them, lift the performance expectations. Now a speaker will talk without deviation (straying from the topic), hesitation or repetition. You can find out more about this advanced version here .

While you are checking that out, take your time to look over the other speaking games on the page. Many of them will adapt easily into games the whole family can play. For example: - Definitions or Story Circles.

For even more verbal hijinx and silly speaking nonsense, that delivers major public speaking benefits in the guise of fun, check out public speaking activities - 5 fun speech exercises.
---
This is becoming more than a bit of an annual tradition!
In my 2014 and 2015 Christmas newsletters I referenced my 2013 newsletter on the joys of reading aloud. I said in 2014, and 2015, "it was still top of my giving list." It is now 2016 and nothing has changed.
Connecting through story telling or reading aloud is a timeless gift. If you click those newsletter links you'll find a treasure trove of stories to share across all age groups. Magical!
PS. The 2015 newsletter also has a give away pdf of speech topics. Last year it was song titles. You might like to collect that too, if you didn't get it twelve months ago.
---
Comment, share & connect
If you've got comments, feedback or questions you're most welcome to contact me through my about me page.
If you liked this issue of Speaking-Out-Loud, please feel free to send it on to any friends or family. The site url to forward so they can subscribe is Speaking-Out- Loud.
And I'd love to see you on write-out-loud.com's face book page too.
Until next time,
Happy speaking, happy holidays
Susan