Greetings,


In this Issue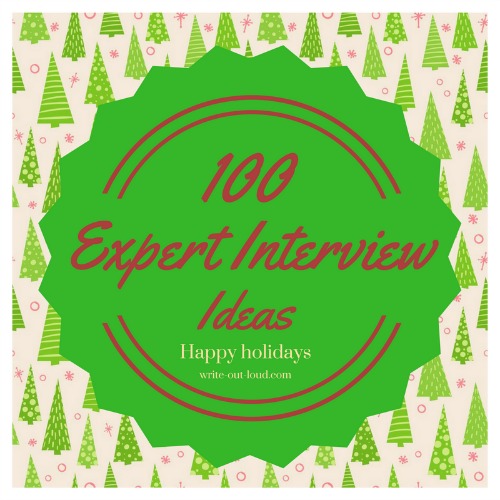 ---
This Christmas play a public speaking game giving permission to your family and friends to become the ultimate "know-it-alls".
Be amazed, startled and delighted as they reveal who they really are!
Welcome to the world of "expert interviews" - a world where everybody has the opportunity to become an instant authority, regardless of whether they have any prior knowledge of the subject they're talking about!
You'll find "expert interviews" great for:
bridging generations - everybody over the age of 12 can play
encouraging conversations
developing imagination and whimsy
suspending reality
dispelling boredom
AND of course practicing impromptu speaking!
Get the information and resources you need to play
Everything you need is in a downloadable pdf. To get it just click on the link - Expert Interviews.
You'll find:
a game overview
a list of skills necessary for good public speaking that playing the game will encourage and develop
how to play the game
the rules (which fortunately are very few!)
and 100 printable names of experts along with their areas of expertise
Give the gift of confidence
For even more verbal hijinx that develops good public speaking skills in the guise of fun, check out public speaking activities and games. You'll find links to many more games that you can easily adapt for groups of family and friends.
---
I said in my 2016 Christmas newsletter that providing links to a collection of good storytelling sites was becoming a bit of a tradition. This year, surprise, surprise, here are those links once more.
Reading aloud is still top of my giving list. Nothing has changed. It is a timeless gift and, there are always subscribers who haven't seen them before.
If you click the links to my Christmas newsletters 2014 and 2015 you'll find a treasure trove of stories to share across all age groups. Magical!
PS. The 2015 newsletter has also has a give-away pdf. That year it was song titles to use to play One Minute Speeches with. You might like to collect that too, if you didn't get it 2 years ago.
---
Comment, share & connect
If you've got comments, feedback or questions you're most welcome to contact me through my about me page.
If you liked this issue of Speaking-Out-Loud, please feel free to send it on to any friends or family. The site url to forward so they can subscribe is Speaking-Out-Loud.
And I'd love to see you on write-out-loud.com's face book page too.
Until next time,
Happy speaking, happy holidays
Susan