Greetings,



Welcome to the March Issue of Speaking-Out-Loud write-out-loud.com's newsletter to help you effectively 'talk your walk'.
In this Issue
---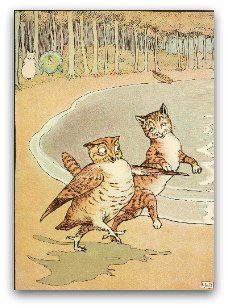 How many of you learned a poem as part of your early schooling? If you did, can you recall it now?
Can you remember the shape and taste of the words in your mouth? If you listen can you hear the beat of its rhythms?
Do you remember the feelings associated with it?
Here's a poem to play with - to experiment with. It's fun. Let yourself go - romp in its rhythms, and you'll learn a lot of transferable speaking skills, with a grin on your face.
Edward Lear's delightful nonsense poem The Owl and the Pussycat was first published in a book called Nonsense Songs, Stories, Botany and Alphabets in 1871 and has been a favorite with children of all ages ever since.
The poem has been retold in story form, set to music, animated, illustrated, delivered as a chorus piece, and poked and prodded for deeper meaning. While that is elusive, it endures for its endearing, and irresistible rollicking silliness.
After 140 years its resilience is assured. This poem will not break even if you mangle, mumble and blur its words. In fact I encourage you to do your worst with it.
Say it loudly. Say it fast. Say it slow. Hold every second word up. Accentuate the verbs by making them as big as you can. Practice silly accents with it. Make up a "voice" for the owl and another for the pussycat. Say as much as you can on one breath. Exaggerate the chorus lines. Pretend to be a newsreader saying it. And then be a funeral director or a politician begging for votes. Now clap the beat as you say it. In short - have fun!
In the process you'll experience at a direct and physical level the joy, the dance, and fun-filled freedom of words in motion. You'll learn about articulation, vocal variety, pause, breath and the rhythm of language. Say it often enough and you'll have developed skills to apply in other arenas.
Gaining competency in public speaking does not have to be earnest, serious affair!
Download a printable pdf of The Owl and the Pussycat
This pdf is one of 30+ support files from my ebook of public speaking games.
Get the original (with illustrations) from the Gutenburg press
PS. Teach it to your child, recite it at a gathering, develop it as a chorus piece with a group of friends ...
If you need them here's some tips for reading poems aloud.
---
"I'll have one of those, two of that and just a little of this one over here."
As a child the "pick and mix" confectionery counters with their sweet jewel-colored treasures packed in gleaming glass jars were shrines of wonder. My sister and I would stand in front of them enthralled, pocket money in hand, caught in an exquisite agony of choice.
Years later web sites have a similar effect. Here's a couple that have claimed my attention lately.
American English Online. This is a free comprehensive online course dedicated to achieving Standard American English pronunciation - a gift to those who find their communication blocked or limited by dialect. It is the brain-child of Natalie Baker-Shirer who teaches speech and phonetics at Carnegie Mellon University.
English DNA. This is an exciting project to fast track learning English for non-native speakers using an app mimicking how we learned our mother tongue. It's a project I've been intimately involved with from its start. If you teach ESL students or are one yourself, find out more. English DNA.
If you find sites of interest you'd like to share post them to our Facebook page.
---
These are an excellent "on-the-run resource" for busy teachers who need an activity now or want to have something in reserve for the inevitable time when they are asked to step into a class at short notice.
A set of Plain Pack Impromptu Speech Topic Cards contains 98 topics or starters, formatted for printing in a plain, non-nonsense font for easy reading, grouped around a core theme.
See more at Impromptu Speech Topic Cards.
You'll find two sets: proverbs and quotations. Both are suitable for adult public speaking groups (Toastmaster Clubs), extension ESL classes and senior students. A third set, a serendipity selection - a little of this and that, is available here.
For other impromptu speaking resources -tips and templates - please see How to banish impromptu speaking blues.
---
If you've got comments, feedback or questions you're most welcome to contact me through my About Me page.
If you liked this issue of Speaking-Out-Loud, please feel free to send it on to any friends or family. The site url to forward so they can subscribe is Speaking-Out-Loud.
Until next time,
Happy speaking,
Susan