Greetings,


In this Issue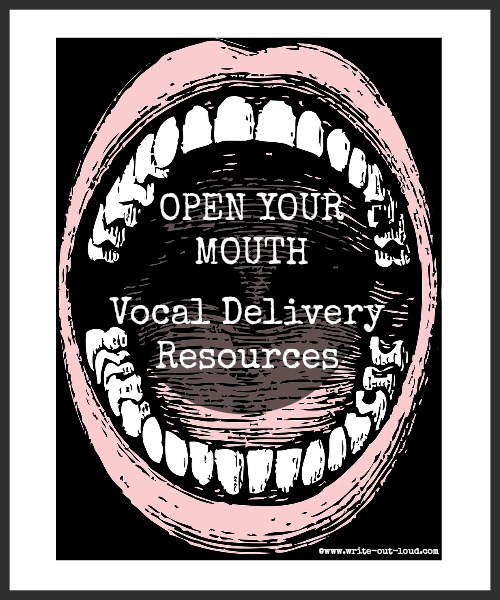 ---
Download a printable pdf - 15 pages of exercises to hone speech delivery covering body warm ups, breath and vocal variety. There's text to practice with as well as tongue twisters.
Why? Because a speech is NOT a speech until it is delivered. Voice matters! These practical tips and exercises will help ensure you are heard with enjoyment. Get ready to open your mouth!
The background story
Awhile ago I was asked to present a workshop on voice for the annual national convention of New Zealand Toastmasters. It was a privilege! I called my presentation "Voice Matters" and had great fun giving it.
"Once-over-very-lightly"
As I said in my hand-out notes, "Voice Matters" was a "once-over-very-lightly" introduction covering the basics of aligning body, breath and vocalization for good delivery.
The 45 minute session was crammed full as we raced through warm up, breathing, diction, and hilariously silly, but very effective vocal variety exercises. Predictably the time ran out long before we'd exhausted the material I'd prepared.
The give-away pdf
At the conclusion I was asked by many for spare copies of the 14 page plus hand-out I'd made as people wanted to take what they learned back to their home Toastmaster clubs for sharing. I didn't have any. Instead I collected up email addresses and promised to convert my doc files to a pdf and send it to them.
Now that pdf is available to you, because you are a Speaking Out Loud subscriber, and special! (I'm not making it publicly available through my site.) It draws heavily from material on my site covering:
You'll find it useful as a quick "print-and-go" resource either for yourself, for your club or class.
To get it, click the link Voice Matters, download and save to your computer.
If run into any problems at all during the download and save process send me an email and we'll get it sorted as soon as possible.
---
Lose the fear
For those of you who struggle with anxiety over speaking in public here's a free 7 part e-course I put together. It doesn't promise not a quick-fix. I don't believe there is such a thing but there are strategies, some better than others, to challenge long held beliefs and behaviors. Why not find out more?
Sign up and you'll receive 7 emails, 3 days apart. Each contains ideas, strategies and exercises to help get you where you want to be; standing in front of others speaking comfortably.
---
Podcasts!
On the go - in the car, on the bus, going for a walk - podcasts are perfect for where ever you are, when ever you want, public speaking info.
Here's the links to several I refer to and enjoy:
---
Comment, share & connect
If you've got comments, feedback or questions you're most welcome to contact me through my about me page.
If you liked this issue of Speaking-Out-Loud, please feel free to send it on to any friends or family. The site url to forward so they can subscribe is Speaking-Out-Loud.
And I'd love to see you on write-out-loud.com's face book page too.
Until next time,
Happy speaking,
Susan