Greetings,


In this Issue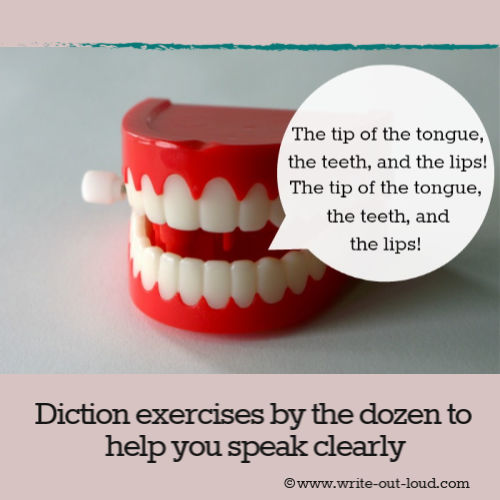 Three of the Best
This month I'm bringing you three of the most popular articles on Write-Out-Loud.
I hope you find at least one or two ideas or suggestions to help or inspire you in some way.
1. Diction Exercises
Do you get feedback that people sometimes struggle to understand what you're saying? Yes? Sometimes? Then these are for you.
Your speech content may be great and you may look fantastic but unless your audience can UNDERSTAND what you're saying, your message is lost.
These diction exercises will help you learn how to speak clearly. What's more you can listen to me saying a couple of them, including the toughest one on the page. And most important of all, they're fun!
Visit Diction Exercises to start playing.
2. 100+ Speech Topics
Do you get overwhelmed by the sheer volume of possibilities when you need to choose a speech topic?
Or maybe you teach and need to pull together topic suggestions to give your students suitable ideas to choose from?
Whether you need a topic for yourself, your students or a friend, this article will help. You'll find speech topic ideas arranged by age group, speech type and theme.
Find out why one of my most visited pages is 100+ speech topics .
3. How is Your Teaching Voice?
It's that time of year! We're heading back to school.
Do you teach?
If you do then you'll want to know why and how your voice directly influences what happens in your classroom. Students learn more easily, with less behavioral disruption, when a teacher understands and knows how to use their voice effectively.
Read How is your teaching voice to find out more.
Follow on Pinterest
If you are on Pinterest please jump over and follow write-out-loud.com there!
I share all the resources you need to write and deliver successful speeches. There's tips, helpful guides for teachers, ESL learners, wedding speeches, and so much more.
Follow write-out-loud.com on Pinterest
---
Comment, share & connect
If you've got comments, feedback or questions you're most welcome to contact me through my about me page.
If you liked this issue of Speaking-Out-Loud, please feel free to send it on to any friends or family. The site url to forward so they can subscribe is Speaking-Out-Loud.
And I'd love to see you on write-out-loud.com's face book page too.
Until next time,
Happy speaking,
Susan
PS. Did you know I offer a custom speech writing service, as well as online coaching?
You'll get personal assistance tailored to meet your needs.