Greetings,


In this Issue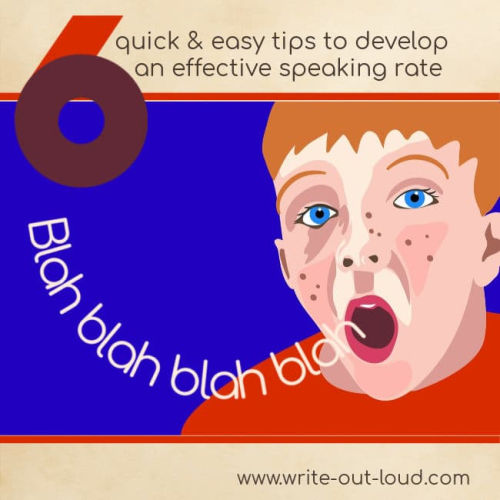 Some people open their mouths and words tumble out over each other in a rushing torrent of information.
Others speak as if each word had to be individually dragged from a hiding place, making their speech very, very slow.
Some people speak at the same speed ALL the time, regardless of what they are saying, or how they are feeling.
Others use the same pitch. And still more have a habitual tone.
Collectively how fast or slow a person speaks, how loudly or softly, how expressively or not, is called vocal variety.
We all need it! Good, flexible vocal variety ensures we'll be listened to when we speak.
Use these pages from my site to improve aspects of how you speak.
Do you habitually speak either too quickly or too slowly?
Here's a collection of useful tips and practical exercises to train yourself to speak at just the right speed for your audience and your material.
Gabble, or drag your words out, no longer.
Get a fix on speaking rate .
Pitch, tone, and volume
Low voice, high voice, monotone voice, soft or loud voice
Is your voice filled with feeling? Do you speak authoritatively? When you need to can you fill a hall without straining your voice?
Keep your listeners interested by using Vocal variety
The magic of silence
There are sayings about the impact of silence in speech. For instance: a 'pregnant pause' means an intentional silence loaded with significance.
The sayings are repeated for a very good reason. Silence in speeches is extremely powerful.
Have you harnessed the power of the pause?
Read effective tips for using pauses to get started.
---
Follow on Pinterest
If you are on Pinterest please jump over and follow write-out-loud.com there!
I share all the resources you need to write and deliver successful speeches. There's tips, helpful guides for teachers, ESL learners, wedding speeches, and so much more. write-out-loud.com on Pinterest
---
Comment, share & connect
If you've got comments, feedback or questions you're most welcome to contact me through my about me page.
If you liked this issue of Speaking-Out-Loud, please feel free to send it on to any friends or family. The site url to forward so they can subscribe is Speaking-Out-Loud.
And I'd love to see you on write-out-loud.com's face book page too.
Until next time,
Happy speaking,
Susan