Greetings,


In this Issue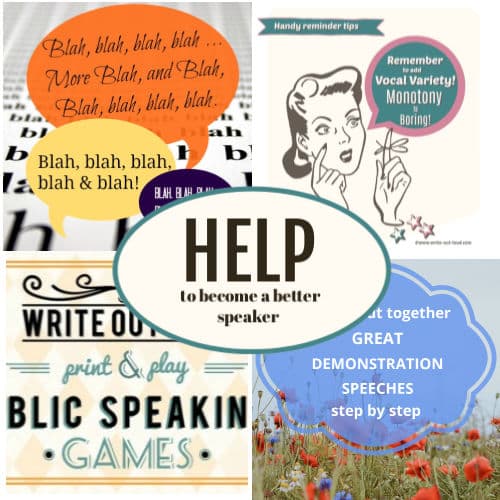 ---
4 updated resource pages to help you with the challenges of meeting online
Take what you need from: learning to replace bland words with vibrantly alive ones, exercises to give you the skills you need to use your voice well, a threesome of fun games that teach speech fluency, good articulation and develop confidence, and a step by step article on putting together a great demonstration speech.
How are you going in this rapidly changing world where we meet via 'Zoom', or the equivalent, to see family, chat to friends and work? I figure I'm not alone in finding it challenging!
It's important, as circumstances change, that we continue to do our best to communicate clearly. Voice, vocabulary, tone, articulation and structure of what we're saying, particularly if it's a workplace presentation, become even more vital online.
Online, typical communication cues are missing
It's because, in this new reality, the usual communication cues we pick up from being present in a shared physical setting are missing. We don't mutually experience: a room, an audience, the tempting smell of lunch as it's being prepared in the kitchen, feel the hardness of the chairs, the sounds of activity outside - cars on the street, children laughing...While Covid is present, most of that is gone.
Online, six senses become two
When we meet via a screen the full colorful palate of our six senses (seeing, hearing, smelling, tasting, touching, and moving) are reduced to two. We see, and we hear.
That makes what we say, and how we say it, important.
Here are a few resources to help you make the most of the current situation.




---
PS.
What I said in my last newsletter bears repeating. Where ever you are I hope you and yours are well. Stay safe, stay sane and stay put. This too, will pass.
Follow on Pinterest
If you are on Pinterest please jump over and follow write-out-loud.com there!
I share all the resources you need to write and deliver successful speeches. There's tips, helpful guides for teachers, ESL learners, wedding speeches, and so much more. write-out-loud.com on Pinterest
---
Comment, share & connect
If you've got comments, feedback or questions you're most welcome to contact me through my about me page.
If you liked this issue of Speaking-Out-Loud, please feel free to pass it on to friends or family. The site url to forward so they can subscribe is Speaking-Out-Loud.
Until next time,
Happy speaking,
Susan
PS. Did you know I offer a custom speech writing service, as well as online coaching?
Get personal assistance tailored to meet your needs.