Leonard Hellyer
Loving son, loyal brother, proud father & grandfather, uncle & friend
by Sherrie Williamson
(Vernon B.C.)
Hello everyone my name is Sherrie.
Now seriously, I want to share a few stories about Uncle Len.
So apparently when I was born they had the biggest snow fall ever in Penticton and a flat tire to boot. It took my Grandfather, my Dad and finally Uncle Len to get us to the hospital. Apparently Uncle Len saved the day! Thank you - and here I am!
Uncle Len was full of life, always smiling, a twinkle in his eye. Like all the Hellyer boys, he loved his cars and trucks and only the best would do.
There is story Gramma would tell how she caught the boys using her feminine products to polish their cars. Len was in on it too. Betcha there was hell to pay there!
Len loved his home and enjoyed entertaining. The only thing was it was so spotless - everything placed just so-so, you were scared to sit. Hence he got the nickname Mr Perfect or Prissy Pants!
Even personal looks had to be just so-so from the shirt and tie to the pants and of course the boots. Oh yes!! The boots - only the best would do.
He loved his family especially his girls, Lynette and Sandi. They he loved with all his heart. Family reunions at the lake swimming and boating, pool parties, BBqs, Christmas ... He was always very generous and a gracious host.
Len had an awesome sense of humor, as do all the Hellyer clan. He loved music, loved to dance - even his famous Barstool Stomp. So, secretly or not, I think he always wanted to be a cowboy!! Maybe an urban cowboy!
He worked hard and played hard. He gave 110% to all he did and first in, I believe, logging. Then in to suit and ties for Stedmans & Marshall Wells Stores where he excelled for many years. Then he moved on to construction with his brothers Melvin and James. Then back to City Furniture, cause you know he did have the gift!
I myself and everyone here loved and always will cherish the wonderful times we all had with Len - the laughter, the jokes, the dances, the hugs, the twinkle in his eyes.
We will all miss you. You will always be in our hearts and our minds. Thank God for the gift of memories!! Forever and ever Amen.
Oh, and please a grrreat big hug to all up above from us all here. They have you in their arms once again.
Till we meet again Cheers!!
So:
If I should go before the rest of you
Break not a flower nor inscribe a stone,
Nor when I'm gone speak in a Sunday voice
But be the usual selves that I have known.
Weep if you must,
Parting is hell,
But life goes on,
So sing as well.


Do you need someone to talk to about grieving?
Have you considered online grief counseling?
Private, one to one, anytime, anywhere, help with grief
In the interests of transparency, this information about online grief counseling and support is sponsored by BetterHelp. When a person signs up for counseling from write-out-loud.com I receive a commission for providing the link enabling the connection.*
Grieving is a zig, zag, slip, sliding journey.
Some days it can be hard to eat, to breathe, sleep, brush your hair, get out of bed, get dressed, answer your phone, have a shower or, go to work.
Finding a reason, or the energy, to do things you once regarded as so ordinary you did them without thinking, is tough. Especially when you feel alone. 
Is this you? 
Online counseling can offer the support you need.
Despite what well-meaning friends or family might tell you there are no "right" ways to grieve. And neither are there "right" stages which everyone must pass through in a "right" sequence.
When you meet with an online grief counselor you will be understood, and carefully guided towards finding a way forward.
Just fill out the online questionnaire and within minutes you will be assigned the professional grief counselor most suitable for your needs. You don't even have to use your own name if you don't want to.
You'll pay an affordable fee set according to the length of the subscription plan you choose.
Access your counselor whenever you want via chat, messaging, video or phone.
Or find out more about

how online grief counseling works

.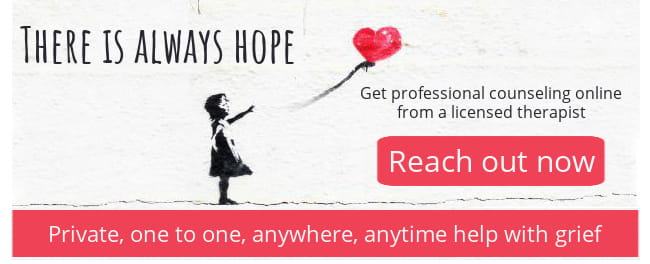 * Read independent BetterHelp customer reviews on TrustPilot.