Overcome fear of public speaking

How did you overcome fear of public speaking?
Right now there are people all over the world needing your help.
They have a speech to give and their heart is racing, their skin feels clammy, their throat is dry, they've forgotten the brilliant opening line they were going to use...
You get the picture.
How did you get from terrified to confident?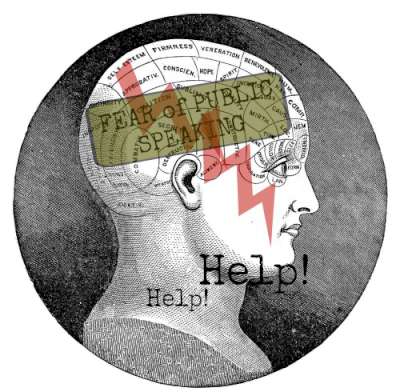 I've shared my best tips about overcoming public speaking anxiety here.
Here's the short list:
careful planning
remembering to breathe properly
rehearsals
and more...(You can read about them by clicking the link above.)
But what helped you?
Was it something someone said?
Was it a special technique?
Do share it here.
We know that when we do conquer the fear our world's open and expand.
We feel more confident, more capable, more ready to take on challenges. We move from 'No, I can't!' into the excitement of 'Yes, I can!'
It's easy to share your tip. Simply enter it in the space below. I'd love to know just what enabled you to speak easily in front of others as would the visitors to this site.
So...
How did you overcome your fear of public speaking?
Do you have a great tip for overcoming fear of public speaking?

Many of the people who come to this website are frightened out their wits by the mere thought of opening their mouths in public.

Your suggestion could help them move beyond jibbering in panic to speaking with confidence.

Why not extend a helping hand and share your tip now?
What other visitors have said
Click below to see tips for overcoming fear of public speaking from other visitors to this page...