Presentations Skills Plus:

an interview with Yolanthe Smit, presentation skills coach, The Hague, Netherlands
Not that long after completing this interview Yolanthe passed away after being knocked off her bicycle in The Hague. The board of TedxThe Hague posted this tribute to her memory in honor of the extraordinary dedication and hard work she had put in to make TedxThe Hague successful. Although the interview has been edited to remove links that no longer work, it contains gems of wisdom and her indomitable spirit shines through. Rest well Yolanthe.  
She teaches presentation skills to non-native English speakers, is multi-lingual, co-organizes TEDx events, adores opera and her cat, practices yoga, is passionate about modern technology and Toastmasters ...
Who is this fascinating woman?
Yolanthe Smit!
One of delightful bonuses of having a website is getting to meet extraordinary people living vital lives from all over the world. I met Yolanthe through a typo in my newsletter. She emailed to let me know and several more exchanges later agreed to an interview. Here it is, thanks to a left out letter.
The questions I asked her are bolded and her answers are below. I hope you enjoy it.
Of course if you're in The Hague and in need of help with, as she puts it, 'optimizing your English' you know who to contact.
---
Could you describe for us what you do?
I am a presentation skills and speech coach helping non-native speakers of English with the preparation of their speeches, talks or presentations.
Since I primarily work in The Netherlands, I address the specific challenges Dutch speakers face when they are presenting on an international platform such as TEDx.
Can you tell us about the Dutch v Anglo-Saxon presentation styles?
The public speaking culture in The Netherlands is very different from the Anglo-Saxon speakers' culture in terms of criteria, style, preparation and use of voice.
Generally there are two styles.
Formal lectures read to the audience from a script
More informal presentations where the speakers translate their Dutch into English as they go along. This results in the frequent use of filler words as the speakers struggle to find the word they want.

Typically they have not looked up the most appropriate word and can't spontaneously think of one because they are nervous.

Or they have the right one but pronounce it so its meaning is ambivalent or unclear and sometimes funny or embarrassing. For example, the English word 'focus' may sound like 'f**k us'.

These speakers like to wing it as there seems to be a taboo on sounding overly prepared, or as they think 'American'. The desire for spontaneity is often cited when discussing whether to prepare or not.

Since informality is the predominant style, the speeches unfortunately frequently fall flat when presented to an international audience.
How do you work on presentation skills?
More and more ambitious people are realizing they need to prepare thoroughly. And that is where I come in.
When I start working with a client they usually have prepared a written text. Typically it will have been translated from Dutch into English and will have hugely long sentences with many connecting words.
I ask them what their core message is, what they want the audience to come away with and then together we restructure the talk.
I help them find words and expressions that fit what they want to convey and have them use rhetorical devices to create a strong opening. That's usually a bold statement or a question.
We give it a clear opening, body and closing. I also help them to trim their ideas using the law of three main points. More ideas usually don't stick.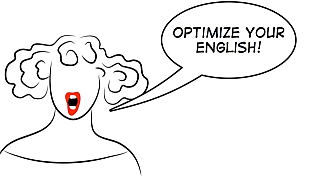 Yolanthe's call to action logo
This process is takes a couple of hours. Although sometimes I do this by myself, but I prefer to do it with the client so it is a co-creation. I also help the speakers to cut unnecessary words.
Once the text is in good shape, my client reads it so we can find the words that present pronunciation, intonation or stress problems. For the Dutch those are words with three or more syllables, and words containing -th-, short vowel sounds and end diphthongs.
What is your background? How did you get to where you are now teaching presentation skills?
Well, my background is in teaching, organizational behavior, yoga & relaxation, Apple products & internet, Toastmasters, TED and a love of language and of the power of the spoken word.
What are the 3 top challenges the majority of your clients have?
Determining the key message and structuring their talk
Bridging the gap from their translated text to a text that flows and can be presented smoothly and convincingly
Dealing with pronunciation, particularly of words with 3 syllables or more, and where to stress either a word or a sentence.
What drives you to keep on coaching presentation skills? Do you have any special loves/passions around speaking or teaching?
I love working with ambitious people who want to become better speakers. I also love the variety of subject matter that my clients bring along; from driving electric cars to creating jobs for rural women in India to dealing with deafness ...
(You can hear some of those speeches. The links to their presentations are below.)
When I'm public speaking I love to structure my talk about a topic that fascinates me, like speaking or presenting, opera, or the the stages of life we go through and what we learn from them. I love sharing my interests and insights with others.
Yolanthe, you've been involved with TED events.
What was your role?
Do you have any tips for folk who might want to set up a similar event?
Together with my friend Ralph Oei, who shares a lot of my passions, I have been organizing a monthly TEDx The Hague Salon since October 2008. Last Summer we organized a larger TEDx event around TED Global 2011 where we hosted one hundred guests, directed 50 volunteers and presented seven local speakers.
You can check it out in the video below.
And here's three of speakers I've coached to improve their presentation skills for TED events:
Maria v.d. Heijden Speaking at TEDxDelft 2011 on creating jobs for 1 million women
Job v.d. Kieft speaking at TEDxDelft 2011 on driving electric cars for freedom
For people interested in presenting a TEDx event I recommend they start familiarizing themselves with TED by watching videos on TED.com and by going to live events.
I also recommend studying all of the information about TEDx which you can find on the TED.com website.
I think it is best to start small, build a base of support and a community of TED fans. Let it develop organically from there. In April 2012 there will be a TEDxSummit in Doha for TEDx organizers from all over the world.
Do you have favorite presentation skills resources - books, websites ... that could be inspirational for others?
For helping to find the right words I use Wordnik.com. This site has been created by Erin McKean, a lexicographer who gives a fabulous talk on words: The future of the dictionary. She was the very first TED speaker I ever heard!
I read a lot of blogs on presentation skills and public speaking. I like John Zimmer's blog: Manner of Speaking, I like Nancy Duarte. And your site of course ;-)
I try to keep up with all that is written about presentation skills, speaking, and about the voice but there is so much so I am afraid I keep track in a rather haphazard way.
And of course the
articles
and
manuals
from
Toastmasters International
are also very helpful.
Anything else? The role of the internet in your business? YouTube?
The internet is indispensable because it allows me to:
communicate with others in the field
keep up to date about events
watch other speakers and opera on YouTube or Vimeo
get background information
read up on Rhetoric or Dale Carnegie's book The Art of Public Speaking
(The Art of Public Speaking link is to a free download. It's here on my site if you want it!)
I also use the internet to establish a presence and to educate people about my particular presentation skills niche: the intersection of language/translation/public speaking/voice and the act of speaking itself.
I do this numerous ways. Here's six of them.
I write posts for my blogs. One blog is specifically about Public Speaking and the other is a more general blog about my observations and insights.
I post stuff on Twitter, on FaceBook and although I like the possibilities of YouTube I know I don't fully take advantage of it.
I write my stuff using Google docs and I make informational presentation skills flyers with Pages and Keynote. I also make an individual inventory for clients of the words they find difficult to pronounce properly and highlight the stressed parts by putting them in Bold.
I make sound recordings for my clients so they can practice pronunciation, word and sentence stress by first listening to me and then repeating the words or phrases for themselves.
I also use Google Talk and Skype to work with long distance clients but that works best when you have met in person first, especially when it comes to pronunciation issues.
I love my iPhone which allows me to carry my address book, check mail and social networks and make calls with photos.
So yes, I could not do my presentations skills work without the use of modern technology. I realize I have been lucky to grow up with it from the late eighties until now.
And finally do you have any clips of yourself speaking
You can listen and watch me these.
---