Professional motivational speaker

Kevin Biggar shares his journey beyond the couch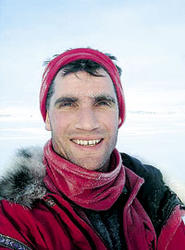 These days he's a professional motivational speaker. But not too long ago Kevin Biggar was overweight, out of work and living at home with his Mother.
That was before he decided to enter the 2003 Transatlantic Rowing Race. That's 3,000 nautical miles from The Canary Islands to Port St Charles Barbados, an event he and his partner won in record time.
So how did this self-confessed day-time telly addict manage the transformation?
What made him leap off the couch and into action?
And why was he on the couch in the first place?
All this and more is revealed in the interview below. Kevin's journey from couch potato to champion rower to walking to the South Pole to professional motivational speaker is here to inspire you.
I hope you enjoy it.
---
Hi Kevin, thanks for sharing your time with us today.
Please introduce yourself to readers who may not be familiar with you, and please use this opportunity to tell us where we can read your work and what services you have to offer.
Hi, thanks to the opportunity to talk to you and your readers.
I guess my claim to fame is that a few years ago I left my corporate job as a management consultant to live a life of adventure. So far I have rowed across the Atlantic, and walked to the South Pole.
You can find out more about more about me, my adventures and my work as a professional motivational speaker on my web site kevinbiggar.co.nz
You appear to be the epitome  of the modern day thinking action man.
What first inspired you to set out to do the things you have and then to go on to become a motivational speaker?
I think when you are a guy you don't age in your head like you age in real life. What I mean is that you think and act and feel like you are 23, until one day you wake up and you are 33.
As well as aging 10 years overnight you suddenly develop a sense of the future - what the next 10 years is going to be like - and the answer is 'probably more of the same.' That's kind of what happened to me, I suddenly realized that I was mortal, and that I didn't have forever to fit in to my life all those things I wanted to do when I was younger.
You say on your website kevinbiggar.co.nz you'll talk to people about how to take on large challenges, improve teamwork, mental toughness and about how to get the most out of yourself and your team.
Where and how did you learn those skills?
What I talk about in my speaking is the lessons that I learned from trying to take on these kind of unconventional challenges. In many ways rowing across an ocean is actually a pretty good metaphor for most of the most worthwhile challenges that we take on in life. It seems scary, uncertain and enormous. And some of the same techniques that I used to manage risk and take on the doubts can be used to face the day to day challenges of life and work.
Your book 'The Oarsome Adventures of a Fat Boy Rower', sub titled 'How I went from couch potato to Atlantic Race Winner' is a story of transformation. You state that 'if I can do it then you can too'.
Do you really believe that?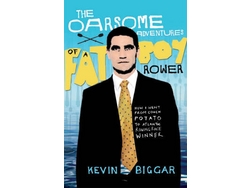 I really started from a lousy place when I first decided to take on the transatlantic challenge. I was overweight, out of work, living at home with my mum and driving my sister's car. If I can go on to win the transatlantic race and world record time from there - without having rowed before - then I think that most people have what is in them to change their situation.
That doesn't mean of course, that every challenge you take on you're going to be a success at, but learning how to deal and handle failure is part of success too.
Many of the people you talk to belong to the corporate high achieving world you left in order to do what you've done.
What is a typical response you get from those audiences?
Cool! Can I come on the next one?
How did you approach setting yourself up as a professional motivational speaker?
I was approached by a couple of speaking bureaus when I arrived back from the transatlantic race, and started doing some speeches. But it wasn't exactly foreign to me because I had done a lot of speaking with Toastmasters, and had entered several competitions. This was unbelievably helpful and I would certainly recommend doing something similar to people starting out. There is nothing like that feeling about being up and performing in front of an audience. It takes getting used to and you need a lot of practice to hone your material as well.
What special responsibilities do you think a professional motivational speaker has and how do you meet them?
Well, I think that as a professional motivational speaker you have a responsibility to provide value well above what you are charging.
Could you outline the process you go through to prepare a motivational speech?
It's all about talking to the client and finding out exactly what they want. It is very important to see how your speech fits into the goals that they have, and the themes of the day (as often you will find yourself talking as part of a wider event). For me I like to get crystal clear not only about the exact messages that they want me to tell the troops, but also which ones are to be rammed home the hardest.
The basic skeleton of my speech is the events leading up to and in the rowing race and the trek to the pole, but there are many different areas along the way which can be emphasized or de-emphasized depending on whether or not people want to hear about goal-setting, risk management, teamwork or conflict resolution.
What advice, resources or references can you offer others who want to either become a professional motivational speaker or have adventures?
Wow! That's a big question. For undertaking an adventure the best resource you can have is a mindset of "if other people can do it I can do it too". Then it is just a matter of finding out what you want to do and speaking to people who have done it before to get their advice. I would be very happy to talk to anyone who wants to take part in the transatlantic rowing race or walk to the south pole.
For speaking, start by going to your local Toastmasters club, they are worldwide. If you think you are ready for the professional motivational speaker market and then the bureau I use is Celebrity Speakers and they are great to work with.
Do you think it's necessary for a person to have done 'big' things, like a rowing race across the Atlantic, in order to become a successful professional motivational speaker?
Not really, although of course it helps to get the booking because you have a 'hook' with the audience and a certain degree of credibility. But this doesn't have to come from doing an adventure. It can come from writing a book, having a popular blog, or in other ways that are perceived as having authority in your chosen subject area.
In any event as soon as you open your mouth people will judge you by the content of your presentation and how you are presenting it. In some ways I think perhaps it is easier to be a professional motivational speaker if you have an adventure or sports background because the audience probably cuts you a little more slack!
What will be your next big adventure?
I'm not sure! You can go to my blog to keep track of what I'm up to.
Kevin at the South Pole
If you'd like to find out more Kevin's South Pole adventure, watch the video.
Marcus Lush interviews Kevin and his partner, Jamie Fitzgerald on their achievement - the first unsupported walk to the Pole.
More about the book
And if his book 'The Oarsome Adventures of a Fat Boy Rower' captured your imagination, read more about it here.
As Kevin says -
"This is more than a book about rowing the Atlantic. It's about someone going through a quarter life crisis and coming out the other side. It's a story of transformation, if I can do it, then you can too."
---