Solo Build It and me  - a true story

As I said in my About Me page, I love words AND the internet.
But there's more to it than that.
Yes, I did think maybe I could build a website about what I knew.
And yes, when I was looking for poems to use in a eulogy for my sister I did think; 'Mmm, I could put a collection together'.
However there's bit a I missed out and that bit is critical.
I was also actively searching for a way out of live-to-work loop. I didn't want to merely build a website. I wanted give myself a freedom ticket. Like so many people, perhaps you too, I had dreams awaiting fulfillment.
Dreaming My Life Away
I am a baby boomer, one those 50 - something year old people.
And the dream I dreamed as a young woman refuses to vanish.
It kept popping up to ask when was I going to write?
Would it be this year? Maybe this afternoon?
No, I haven't got time was my usual answer. Sometimes I'd write a short story during the breaks I got from teaching but then it would be term time again. And so it went on.
Until I realised...
I was running out of years!
It sounds more dramatic than it was. But nevertheless, it shocked me into taking action.
My stock-taking card read:
Fact One: I am getting older.
Fact Two: I need to earn a regular income.
Fact Three: That voice twittering on about finding time to write is getting louder.
The search began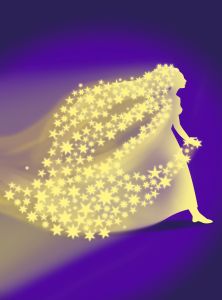 Of course what would have been ideal was a fairy godmother with a magic wand!
She needn't have supplied the full Cinderella package.
I didn't need a handsome prince. The one I found myself was still quite presentable.
I could do without the coach, the horses, the ball...
I'd be very grateful to settle for cash. It didn't have to be squillions, just a sensible amount, enough to live in a writerly sort of way. A small cottage in beautiful country side...
But alas, fairy godmothers are fewer these days. The ones still about are registered as an endangered species and guarded zealously. Free access is impossible and visiting rights difficult obtain. I'm told allowances are made for children but definitely not for adults!
Enter The Internet
As I've said the internet was a gateway to my kind of paradise. There were books to be found, poems, writers writing about their work, discussions on teaching drama and so on. However this time I was searching for income possibilities.
What I hadn't bargained on was the overwhelming deluge of get-rich-quick sites all promising deliverance. I just had to send $XXXX and my passport to happiness was guaranteed. They were tempting but common sense prevailed and life went on without a wave of a magic wand.
SBI (Again)
Months after my initial search I was cleaning up the dozens of bookmarks I'd accumulated. I re-found one for SBI and this time I read the pages carefully.
Away from the noise of the instant money sites, SBI made sense.
There were no empty cliched promises. Instead there was proof the system worked from ordinary people just like myself.
In December 2005 I took action. write-out-loud.com came into being in July 2006.
This was the start of a roller-coaster ride. There was so much to learn and so much to do. SBI is absolutely not get-rich-quick.
Fast forward a few years. Has write-out-loud.com done the trick? Am I financially free and living in my country cottage tapping out my latest book? No.
But what has happened is the gradual building of a site that now attracts 1000's of unique visitors a day. To watch the steady increase from 1 or 2 has been a joy and a miracle.
As for the income, it's developing. The site pays for itself and increasingly much, much more than that on a regular monthly basis. While it isn't a liveable income yet, it's proof to me, it can and will happen.
If you're dreaming a similar dream why not take a look?
You'll find everything you need ready and waiting for you here to build a successful e-business website.
Don't be put off by the thought that's too difficult, or that you don't know anything that people would want to know about.
SBI was made for people like you and me. There is help. I know I've used it often enough! The system is step-by-doable-step and fully laid out in the Action Guide.
Why not take a peek at that Action Guide and see for yourself?
You don't need to know about the mysteries of website building. I didn't.
You don't even have to know precisely what you want to build a site about. There's help with that too.
What you do need is the will to open your mind to possibilities and then the perseverance to follow them all the way through. There are no short cuts.
If you're pressured for time watch the 2.5 minute short-cut SBI introduction, and come back to watch the full SBI video tour later.
You can do it! And do be sure to read the SBI case studies too. They are inspiring. I read them all, some many times over, before I took the plunge.
Let's Summarize
What can SBI do for you?
How much does it cost?
$299 per year or if you prefer, $29.99 per month
And what do I get for that?
The short answer is EVERYTHING you need.
For the longer answer take a look at all the site building tools you'll have access to when you join.
And then compare those with what you'd get if you went somewhere else like for instance to Yahoo, Web Hosting Pro, Verisign Web Business Expert or Microsoft bCentral Professional.
P.S.
Do you have questions about SBI?
I'll gladly share my experience: the highs as well as the lows.
Use the contact form on my About Me page
Or you can ask a Site Build It expert.
That's right, ask a more experienced, long time, successful user about the SBI program. Tell them I sent you. This is yet another example of the wonderful customer services SBI provides.
Or maybe you're read enough to decide:
I want my SBI site now!
Great. That's an excellent decision.
Order your SBI site here.
P.P.S
Go well whatever you decide.