A Man of God who Made History
by Prof. Dr. Chandrakumar Manickam
(USA and India)
Eulogy for my father-in-law R.K.Samuel
Some people watch history, some people make history. Our beloved father and Uncle R.K. Samuel, I would say made history in and through his life and contribution to the kingdom of God.
As I travel around the world, I have always proudly testified that my father-in law is such a great man of God not only in his life and character but also in his commitment to serve the Lord. Many retired and old people were motivated and encouraged when I shared with them people that Uncle even in his eighties was still distributing tracts to people and preached in various places.
Right from the time of our marriage, he became my close friend and prayer partner and for quiet some years conducted the morning devotion for our office staff. Every time Sara and I came back to India he and Aunty were always there to receive us and he prayed a thanks giving prayer. All these 27 years I never departed from India without Uncle praying a very powerful prayer for me. Already I am feeling sad that in another two days I am leaving for Australia and he will not be there to pray for me.
Not only he was my father-in law and a prayer partner, but he was a very dear father to me and every evening we have a wonderful time of prayer and worship in our home with Uncle and Aunty. Just two days back after family prayer, he asked for a chocolate and when I gave him one, he gave me a thankful smile and that is the last I saw him alive.
Last year when he suddenly became very weak and speechless, Sara, Ruth and I took him to the hospital and I cried and prayed for God to give him one more chance to live for some more time and that he should not die in the hospital in that condition and we should victoriously take him back home. God heard our prayers and gave him one more year of life and as per our wish and the wish of all family members he died a very peaceful death without any pain or struggle.
There is nothing more certain than death, and nothing more uncertain than the time of dying. Hence, we must be prepared at all times for that which may come at anytime.
Sunset in our place is sunrise in another. Our father who has died has not passed away but has gone before us. He cannot come back to us, but we can go to him. Now he has gone to be with Rebecca and Roy, so let us prepare ourselves by living a holy life just as he lived so that we can meet him one day.
Death shortens our life on earth but sweetens our way to heaven. Where death finds you, eternity binds you.
Finally, we must live in such a way that people should miss us when we die like we all miss him so much.
God bless you all.
Do you need someone to talk to about grieving?
Have you considered online grief counseling?
Private, one to one, anytime, anywhere, help with grief
In the interests of transparency, this information about online grief counseling and support is sponsored by BetterHelp. When a person signs up for counseling from write-out-loud.com I receive a commission for providing the link enabling the connection.*
Grieving is a zig, zag, slip, sliding journey.
Some days it can be hard to eat, to breathe, sleep, brush your hair, get out of bed, get dressed, answer your phone, have a shower or, go to work.
Finding a reason, or the energy, to do things you once regarded as so ordinary you did them without thinking, is tough. Especially when you feel alone. 
Is this you? 
Online counseling can offer the support you need.
Despite what well-meaning friends or family might tell you there are no "right" ways to grieve. And neither are there "right" stages which everyone must pass through in a "right" sequence.
When you meet with an online grief counselor you will be understood, and carefully guided towards finding a way forward.
Just fill out the online questionnaire and within minutes you will be assigned the professional grief counselor most suitable for your needs. You don't even have to use your own name if you don't want to.
You'll pay an affordable fee set according to the length of the subscription plan you choose.
Access your counselor whenever you want via chat, messaging, video or phone.
Or find out more about

how online grief counseling works

.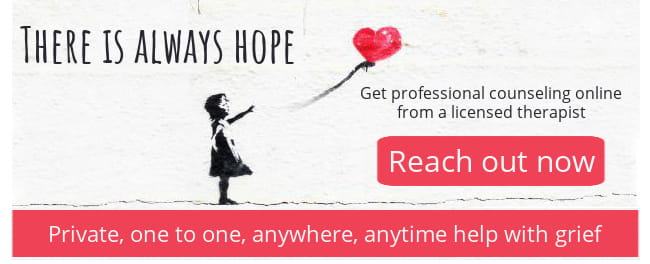 * Read independent BetterHelp customer reviews on TrustPilot.