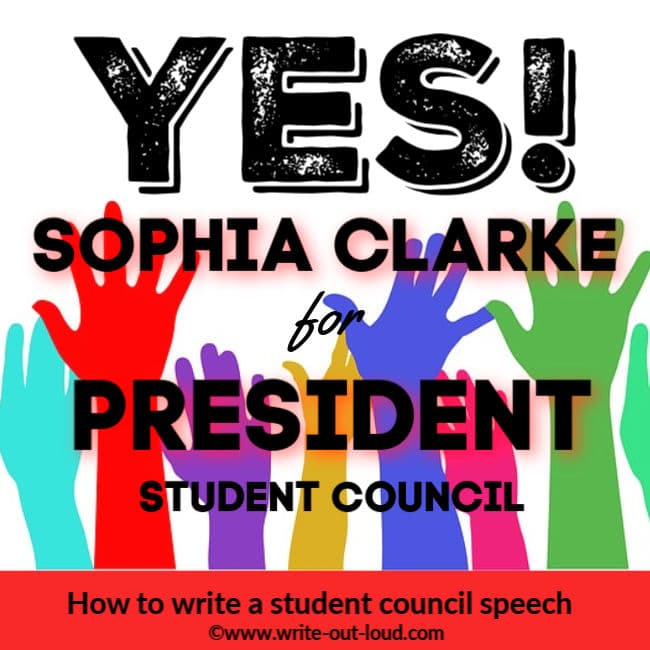 "I've got a question for you. I'm not asking you to shout your answer out, or raise your hand. All I'm asking is that you give it room in your mind. Let it sit for a bit, and have a think about it.
My question is – do you believe like I do, that all of us deserve the opportunity to make the best of ourselves? Not second best, 3rd, or even, highly commended. The BEST.
I'm Sophia Clarke. I'm in the 12th grade, and I'm running for president. My vision is that each student is enabled to develop the skills and confidence to become the bigger, better version of themselves. The best they can be.  Regardless of who they are, and what they need to achieve that.
It's an audacious goal. Some would say an idealistic, rather than a realistic, one.
However I say it's awesome. And that you're intelligent people who realize that reaching any goal starts with taking the first step.
So let me remind you why choosing me, Sophia Clarke, for president, is also choosing a better chance for yourself, and everyone else to grow.
I know you, and I know your needs well. I've served on your behalf in multiple roles through my years here; secretary, auditor, public relations officer, and have successfully taken on multiple issues. You'll know some of those through directly benefiting from them.
It was me who was behind the push to get a regular anti-bullying program running throughout the school. That was two years ago, and now the Teens Against Bullying message underpins what we expect and strive for in our every day dealings with each other.
We know incidents of bullying are far fewer as a result. As our orange tee shirts say we 'choose kindness, acceptance and inclusion' for each other, and our selves.
Who has been involved in our mentoring-homework program? Either as a buddy-tutor or as a student getting a helping hand? And who, like me, is passionate about making sure that everybody gets a fair go?
In the past year, under my watch that program has escalated. We have over 50% more tutors across more subject areas and more students taking up the offer of help. That is a fabulous outcome for everybody. Truly win-win.
A tick in the box alongside my name is a tick for the continued growth of those programs. Their value is proven. They allow each of us to grow and experience the strength and confidence that comes from knowing that we can make a positive difference in other people's lives as well as our own.
When you vote me for President you get my capacity to organize, to liaise, to listen and to speak, working for the benefit of everybody.
A 'yes' for me is a 'yes' for appreciating and celebrating diversity.
A 'yes' for me, Sophia Clarke for President, is 'yes' to a better you.
And together that is a 'yes' to a better life, and a better school, for all of us."