70+ eulogy examples
 Eulogy examples to help you write a eulogy

Funeral speech examples from around the world

By: Susan Dugdale | Last modified: 05-04-2023

How do you begin to write a eulogy?
And how is it possible to say everything you want to about a person in a few, very brief, minutes?
Both those questions are natural responses to having a eulogy to write.
Grief, together with the desire to honor your loved-one the best way you can, and the pressure of a tight timeframe, can make it feel like an almost insurmountable challenge. 
That's why reading what others have written in similar circumstances helps a great deal.
What's on this page:
Access to 70+ eulogy examples, the whys and wherefores of the collection; its background, a submission form to use if you want to contribute a eulogy and links to other useful pages on my site.
Quick links
About these eulogy examples
I am fortunate to be able to make available to you a large, and growing, collection of funeral speech examples. 
They've been written by people from all over the world who are just like you and me. They too have family and friends whom they care for deeply.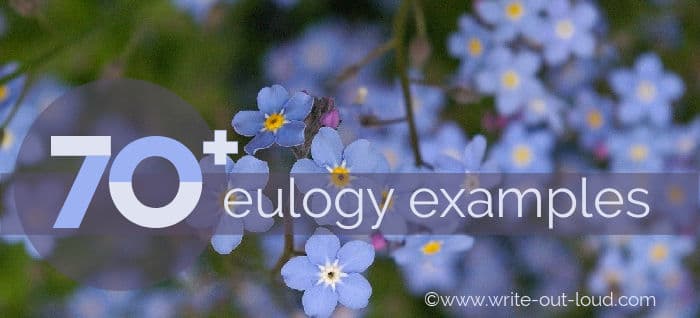 Look and you'll find examples of eulogies for mothers, fathers, grandparents, brothers, sisters, aunts, uncles, cousins, friends, mentors, colleagues..., in short: loved ones.
They have been shared by those who wrote them to help people like yourself. Because they've been where you are now with a funeral speech to prepare, and they know how it feels to be searching for inspiration, trying to find a starting place.
Some of the speeches are short. Some of them are funny. All of them are heartfelt, and they appear in the order I received them.
To see them, jump to eulogy samples. 
 Help to find specific eulogy examples easily
If you're looking for specific eulogy examples, and don't want to browse through the chronologically ordered list below use the links to go straight to a collection of:
I've grouped all the speeches I've received through this page according to their type on a new page here: sample eulogies. Whenever a eulogy is submitted, I add its link to the category it belongs to.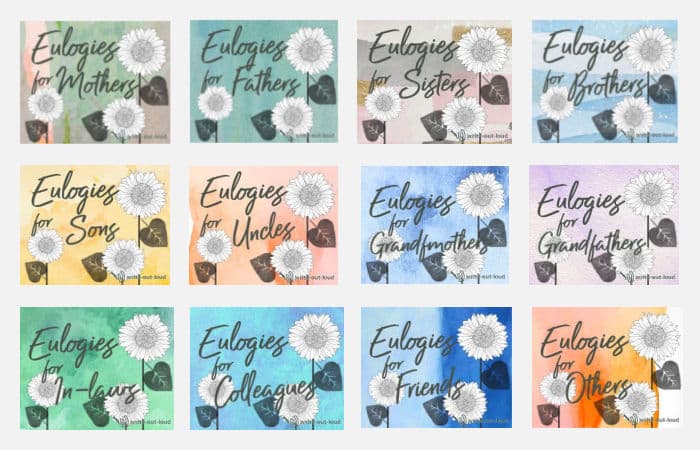 The story behind this collection of eulogies
It began with two funeral speeches I had written. Almost as soon as I put them online, they attracted an enormous number of visitors.
It was then I realized the need for more.  
I also knew my eulogy examples would not answer everybody's needs. The one for my sister was different in approach. The one for my friend and next-door neighbor was not what a grieving person with a funeral speech to write for a close family member really wanted to see. 
My two were definitely not enough!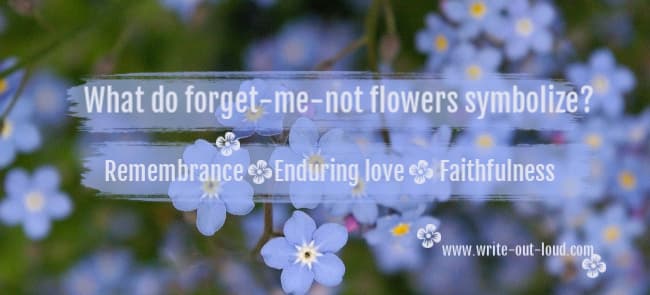 Offering a wider variety of funeral speeches 
To be really useful there needed to be a wider variety of funeral speeches. We needed eulogies for mothers, fathers, sons, sisters, brothers, aunts, uncles, colleagues, friends...
And we needed them to reflect the diverse countries and faiths of the people visiting the site.
I decided to ask for more. Lo and behold, they began to arrive through my eulogy submission form below.
Help to make writing a eulogy easier.
After you've read a few eulogy examples and you want help to prepare your own speech you'll find it here: how to write a eulogy.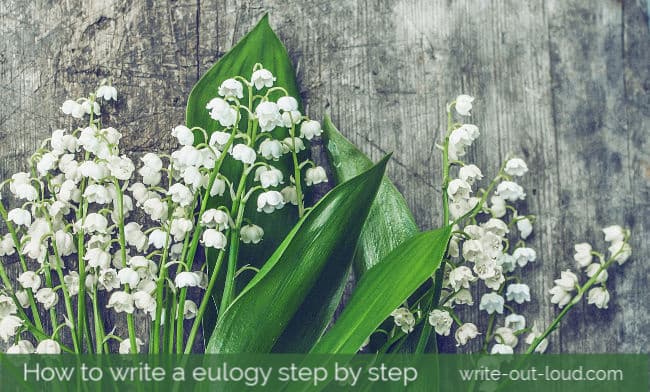 The article has step-by-step instructions, examples, a very useful free 15-page printable eulogy planning template to download, as well as comprehensive answers for 13 FAQs about eulogies:

Why do people share a deeply personal speech?
The people sending their eulogies to me to publish fully appreciate that writing a funeral speech under pressure can be a difficult, sad and lonely task. They know from experience having examples to read can lessen that burden and provide a starting place.
Theirs is a kind and generous act, one that's been repeated over 70 times already. 
Wonderfully, some of the people who've come searching for eulogy examples to help them write, have returned to share what they've written.
(Read Craig's comment below his eulogy for his Grandmother, Bertha or Byrona's below her eulogy for her Dad.
Both were helped by funeral speeches they found here and wanted what they had written to assist others in the same way.)

So, if you've written a eulogy...
Would you consider sharing it?
It would help others enormously.

Every day people look for suggestions on how to a write eulogy or for eulogy examples. I know because I see it reflected in my website visitor statistics.
I also know because of the comments people leave under speeches. They are so very grateful to have found a eulogy expressing how they feel. For instance, the comments on Eulogy for my Son, on Eulogy for my Grandmother - Bertha, or Sharon Catley's poem for her Mother, Journey's End.  
You know how it generally is with a speech of this sort. Typically, there is very little time to prepare, and you want to get it right.

Reading what others have done helps in the best possible way.
These eulogies inspire and give people the courage to do what they need to do.
Despite our differences what we all have in common is the desire to speak about our loved ones the very best way we can. 
The more examples we have, the more likely a person is going to find a speech that resonates and meets their needs.
You too could help by submitting the eulogy you've written. It's really simple to do.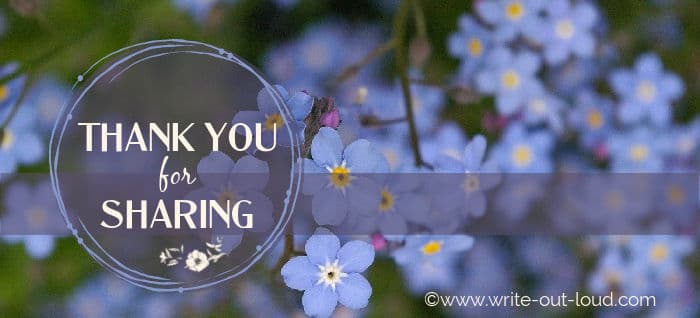 When you're ready ...
PS. If you would like to share your eulogy but have privacy concerns around using your loved one's name you could either use a fictional one or write XXXX in its place. Be assured too, that although there is the possibility that people reading your speech might wish to respond, no comment goes live without my permission.
Click the headline links below to read the eulogies or funeral speeches shared by visitors to this page...