The bridesmaid speech

What must your maid of honor speech include?
Your best friend or your sister is getting married and you've been asked to be the bridesmaid or maid of honor. It's exciting, a privilege and once the euphoria settles, you realize there's also a bridesmaid speech or maid of honor speech to prepare.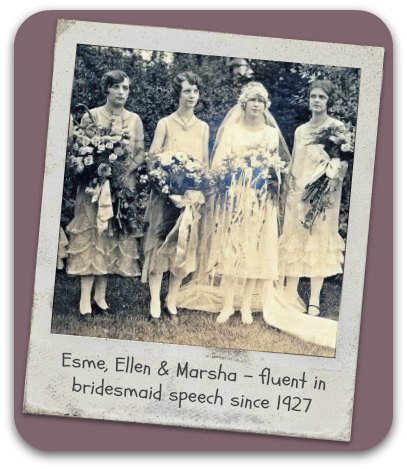 Here's a basic 4 step outline to follow
Don't worry that through using it your speech will be the same as every other bridesmaid. Because you are "you" and your relationship to the bride is unique, what you bring to the essential content list will make your speech original. The guide is only here to help you cover off what's expected. How you do that is up to you!


Do try steering away from lashings of stereotypical saccharine sweetness - "the most beautiful", "my best friend for ever", "the kindest, most adorable girl in the universe", "the cutest", "the funniest" ...

1. Introduction
In the introductory segment of your bridesmaid speech include a greeting/welcome to all the guests, mentioning any special ones by name, your name and your relationship to the bride.

If your speech follows the best man's you may like to reference that too.


Example:

"Good evening. It's fabulous to see you all here including one very special lady, Teri's extra-mother Sally. Not even delayed flights on the other side of the world could keep her away!
For those of you who don't know me, my name is Joan, and I have been best friends with Teri, our bride, since the second grade.
Thank you Mike (best man) for your very gracious, and expected, compliments on the beauty of the bride and bridesmaids. What can a woman do but agree? We are indeed exceptionally gorgeous!
The bride is already spoken for. However let's see if your actions speak as well as your words. I'll be in the bar later. Mine's a double!"


2. History of the your relationship & a story 
Your introduction should segue nicely into the next part of your bridesmaid speech: a brief history of your relationship to the bride, followed by a short anecdote or story.
This is essential content as it puts your relationship with the bride into context for the guests.
Avoid stories mentioning any of the bride's ex-boyfriends or incidents she would find too embarrassing. Your goal is to honor the bride, not humiliate her.
Stories that would be suitable here are those that illustrate the qualities you admire about her, the shared experiences at the heart of your relationship that keep it ongoing.
These are your classic childhood/school/work-life tales, the ones suitable for and understood by everybody. They are the "feel-good" stories, making people smile regardless of their age.
The final touch in this segment is to thank the bride for the honor of being her bridesmaid.


3. History of the couple's relationship & story
This is the part of your bridesmaid speech where you discuss the relationship of the bride and the groom.
If you knew the groom before they began dating, you might have a funny story about how he was before he met the bride. Or this could be the part where you tell how you helped them get together, or how you knew the bride was in love with the groom.
Again, avoid any mention of previous relationships, leave out stories that are overly embarrassing or that highlight any problems the couple may have had in the past, and stay away from anything too risque or off-color. Your role is to positively present the relationship and the commitment they have jointly made.


4. Conclusion
This section should include your best wishes for the couple and your hopes for their future. You could express that with a well-chosen quote, a brief poem, or even a song. Whether it is funny and playful or serious and sentimental, whatever you do needs to match the tone or mood of what has gone before.
Your final remark should be a definitive statement indicating to the guests that you've finished. You could achieve that by simply raising your glass and saying "To Susie and Bill!"


More pages to help you prepare:
browse a diverse collection of wedding poems to choose your special quotation
find out how to prepare and use cue cards effectively
Deliver your bridesmaid speech in style. Check out how to rehearse your speech.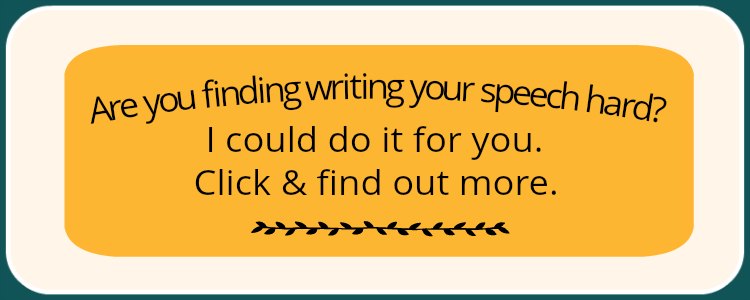 The importance of rehearsal
Please don't skimp on rehearsal. You need to practice your speech aloud to find out if it flows well, fits the time allowance you've been given and to build your confidence before you deliver it at the reception.