Informative speech examples
Informative speech examples
4 types of informative speeches: topics and outlines
By: Susan Dugdale | Last modified: 08-05-2023
The primary purpose of an informative speech is to share useful and interesting, factual, and accurate information with the audience on a particular topic (issue), or subject.
Find out more about how to do that effectively here. 
What's on this page


The four different types of informative speeches, each with specific topic suggestions and an example informative speech outline: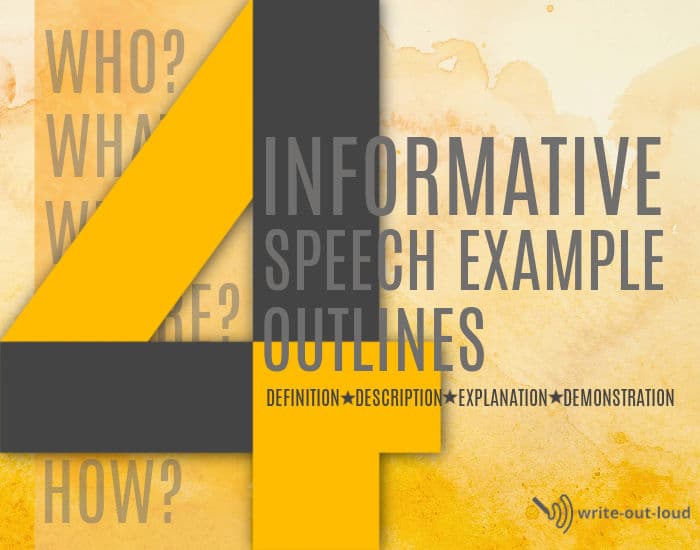 What is informative speech?
We all speak to share information. We communicate knowledge of infinite variety all day, every day, in multiple settings.
Teachers in classrooms world-wide share information with their students.
Call centers problem solve for their callers.
News outlets (on and offline) issue reports on local, national and international events and issues, people of interest, weather, traffic flow around cities...
Health care professionals explain the treatment of addictive behaviors, the many impacts of long Covid, the development of new treatments...
Specialist research scientists share their findings with colleagues at conferences.
A pastry chef demonstrates how to make perfect classic croissants.
The range of informative public speaking is vast! Some of us do it well. Some of us not so well - largely because we don't fully understand what's needed to present what we're sharing effectively. 
The key characteristics of an informative speech
So, what are the key characteristics or essential elements, of this type of speech? There are seven.
1. Objectivity
The information you give is factual, neutral and objective. You make no attempt to persuade or push (advocate) a particular viewpoint.
Your personal opinions: feelings thoughts, or concerns about the topic you're presenting are not given. This is not a persuasive speech.
As an example, here's an excerpt from a Statistics Department report on teenage births in New Zealand - the country I live in.
Although it's a potentially a firecracker subject: one arousing all sorts of emotional responses from outright condemnation of the girls and their babies to compassionate practical support, the article sticks to the facts. 
The headline reads: "Teenage births halved over last decade"
"The number of teenage women in New Zealand giving birth has more than halved over the last decade, Stats NZ said today.
There were 1,719 births registered to teenage women (those aged under 20 years) in 2022, accounting for around 1 in every 34 births that year. In 2012, there were 3,786 births registered to teenage mothers, accounting for around 1 in every 16 births that year."
For more see: Statistics Department NZ - Teenage births halved over last decade 
2. Clarity
You present your information clearly and concisely, avoiding jargon or complex language that may confuse your audience.
Example:
The candidate gave a rousing stump speech, which included a couple of potentially inflammatory statements on known wedge issues.
If the audience is familiar with political jargon that sentence would be fine. If they're not, it would bewilder them. What is a 'stump speech' or a 'wedge issue'?
Stump speech: a candidate's prepared speech or pitch that explains their core platform.
Wedge issue: a controversial political issue that divides members of opposing political parties or the same party.
For more see: political jargon examples
3. Relevance
The content shared in your speech should be relevant and valuable. It should meet your audience's needs or spark their curiosity.
Example:
If the audience members are vegetarians, they're highly unlikely to want to know anything about the varying cuts of beef and what they are used for.
However, the same audience might be very interested in finding out more about plant protein and readily available sources of it.  
4. Organizational pattern
The speech should have a logical sequential structure with a clear introduction, body, and conclusion.
Example:
If I am giving a demonstration speech on how to bake chocolate chip cookies, to be effective it needs to move through each of the necessary steps in the correct order.
Beginning with how to spoon the mixture on to the tray, or how to cool the cookies on a wire rack when you've taken them out of the oven, is confusing.   
5. Research and credibility

Informative speeches are based on thorough research and reliable sources to ensure accuracy and credibility. And sources need to be properly cited.
My friend told me, my mother says, or I saw it on Face Book is neither authoritative nor enough. ☺
Example: My speech is on literacy rates in USA. To be credible I need to quote and cite reputable sources.
6. Visual aids
Slides, charts, graphs, or props are frequently used to help the audience fully understand what they're being told.
For example, an informative speech on the rise and fall of a currency's daily exchange rate is made a great deal easier to follow and understand with graphs or charts illustrating the key points.
Or for a biographical speech, photos of the person being talked about will help hold the attention of your audience.  
7. Effective delivery

To be effective your speech needs to be delivered in a way that captures and hold the audience's attention. That means all aspects of it have been rehearsed or practiced. 
If you're demonstrating, you've gone through every step to ensure you have the flow of material right.
If you're using props (visual aids) of any sort you've made sure they work. Can they be seen easily? Do they clearly illustrate the point you're making?
Is your use of the stage (or your speaking space) good? Does your body language align with your material? Can your voice be heard? Are you speaking clearly? 
Pulling together a script and the props you're going to use is only part of the task of giving a speech. Working on and refining delivery completes it.
To give a successful speech each of these seven aspects needs to be fine-tuned: to hook your audience's interest, to match their knowledge level, your topic, your speech purpose and, fit within the time constraints you've been given.
Types of informative speeches
There are four types of informative speeches: definition, description, explanation and demonstration. A speech may use one, or a mix of them.
1. Informing through definition 
An informative speech based on definition clearly, and concisely, explains a concept*, theory, or philosophy. The principal purpose is to inform the audience, so they understand the main aspects of the particular subject being talked about.
* Definition of concept from the Cambridge dictionary - an abstract principle or idea 
Examples of topics for definition or concept speeches
A good topic could be:
What is global warming?
What are organics?
What are the core beliefs of Christianity?
What is loyalty?
What is mental health?
What is modern art? 
What is freedom?
What is beauty?
What is education?
What are economics?
What is popular culture?
These are very broad topic areas- each containing multiple subtopics, any of which could become the subject of a speech in its own right. 
Example outline for a definition or concept informative speech
Speech title:
What is modern art?
Audience:
- people who want an introductory overview of modern art to help them understand a little more about what they're looking at - to place artists and their work in context 
Specific purpose:
- to provide a broad outline/definition of modern art 
Core idea:
Modern art refers to a broad and diverse artistic movement that emerged in the late 19th and early 20th centuries and continued to develop throughout the 20th century. 
It is characterized by a radical departure from traditional artistic styles and conventions and encompasses a wide range of artistic styles, techniques, and media, reflecting the cultural, social, and technological changes of the time.
Key characteristics or main points include:
Experimentation and innovation: Modern artists sought to break away from established norms and explore new ways of representing the world. They experimented with different materials, techniques, and subjects, challenging the boundaries of traditional art forms.
Abstraction: Modern art often features abstract and non-representational elements, moving away from realistic depictions. Artists like Wassily Kandinsky and Piet Mondrian explored pure abstraction, using shapes, lines, and colors to convey emotions and ideas.
Expression of the inner self: Many modern artists aimed to convey their inner emotions, thoughts, and experiences through their work. This led to the development of various movements like Expressionism (See work of Evard Munch) and Surrealism (See work of Salvador Dali). 
Rejection of academic conventions: Artists sought to break free from the rigid rules of academic art and embrace more individualistic and avant-garde approaches. For example: Claude Monet, (1840 -1926) Pierre-Auguste Renoir, Édouard Manet
Influence of industrialization and urbanization: The rapid changes brought about by industrialization and urbanization in the 19th and 20th centuries influenced modern art. Artists were inspired by the dynamics of the modern world and its impact, often negative, on human life. 
Multiple art movements: Modern art encompasses a wide array of movements and styles, for example Cubism, Futurism, Dadaism, Abstract Expressionism, Pop Art... Each movement brought its own unique perspective on art and society.
Focus on concept and process: Modern artists began to emphasize the underlying ideas and concepts behind their work, giving greater importance to the creative process itself.
Modern art should not be confused with contemporary art. While modern art refers specifically to the artistic developments of the early to mid-20th century, contemporary art encompasses art created by artists living and working in the present day. The transition from modern art to contemporary art happened around the late 20th century- 1950s onward.
References:
2. Informing through description
Informing through description means creating detailed, vivid verbal pictures for your audience to make what you're talking about come to life in the minds of those listening which in turn, will make your subject matter memorable.
Examples of good informative speech topics that could be used for descriptive speeches
How I celebrate Christmas
My first day at school
My home town
A time I feared for my life
A time when I felt contented and happy
My first car
An object I find fascinating: lotus shoes, bustles, corsets, panniers (These are historical items of women's clothing.)
Working from home: the joys, the hazards
My dream home, job, or holiday
An event I'll never forget
The most valuable or interesting thing I own
Martin Luther King, Benjamin Franklin, President Lincoln... a notable person from the past or present, including someone you may know: a family member, friend or yourself, or a public figure (an artist, singer, dancer, writer, entrepreneur, inventor...)
Example outline for a descriptive informative speech
Speech title:
My first car
Specific purpose:
- to take the audience with me back to the time when we bought our first car and have them appreciate that car's impact on our lives 
Central idea:
Our Austin A50 was a much-loved car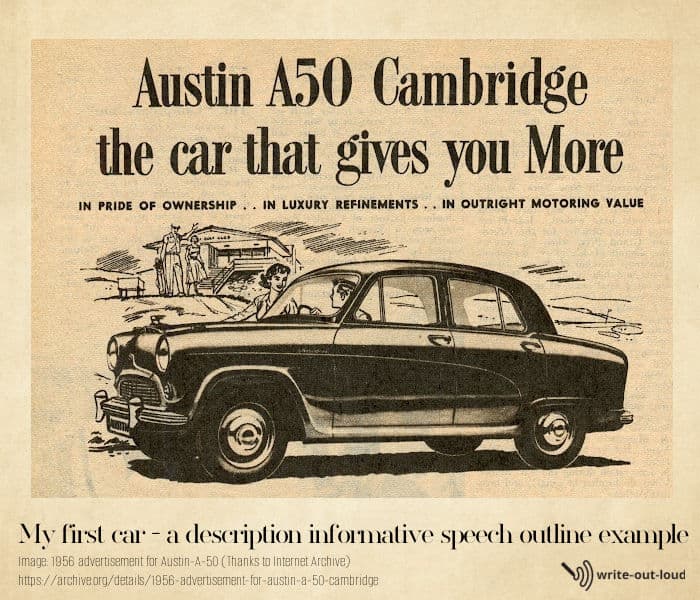 About the car:
- English, Austin A50, 1950ish model - curvy, solid, a matron of cars
Background to purchase:
1974 - we were 20 and 21 - young and broke
The car cost $200 - a lot of money for me at that time. I raided my piggy bank to buy it.
It was a trade up from the back of the motorbike - now I could sit side by side and talk, rather than sit behind and poke my husband, when I wanted to say important things like, 'Slow down', or 'I'm cold'.
The romance of a motorbike is short-lived in winter. It diminishes in direct proportion to the mountain of clothes needing to be put on before going anywhere - coats, scarf, boots, helmet... And this particular winter was bitter: characterized by almost impenetrable grey fog and heavy frosts. It was so cold the insides of windows of the old house we lived in iced up.
Features:
It was tri-colored - none of them dominating - bright orange on the bonnet, sky blue on the rear doors and the roof, and matt black on the front doors and the boot. (Bonus - no one would ever steal it - far too easily identified!)
The chrome flying A proudly rode the bonnet.
The boot, (trunk lid) was detachable. It came off - why I can't remember. But it needed to be opened to fill the tank, so it meant lifting it off at the petrol station and leaning it up against the boot while the tank filled, and then replacing it when done.
There were bench seats upholstered in grey leather (dry and cracked) front and back with wide arm rests that folded down.
The windows wound up and down manually and, in the rear, there were triangle shaped opening quarter-windows.
The mouse-colored lining that had been on the doors and roof was worn, torn and in some patches completely missing. Dust poured in through the crevices when we drove on the metal roads that were common where we lived.
It had a column gear change - 4 gears, a heater that didn't function, proper old-school semaphore trafficators indicators that flicked out from the top of the door pillars and blinked orange, a clutch that needed a strong push to get it down, an accelerator pedal that was slow to pick up and a top speed of around 50 mph. 
Impact/benefits:
We called her Prudence. We loved, and remember, her fondly because:
I was taught to drive in her - an unforgettable experience. I won the bunny hopping record learning to coordinate releasing the clutch and pressing down on the accelerator. Additionally, on metal roads, I found you needed to slow before taking corners. Sliding on two wheels felt precarious. The bump back down to four was a relief.  
We did not arrive places having to disrobe - take off layers of protective clobber.
We could talk to each without shouting and NOW our road trips had a soundtrack - a large black portable battery driven tape player sat on the back parcel shelf blasting out a curious mix of Ry Cooder, Bach, Mozart's Flute Concerto, Janice Joplin... His choice. My choice. Bliss.
My father-in-law suggested we park it down the street rather than directly outside his house when we visited. To him Prudence was one eccentricity too many! An embarrassment in front of the neighbors. ☺
References:
3. Informing through demonstration
Informing through demonstration means sharing verbal directions about how to do a specific task: fix, or make, something while also physically showing the steps, in a specific chronological order.
These are the classic 'show-n-tell', 'how to' or process speeches.
Examples of process speech topics:
How to bake chocolate chip cookies
How to use CPR (cardiopulmonary resuscitation) correctly
How to prepare and plant a tub of vegetables or flowers
How to read a topographic map
How to make a tik-tok reel
How to knit a hat
How to brainstorm material for a speech
For literally 100s more demonstration topic ideas
A demonstrative informative speech outline example
Speech title:
How to brainstorm material for a speech
Specific purpose:
To demonstrate the brainstorming process and to provide practical strategies (helpful tips) for freeing and speeding up the generation of ideas
Main ideas:
Understanding brainstorming - explanation of what brainstorming is and its benefits
Preparing for brainstorming - the starting point - stating the problem or topic that needs brainstorming, working in a comfortable place free from distractions, encouraging open-mindedness and suspension of judgment.
Techniques for brainstorming: (Show and tell on either white board or with large sheets of paper that everyone can see) mind mapping, and free writing. Take topic ideas from audience to use.
Example: notes for maid of honor speech for sister
Benefits: Demonstrate how mind maps can help visually organize thoughts and connections, how free writing allows ideas to flow without stopping to judge them
Encourages quantity over quality - lots of ideas - more to choose from. May generate something you'd never have thought of otherwise.
Select, refine, develop (show and tell) 
For more see: brainstorm examples
4. Informing through explanation 
Informing through explanation is explaining or sharing how something works, came to be, or why something happened, for example historical events like the Civil War in the United States. The speech is made stronger through the use of visuals - images, charts of data and/or statistics.
Examples of explanatory informative speech topics
How did the 1919 Treaty of Versailles contribute to the outbreak of World War Two?
What led to The American Civil War (April 12, 1861 – May 26, 1865)?
Why is there an increase in type two diabetes and problems associated with obesity in first world countries, for example, in UK and USA?
How do lungs work?
What causes heart disease?
How electric vehicles work?   
What caused the Salem witch trials?
How does gravitation work?
How are rainbows formed?
Why do we pay taxes?
What is cyberbullying? Why is it increasing?
Example explanatory informative speech outline
Speech title:
The Treaty of Versailles: how did it contribute to the outbreak of World War Two
Specific purpose:
- to explain how the Treaty of Versailles (1919) was a significant causal factor leading up World War two
Central ideas:
Historical context:
World War One, 'the war to end all wars' ended in 1918. The Allied Powers: USA, UK, France, Italy and Japan, met in Paris at the Paris Peace Conference 1919 to work out the details and consequences of the Treaty of Versailles, which would impact the defeated Central Powers, principally Germany. 
These included:
territorial boundary changes which stripped Germany of land in Europe, and established new nations - e.g. Poland and Czechoslovakia
military restrictions - the disarmament of the German military, restrictions on weapons and technology, demilitarization of the Rhineland
reparations - demands that they were unable to meet, plus being forced to accept a "war guilt" clause (Article 231) had an enormous impact, economically and psychologically. The country plunged into deep recession - albeit along with many other countries. (The Great Depression 1929-1939 which ended with the beginning of World War Two.)
The League of Nations - The League of Nations was an international diplomatic group developed after World War I as a way to solve disputes between countries before they erupted into open warfare. Despite being active in its set up, USA refused to join it - a stance that weakened its effectiveness.
Controversies within Germany:
Public anger and resentment, plus political instability as result of reparations, territory loss and economic hardships
Controversies with Treaty partners:
The Treaty's perceived fairness and effectiveness: Italy and Japan felt their settlements were inadequate compared to what had been taken by UK, USA and France.
The rise of 'isms' 
Simmering discontent eventually emerged as the rise of Fascism in Italy, Nazism in Germany and Statism (a mix of nationalism, militarism and "state capitalism") in Japan.
Expansionist Nationalism
Spread of expansionist nationalism - a state's right to increase its borders because it is superior in all ways. Therefore, Hitler was 'right' to take back what had previously been regarded as German territory (Czechoslovakia and Austria), and to go after more, all the while goading the Allied Powers to act. When his armies went into Poland, Britain declared war against Germany - 21 years after the end of the last.
References: