Speech topics
Speech Topics - 100s of them!
By: Susan Dugdale  | Last modified: 01-10-2023

Speech ideas ordered by speech type & theme 
So you're preparing to give a speech.
The next step, unless you've been told or you've already decided for yourself, is choosing a topic.
What will you talk about?  There are literally so many possibilities.
To make choosing a subject easier, here's a collection of speech topic suggestions arranged either by speech type, age group or theme. 
Teacher or student, these lists are for you.
I hope they're useful!
Happy speaking,
Susan


Demonstration speech ideas
These are the 'show and tell' or 'how to' speeches where you demonstrate a skill, make something, or explain how something works. Think of these speeches as stepping through a process from beginning to end, showing and explaining every step of the way.
The goal of them is often to inspire those listening to try whatever is being shown for themselves.
Demonstration speech ideas
I have five pages of topics specifically selected because they are good for demonstration speeches. You'll see the lists are adaptable to meet the needs of people of middle school age and upwards.
Speech topics for kids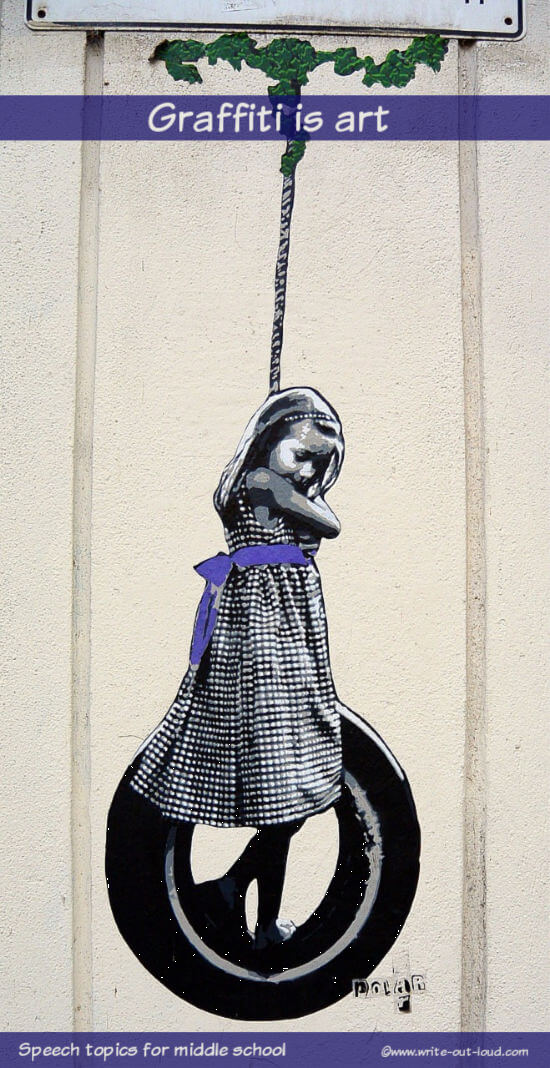 I've got two pages of speech topics especially chosen with children in mind. They're mainly for kids in the middle school age bracket (11 - 14 years old) but are readily adaptable for those either younger or older.
Both pages are really useful if you're a teacher or parent looking for inspiration! I've carefully put together lists covering social/community issues, arts and culture, sports and games, food, fun and whimsy, hobbies, and more. 
- 8 themed lists of speech topics for children
- 50+ elocution topics for kids
Persuasive speech topics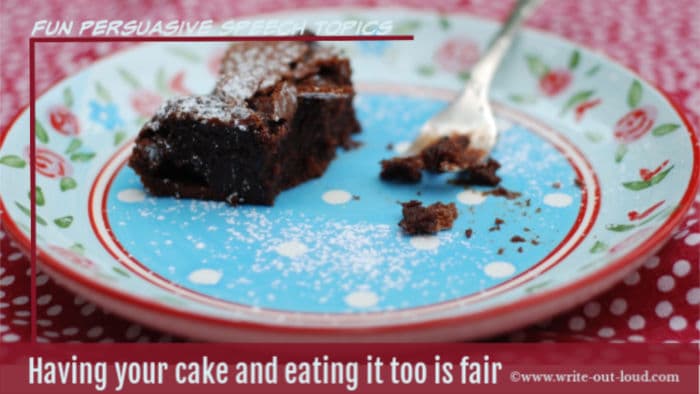 Convince me!
Change my mind!
Challenge my thinking!
Convert me!
And, if appropriate, make me laugh!
Whatever topic you choose you will be expected to take a position on it and persuade your audience to consider what you're saying about it seriously.
For example:
'To be vegan is the only right, and moral way to live.'
'Good or right thinking is a matter of opinion.' 
My six persuasive speech topic pages are below.
125 examples of narrative speech topics
125 strong ideas for effective story telling speeches, preparation guidelines, plus a printable narrative speech outline.
If you're looking for suggestions for the Toastmasters Level Three Project 'Connect with storytelling' these will get you off to a great start.
Go to: 125 examples of narrative speech topics
60 vocal variety & body language topics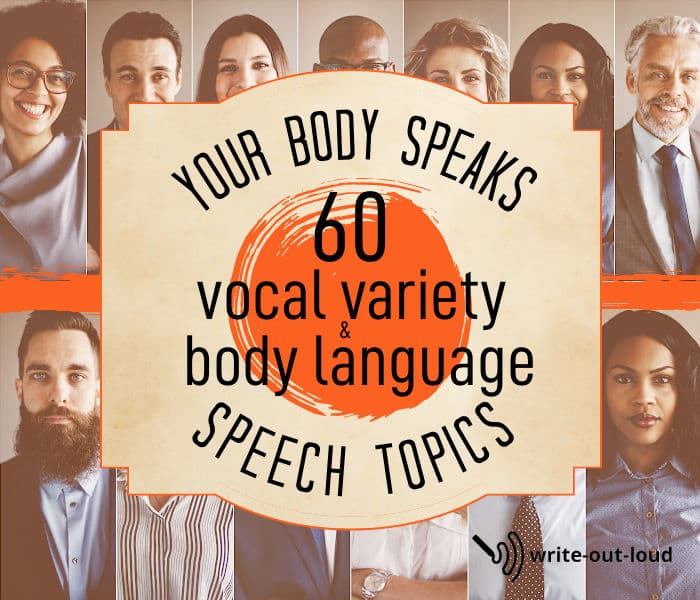 60 speech topic ideas to help you work with body language and gesture. They're perfect for evocative personal storytelling speeches or for either of these Toastmasters Pathway projects:
Go to 60 vocal variety and body language speech topics
145 good cause and effect topics for students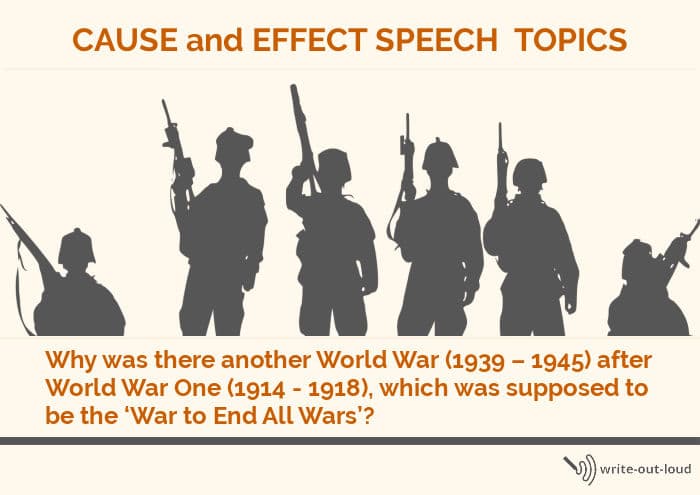 Cause and effect topics for speeches and essays to challenge, connect and make a difference. With explanations, examples and a free printable blank fish bone diagram, (an extremely useful visual cause and effect analytical tool), to download for your own use.
Go to 145 good cause and effect topics
Fun public speaking topics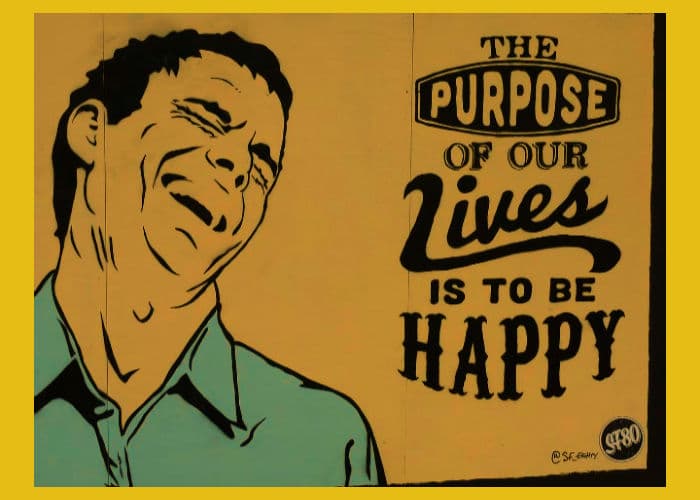 They're silly; deliberately daft and ridiculous!
These speech topics focus on light-hearted nonsense, tilting the world side-ways, giving your audience a glimpse of it funny side-up.
Gems include:
'How to procrastinate like a professional',
'How to look innocent',
'Why lying can be useful', ...
Go on. Make them snort with laughter. Visit:
180 + interesting speech topic ideas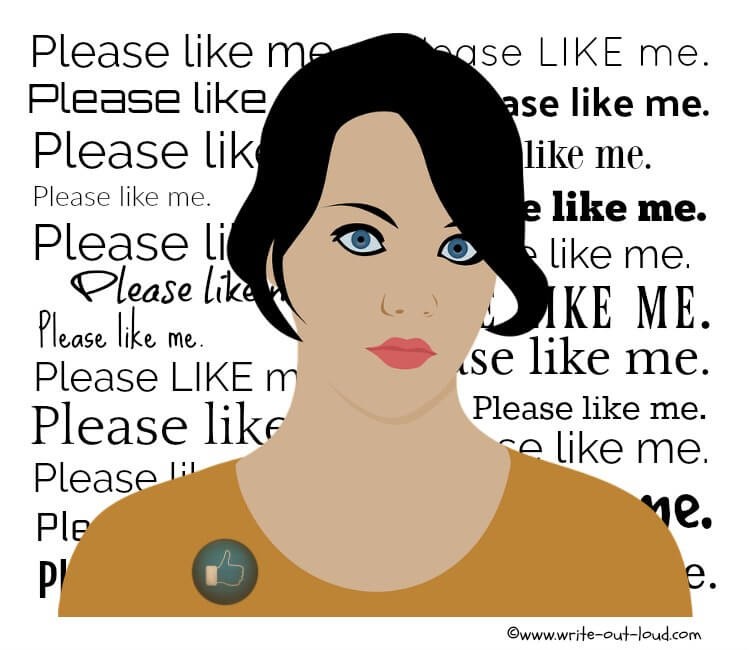 Here's a page of topic suggestions encouraging people to push beyond ordinary.
There's a bundle of 50 ideas around the growing influence of social media, a collection of 45 thought provoking suggestions centered on your very own community and family history, 61 'weird' topics, and more. 
You only need ONE truly bright and original idea, right?
Have a look here for it.

There are 180 interesting speech topic ideas to browse through. 


Good informative speech topics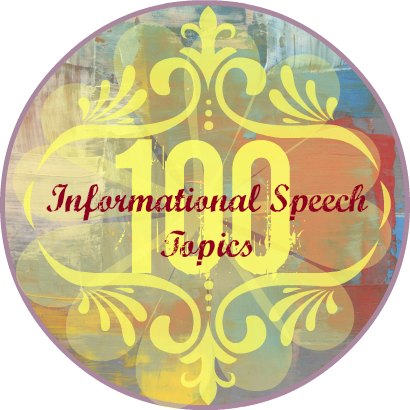 An informative speech does what its title says: it informs. It gives the facts about the topic. Not people's feelings about the subject - just the facts.
Informational speech topic possibilities are quite truly endless. 

Use my page as a beginning to set your own creative juices in motion.
Commemorative speech topic ideas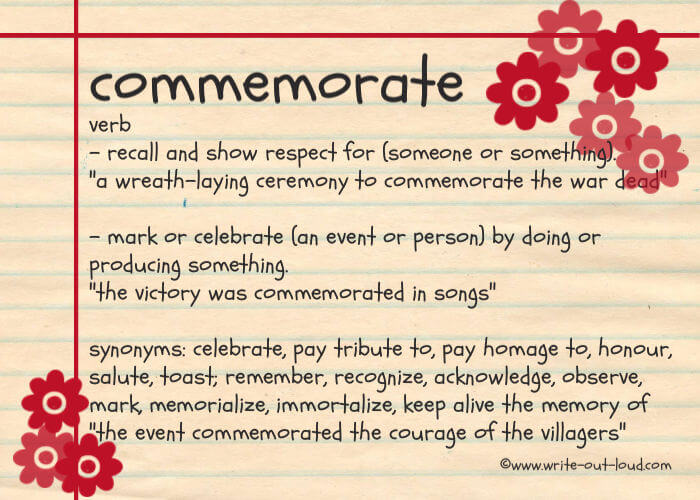 A commemorative or tribute speech honors the memory of a person, a group, an institution, a thing, an event or an idea.
Use this commemorative speech topic helper page (and its resource links) to identify the right topic and theme to match the event you've been asked to speak at.


239 controversial or argumentative speech topics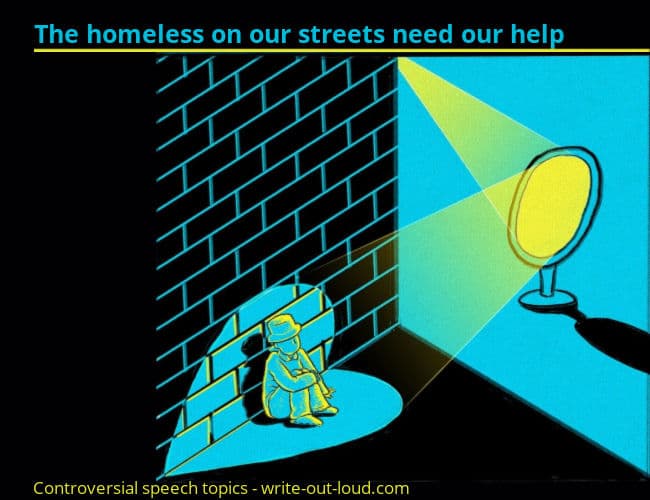 These topics are deliberately provocative. They cover four broad areas affecting us all: the food we eat, our children (from infancy through to teenage years), and the communities/countries we live in.
In addition to the 239 topics there are comprehensive guidelines about choosing the best topic: one fitting yourself and your audience. 
Find yourself a controversial speech topic.
Note: these topics are best suited for high school and college students.
32 Easter themed speech topics
Easter - what is its history? What are the special days, like Palm Sunday, all about? What do bunnies and chocolate eggs have to do with it? Why does the White House have a tradition of egg-rolling as part of its Easter celebrations?
Use this page of 32 Easter speech topic possibilities to find an idea for an inspirational  demonstration or an interesting informative speech.


Impromptu speech topics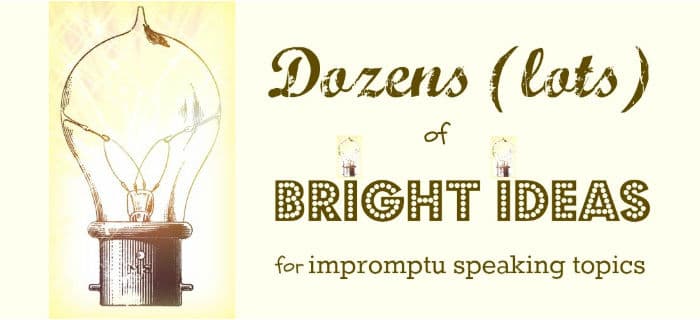 Help! I have a class and need lots of impromptu speech topics for them to practice with.
You've got them here. I have four pages of topics for impromptu speeches.
You'll find them suitable for middle school and upwards. They're great for public speaking clubs too.
And last, but not least there's ...
98 printable impromptu speech topic cards
An almost* instantly available resource for busy public speaking teachers
If you're time-poor and need a grab-and-go solution to your "HELP! I want speech topics for my public speaking class, and I need them now" problem, check these out.
Printable Impromptu Speech Topic Cards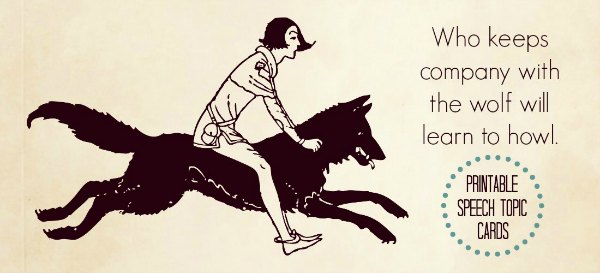 *It'll take you 5 minutes to select the set you want, (proverbs or quotations), pay, and have it downloaded ready for printing. You'll be getting 98 themed speech topic cards - a great reusable resource for $4.75.
& One Minute Speeches!
Another almost instantly available resource

A fun and hugely effective impromptu speaking activity. You get topics + instructions for the core activity, plus three advanced variations for $5.95. Take a look - One Minute Speeches.