Dad
by Fiona
(UK)
(*This eulogy was submitted using XXX in the place of the real names of people, streets and cities for privacy reasons. To make it easier to read I've replaced the Xs with names that could be true but are not.
Many thanks for your submission Fiona.)


David was born on the 04th August 1932 in the bedroom of his family home, Lavender Cottage in High Street in Juniper-on-Sea and was raised by his Mum and Dad, Laverne and Henry. He was the second eldest of five children: Stella, David (Dad), Jeffrey, Michael and Elsie.

Sadly, David's Father passed away when he was only 17 and things became very hard at home.

David went to serve his time in the National Service and even just a few years ago he could still recite his Army Number: "2 Double 3, 31498 - SIR!!" He ALWAYS ended it with SIR!

David had many humorous stories from the National Service which he loved telling to his children and he would delight in reminiscing.

A special favourite was the time that he got shouted at by his Sergeant Major. He organised his army mates to pretend they didn't hear when the Sergeant shouted "HALT" and so they continued marching right through all the flower beds! He found that hilarious!

And another time he ruffled the Sergeant's feathers by saying he couldn't see the point of going OVER the exercise wall as it would FAR easier to go ROUND it!!

Of course, he did as he was told but he did like to joke.

David was such a thoughtful, kind and considerate man and even though he was young he knew things were going to be hard at home for his Mum whilst he was away serving his time in the National Service and so every month he would send home half his pay. He was always the carer!

The main thing that kept him going in the National service was, (not only his sense of humour of course), but his love for football too, and of course his beloved SAINTS team. He played in all the tournaments that were organised in the Army and many an injury was 'run off' sadly to his detriment in later life. Then he needed to have his ankle fused due to numerous broken bones that just got 'run off' when he was younger.

David did as his Mum and Dad always wanted and completed an apprenticeship in building, gaining all the City and Guild's qualifications necessary to be able to support himself and a family in the future.

In his 20's David met and married Mary his first wife and went on to have two children, Sonia and Frank who he always affectionately called Nonny.

Mary and David built their first house 'Spring Range' in Juniper-on-Sea together and lived there until they had saved enough money to buy Lark Hall House in Myrtle-on-Thyme. He was exceptionally proud of owning this house, which was one of the most beautiful houses in the area.

Sadly the marriage ended and David eventually went onto meet and marry his second wife, Julie and went on to have two more children Henry and Sam.

David then went to America and set up a drilling business with his brother Michael. He worked away for 5-6 years eventually leaving and coming home to the business that he knew so well; working self-employed for the Forestry Commission.

He was back again working in the Forest that he loved so much, rising with the sun and finishing at sun down and again working with Nonny alongside him.

His second wife developed Multiple Sclerosis and David continued for many years both working full time and also caring for Julie whilst her condition worsened. She sadly passed away in the year 2000 and David continued to work and run the family home all by himself.

David's family has increased to a very proud 8 Grandchildren and one Great Grandchild now. The grandchildren are Zelda and Tim, Ginny and Jessie, Max and Pat and Ian and Stanley and Emma, his Great Grandchild. These children have always known David as Grandad Chocolate because his cupboards were always bursting with it on each of their visits. Of course at Easter time the hedges were always full of hay nests and chocolate too. That's a delight every grandchild got to experience!

David very sadly developed Alzheimer's/dementia is his latter years and this has been so very difficult, having to watch the decline of such a strong, caring and capable man.

We have great sadness and heavy hearts because David has sadly passed away but also an enormous relief that he is no longer suffering as he has been due to this extremely cruel disease.

Do you need someone to talk to about grieving?
Have you considered online grief counseling?
Private, one to one, anytime, anywhere, help with grief
In the interests of transparency, this information about online grief counseling and support is sponsored by BetterHelp. When a person signs up for counseling from write-out-loud.com I receive a commission for providing the link enabling the connection.*
Grieving is a zig, zag, slip, sliding journey.
Some days it can be hard to eat, to breathe, sleep, brush your hair, get out of bed, get dressed, answer your phone, have a shower or, go to work.
Finding a reason, or the energy, to do things you once regarded as so ordinary you did them without thinking, is tough. Especially when you feel alone. 
Is this you? 
Online counseling can offer the support you need.
Despite what well-meaning friends or family might tell you there are no "right" ways to grieve. And neither are there "right" stages which everyone must pass through in a "right" sequence.
When you meet with an online grief counselor you will be understood, and carefully guided towards finding a way forward.
Just fill out the online questionnaire and within minutes you will be assigned the professional grief counselor most suitable for your needs. You don't even have to use your own name if you don't want to.
You'll pay an affordable fee set according to the length of the subscription plan you choose.
Access your counselor whenever you want via chat, messaging, video or phone.
Or find out more about

how online grief counseling works

.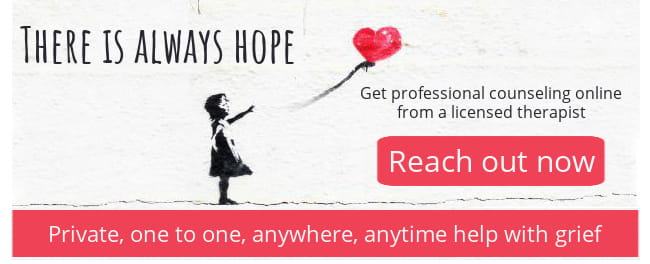 * Read independent BetterHelp customer reviews on TrustPilot.