Easter speech topics
Easter speeches - 30+ speech topics
Easter across centuries, countries & cultures
By: Susan Dugdale | Last modified: 03-06-2023

Easter - a season celebrating rebirth or renewal and, depending where you are in the world, heralding the arrival of spring.

If you're preparing to set Easter speeches for your class, or you need an Easter speech idea for yourself, read on.
Informative & demonstration speech ideas
Many of the 30 Easter speech topics below could easily be extended to include image-rich 'show and tells' or become delicious demonstration speeches - highly popular 'EAT and tells'. Most of them will adapt to suit people from middle-school age upwards. 
Whether or not you share the beliefs at the heart of Easter, it's a fascinating, and engrossing topic area.
Give it half a chance and you'll find yourself immersed and amazed. You'll uncover curious customs, celebrations sharing similarities spanning centuries, countries and cultures...  
History hunting topics for Easter speeches
The essence of Easter (rebirth and renewal) has been celebrated in many forms by many cultures throughout the centuries. Because of its universality there is considerable ongoing debate over its exact origin and the traditions associated with it.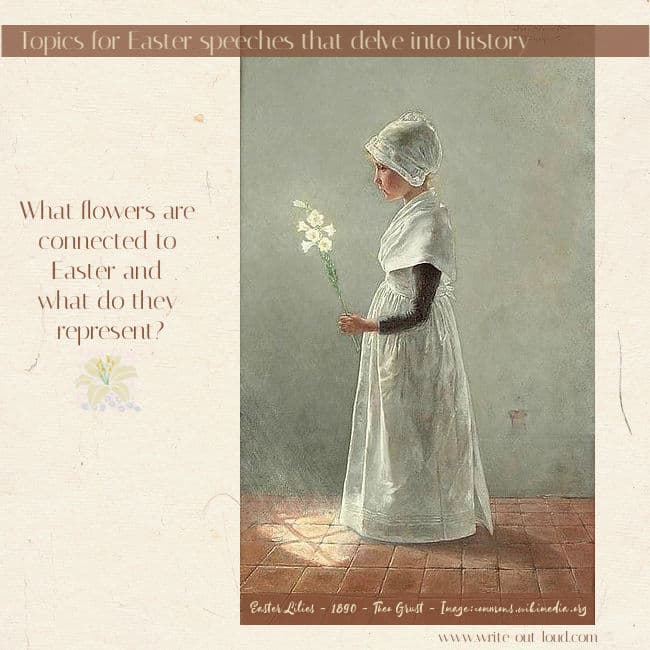 Any of these topics would be suitable for an interesting informative speech.  I've given you links* as a starting point for most of them - a place not only to begin your research but to use as a gauge to see if you are truly captured by the topic.
*About the websites I've linked to
I've linked to websites that in my opinion offer good information about the topics they deal with regardless of whether they are secular (non-religious), or religious. You will find a mix of both. The religious sites have affiliations to varying Christian denominations.

And now on to the topics
What is the background of word Easter? Where does it come?

Here's a taster to tempt. 

According to Brent Landau, Lecturer in Religious Studies, University of Texas, Austin, the naming of the seasonal celebration of Spring as Easter seems to go back to seems to go back to the name of a pre-Christian goddess in England, Eostre. 

For more read the article: Why Easter is called Easter, and other 

little-known 

facts about the holiday


What is the story behind the Easter rabbit?

Is the rabbit/hare/bunny linked to Eostre the Saxon goddess of Spring? When and how did the  bunny become both widely accepted and associated with Easter in America?

This wikipedia link is a good starting point for more information on the history of Easter Bunny.



Why do the dates of the Easter celebration change from year to year?

Christmas is always celebrated on the December 25th. BBC Religious affairs correspondent, Caroline Wyatt explains why the dates of Easter can't be fixed.


What are the connections between the Jewish Passover festival and Easter?

Rabbi Daniel F Polish explores similarities is his article: Easter and Passover have more in common than you think for American Magazine. He says both holidays are joined at their core in finding us rejoicing in the defeat of death and the gift of life restored.
 
What colors are associated with Easter and what do they stand for?

Purple represents royalty and spiritual wealth.  White symbolizes purity and grace. What about gold, red, green, pink or black?

Here's an introductory article from southernliving.com on The Real Meanings Behind the Colors of Easter.
What flowers are connected to Easter and what do they represent?

I have always loved Easter lilies and the way their perfume fills a room. Then there's daffodils, tulips, iris and daisies! So many beautiful flowers and all of them are associated with Easter.

Try this explanation on the significance of the Easter lily as an introduction to the topic.


What are Passion Plays? Where did they come from? Where are they performed today?

These are religious dramas of medieval origin with an extraordinarily rich history covering the suffering, death and resurrection of Jesus Christ.  At a time when most people could not read or write telling the story in the form of a play was the most effective way of sharing  it.

Today the most well known Passion Play is regularly performed at Oberammergau in the Bavarian Alps and draws visitors from all over the world.

This Britannica link is a good starting point to explore the topic: Passion plays.
 
What is Lent? What is its purpose and how is it observed?

The 40 days of Lent commemorate the 40 days Jesus spent fasting in the desert. Over this period believers may fast, give up luxuries, and do penance as a preparation for Easter Sunday.

Check this Wikipedia link for a good introductory overview : Lent.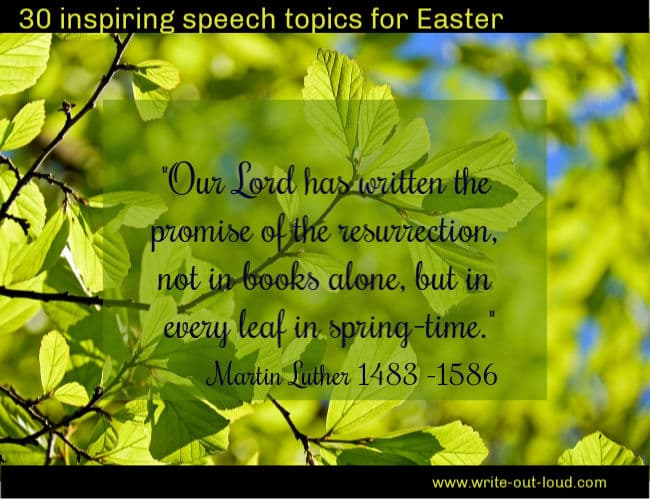 Choose a quote, (or several quotes), like the one above, and to explain in your own words.

What does it mean that our Lord has written the promise of resurrection in every leaf at spring time?

This gives topic gives you an opportunity to find the ties between Christian belief and the natural world. How is spring similar to or a mirror of the resurrection?

Here's a collection of Easter themed quotations - some funny, some secular and some religious. 
 
What curious beliefs are there around Easter?

For instance: bread or buns baked on Good Friday are said to never go moldy. You can read more about that here: 5 Great Historical Myths and Traditions About Hot Cross Buns, a Pre-Easter Pastry.
There are other fascinating beliefs too! The buns are just a beginning.


Where did the Easter bonnet tradition come from?

What is the story behind those fabulous creations of flowers and other whimsical masterpieces women wear on their heads for the annual Easter Parade down 5th Avenue in New York City?

The question is answered in this article: The tradition of Easter bonnets explained
What about one of these egg-themed topics?

Eggs and Easter. They go together like Christmas and trees and birthdays and cake.
Why? Because the egg is an ancient symbol of new life; the reawakening of nature in spring. Then with the spread of Christianity it also came to represent Jesus' emergence from the tomb and resurrection.
Eggs have been the focal point of many customary Easter activities around the world.
Here are some that would make really interesting topics for a speech.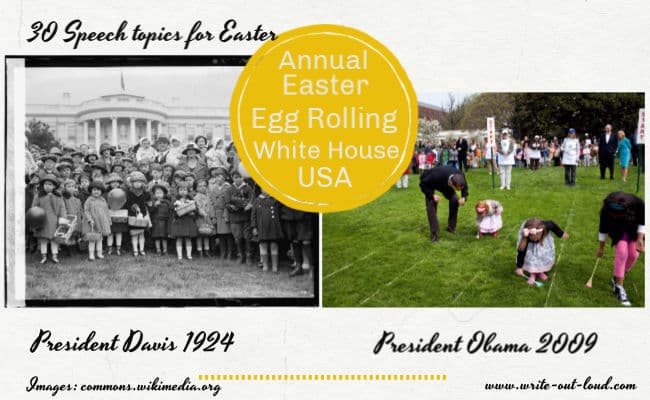 Egg rolling - Where does this regularly happen as part of Easter?
What's the history behind it?

To begin finding out here's a wikipedia.org page: Egg rolling

.
Egg tapping - Also known as egg jarping, egg picking, knocking, boxing or chucking is game where hard boiled eggs are hit together.
Where is it played as part of Easter and what's the history behind it?

Read this delightful article How to Win at Greek Egg Tapping to find out more.


The Egg dance - Yes, there are dances dedicated to eggs that were part of early pagan celebrations of spring.

Easter and the Egg Dance, an article on atomicballroom.com provides an excellent overview.
 

Pace Egg plays -These fascinating plays were once performed throughout the United Kingdom. Nowadays they are mostly found in the North of England. They have stock characters: heroes and villains , a plot that involves resurrection and take place either on the street, or in a pub. Audience participation, (booing and hissing), is encouraged!

Check the story of the Middleton Pace Egg Play  for more. 
The important days of Lent & Easter as topics for speeches
Find out the history of what happens where, when, why and how, on any of the following days:

Shrove Tuesday (sometimes called Fat Tuesday or Mardi Gras)
This day is the day before the beginning of Lent and get its name from the word "shrive" which means to go to church to confess wrongdoings in order to receive a penance and absolution.

Shrove Tuesday is also associated with making and eating pancakes.

Use this link to begin finding out more: Shrove Tuesday


Ash Wednesday
This day marks the beginning  of Lent. A small cross of ash is put on a person's forehead as a symbol of repentance and as a reminder that we came from dust and will return to dust when we die.

This article provides a good overview: Four things to know about Ash Wednesday
 
Mothering Sunday
This is not to be confused with Mothers Day. The two celebrations have different origins. Mothering Sunday began as a day, (the fourth Sunday in Lent), when people visited their 'mother' church - the church they'd been baptized in or their local parish church. It is mostly observed in the UK and  by countries who have an English colonial background - Canada and Australia.

For more see this wikipedia.org page: Mothering Sunday 


Palm Sunday
Hosanna!  This is the day celebrating the day Jesus entered into Jerusalem as Savior and King. People cheered and laid palm branches on the road to honor Him.

To find out more read Debbie McDaniel's piece for crosswalk.com: 5 Things about Palm Sunday That Remind Us Christ Is King 



Maundy Thursday
On this day  'The Last Supper' is celebrated. Its name, 'Maundy' is Latin for the word 'command'.  At that final meal Jesus issued several commands he wanted his disciples and friends to follow.

You can begin finding out more about it here: What is Maundy Thursday / Holy Thursday? 

(Be sure to also search the phrase '

Maundy money

' for a fascinating 

ongoing British/UK tradition involving the Queen!)


Good Friday


This day is one of the most important in the Christian calendar: the day remembering that Jesus died for everyone.



As a child I was puzzled that this day was called 'good'. From my point of view it was nonsensical. How could being crucified be pleasant? Later I learned that the word 'good' in Old English was the equivalent of the word 'holy'.
Try this link as a starting point:  What's So Good about Good Friday?


Holy Saturday
This day is said to be the day Jesus 'rested'. After His ordeal His body was placed in a tomb 'resting' prior to His resurrection.

For more see the article; What is Holy Saturday? 


Easter Sunday


He lives! Easter Sunday celebrates Jesus rising from death - His resurrection on the third day after his crucifixion. 



Here's a good starting place to find out more: Easter Sunday*
* This is an excellent site for children to learn about Easter. 
How about "show and tell, share and EAT", Easter speeches? 
These topics cover traditional Easter foods. They would make very popular demonstration speeches!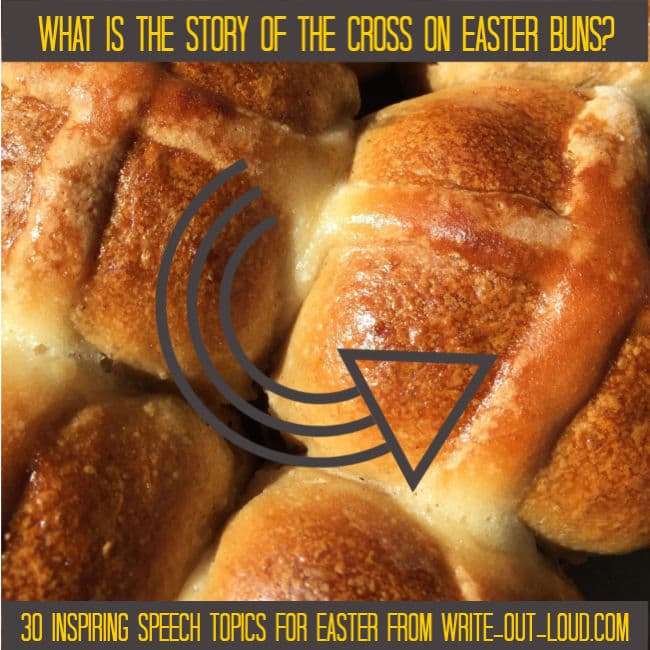 What is the story behind marking a cross on the top of Hot Cross buns?
There are lots of stories about hot cross buns. How the bun got a cross and became forever associated with Easter is one of them.

Make a batch of buns. Share them, the recipe, and the myths about them and you'll have a compelling (and very yummy) speech.


Share the history of Simnel cake.
This rich fruit cake covered with marzipan and topped with 11 marzipan balls representing the faithful disciples of Jesus is made for Mothering Sunday in the UK.

Look and you'll find recipes and pictures.


What's the story behind making pancakes for Shrove Tuesday?
Research the story. Find a recipe. Make to share along with your version of their background.
 
Be sure to read this article about 'Pancake Races' too. It's wild, wacky and 'very British' fun!
 

Many countries have special Easter breads.
Try Greek '

tsoureki'

Easter bread with traditional red-dyed Easter eggs inserted into it.

Or '

kulicha'

(Russian) - a sweet yeast-risen bread with raisins, almonds and candied orange peel.


How to make and decorate Easter eggs 
Wax, dye, paint, or glue and glitter? Boiled or blown eggs? Real or substitute?
There are many so different ways to decorate an egg! For simplicity select one to work into a demonstration speech.


How to make an Easter basket
Search and you'll find a squillion suggestions about how to make an Easter basket. There'll be ones in paper bags, ones in buckets, flower baskets, chocolate baskets ...

Find one that means something to you; a basket you'd feel happy to make and go for it.


What's the history of chocolate Easter eggs, and how are they made.
This topic is for you chocophiles , those who can not ever say no to chocolate.
When did chocolate became a major part of celebrating Easter? Who makes the best chocolate eggs? How?

Visit this Wikipedia page for 40+ more Easter food suggestions: many with ongoing links. (Truly delicious calorie-free browsing! ☺)
Related pages:
How to prepare and give a demonstration speech - if you're considering an EAT or show and tell, do check.

How to use visual aids (props) in speeches - fail-safe tips and tricks to make sure your Easter speeches are all you want them to be.
How to write a speech - if you need a hand on the business of crafting a speech, check this page for step-by-step speech writing help.