Eulogy example - Eulogy for a Heroine - Halima Obehi Jubrin
by John
(Benin City, Nigeria )
Halima Obehi Jubrin
How can anyone forget in a hurry the amazing personality and lofty future that Honourable Halima represents? Seeing her picture again this morning made me feel the same pain I felt when the news of her demise first struck me.
The passing away of Honourable Halima was like a burning metallic spear. It struck down the happiness imbued in her sphere of influence.
Oh Honourable Halima, darkness was high and low when I was told that you left so soon.
The moon, out of dismay, refused to shine and the splendid stars wept a zillion tears the night you left this transient world.
If only one could turn back the hands of time, then the pangs of pain and vacuum your demise evoked will be replenished with joy and happiness.
You were that stoic combatant with an optimistic faith to speak up without fear or timidity. You were so full of dreams that transcended your generation.
Your life mirrors the words of William Osler who said, "We are here to add what we can to life, not to get what we can from it."
You indeed lived and fought for many. I still remember that single call you made on my behalf that changed things for good.
Till date, my desk Officer in the Federal Ministry still ask me, "Where is that your 'sister' in state house?" That's the million dollar question I have not been able to answer.
You will be forever remembered by all those that you have affected positively. We remember you today as that lady in cultured verse who holds a sportsman's creed. We remember you as that lady who fought for others with the courage and determination of a man with a feminine touch.
I will forever miss you in different ways. May your soul keep resting in God's Heavenly bliss.

Sleep on, my sister and boss.
Do you need someone to talk to about grieving?
Have you considered online grief counseling?
Private, one to one, anytime, anywhere, help with grief
In the interests of transparency, this information about online grief counseling and support is sponsored by BetterHelp. When a person signs up for counseling from write-out-loud.com I receive a commission for providing the link enabling the connection.*
Grieving is a zig, zag, slip, sliding journey.
Some days it can be hard to eat, to breathe, sleep, brush your hair, get out of bed, get dressed, answer your phone, have a shower or, go to work.
Finding a reason, or the energy, to do things you once regarded as so ordinary you did them without thinking, is tough. Especially when you feel alone. 
Is this you? 
Online counseling can offer the support you need.
Despite what well-meaning friends or family might tell you there are no "right" ways to grieve. And neither are there "right" stages which everyone must pass through in a "right" sequence.
When you meet with an online grief counselor you will be understood, and carefully guided towards finding a way forward.
Just fill out the online questionnaire and within minutes you will be assigned the professional grief counselor most suitable for your needs. You don't even have to use your own name if you don't want to.
You'll pay an affordable fee set according to the length of the subscription plan you choose.
Access your counselor whenever you want via chat, messaging, video or phone.
Or find out more about

how online grief counseling works

.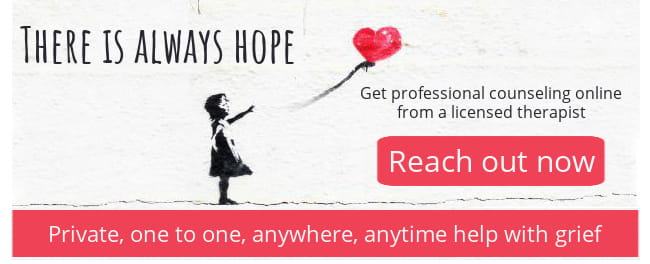 * Read independent BetterHelp customer reviews on TrustPilot.