Eulogy for a Friend
by SUSIE ARAZAS
(BELLINGHAM, WA.)
GABRIEL VON SUCH, Gabby, to his friends and colleagues was such a nice, soft-spoken man, with a ready smile for everyone.

When he asked me to stand as one of the sponsors at his wedding to Marie Imperio, I was really honored. He considered me a friend, whom he admired and looked up to, because he lost his mother before he got married. In fact it was the other way round. I admired him because of his gentle manners, his hunger for success and his ambitions too. I was his confidante, his rock, when he had problems at home and at work.

We treated each other with respect with regards to the affairs of the heart. He respected my opinion regarding all the girls who caught his eyes. If my opinion counted, I advised him which girl to pursue. That girl is his present wife, Marie. She was number one on his list.

When I retired from work, we didn't lose our communication. I left for the States but never failed to get in touch with him each time I went home to the Philippines.

One day I visited my friends in Meralco, and discovered that Gabby was not there anymore as he had retired at age 59. But luckily we were able to meet and he, together with Marie and family, treated me out for lunch. That was the last time I saw Gabby alive, in 2010.

How I wish we could have another day to treat each other out when I came again this year, 2012. But unfortunately we failed to meet and I went back to the States on June 9. Gabby died days after.

I lost a friend, but my friend is now happy to face the Lord. My prayers goes with him.


Do you need someone to talk to about grieving?
Have you considered online grief counseling?
Private, one to one, anytime, anywhere, help with grief
In the interests of transparency, this information about online grief counseling and support is sponsored by BetterHelp. When a person signs up for counseling from write-out-loud.com I receive a commission for providing the link enabling the connection.*
Grieving is a zig, zag, slip, sliding journey.
Some days it can be hard to eat, to breathe, sleep, brush your hair, get out of bed, get dressed, answer your phone, have a shower or, go to work.
Finding a reason, or the energy, to do things you once regarded as so ordinary you did them without thinking, is tough. Especially when you feel alone. 
Is this you? 
Online counseling can offer the support you need.
Despite what well-meaning friends or family might tell you there are no "right" ways to grieve. And neither are there "right" stages which everyone must pass through in a "right" sequence.
When you meet with an online grief counselor you will be understood, and carefully guided towards finding a way forward.
Just fill out the online questionnaire and within minutes you will be assigned the professional grief counselor most suitable for your needs. You don't even have to use your own name if you don't want to.
You'll pay an affordable fee set according to the length of the subscription plan you choose.
Access your counselor whenever you want via chat, messaging, video or phone.
Or find out more about

how online grief counseling works

.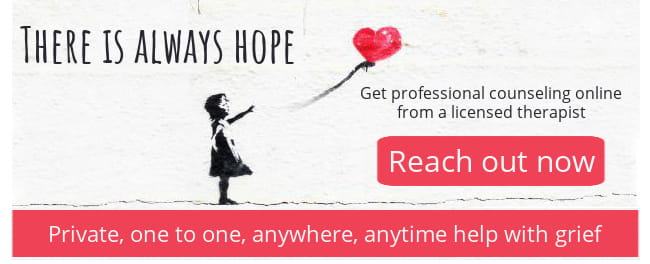 * Read independent BetterHelp customer reviews on TrustPilot.