Eulogy for Grandma
by Brad
(Athens, GA, USA)
Grandma
It seems like the older I get, the more I appreciate my grandparents. It's amazing how often their names have come up in conversation in recent years.

But today, we are remembering the life of my last living grandparent. Twenty-eight years have passed between the time I lost my first grandparent and today.

Over Grandma's lifetime, she saw 15 presidents of the United States. When she was born in 1925, it was during the Calvin Coolidge administration, which I'm sure we all remember well.

Being her youngest grandchild for ten years, and the youngest grandson, period, I had special privileges, in that as far as I know, I was the only one allowed to make fun of Grandma's age. I was probably already an adult when I turned to Grandma one day and asked… "Where were you when Lincoln was shot?" This… after years of ridicule and torture about turning 60, and then 65 and 70, and so on. She'd come to expect it. And I suspect if you caught her in a weak moment, she'd admit she kind of enjoyed it… I think.

I remember when I was 7 or 8 years old and Grandma took me to the Kozy Korner in Rushville for pizza. In the middle of the meal, I nearly made Grandma choke on her breadstick when I decided to ask… "Grandma, how are babies made?" She handled it with the age-old grandmotherly response. "You're just going to have to ask your mom and dad about that when you get home," she said. And I did. I hit mom up first thing after I got home – in the beauty shop as she was doing some woman's hair.

Even before that though, Grandma and I had a tradition. Every year, she'd take me to the Brown County Fair, and we'd ride the ferris wheel. That was a tradition that began when Grandpa was still alive. Of course, he wouldn't ride the ferris wheel with us. He kept his feet firmly on the ground, and he'd be standing there waiting as soon as we got off.

Those stories aside, it'll be the small things I'll remember about Grandma. Going over to her house with Dad on Saturday mornings for coffee and cookies. Or spending all day trying to get those old Christmas lights to work that probably should have been replaced years ago. Or going exploring in her basement, so I could report back to her about Grandpa's masterfully jerry-rigged electrical wiring system that would probably cause alarm in even the most lax electrician. And that would inevitably lead to the story about how Grandpa used to like to stick screwdrivers in electrical outlets just to get a chuckle at Grandma's expense.

I just mentioned drinking coffee with Grandma on Saturday mornings. It's worth pointing out that she gave me my first cup of coffee at the ripe old age of five. I've been drinking it ever since, which has led up to my pot-of-coffee-a-day addiction I enjoy today. I think Grandma would agree with me on this though. Coffee's not a beverage. Coffee's an event!

Many of you may rightfully remember Grandma as the last of the world's best hostesses. And Lord, did that woman have a way with a place setting! I'll remember that too.

But for me, the lasting image I will have is of Grandma strolling into the great beyond—perhaps on a giant ferris wheel. And if I have to bet on one thing, it's this. Just like he was 30 years ago, I'm sure Grandpa will be there waiting, ready to take her home.


Do you need someone to talk to about grieving?
Have you considered online grief counseling?
Private, one to one, anytime, anywhere, help with grief
In the interests of transparency, this information about online grief counseling and support is sponsored by BetterHelp. When a person signs up for counseling from write-out-loud.com I receive a commission for providing the link enabling the connection.*
Grieving is a zig, zag, slip, sliding journey.
Some days it can be hard to eat, to breathe, sleep, brush your hair, get out of bed, get dressed, answer your phone, have a shower or, go to work.
Finding a reason, or the energy, to do things you once regarded as so ordinary you did them without thinking, is tough. Especially when you feel alone. 
Is this you? 
Online counseling can offer the support you need.
Despite what well-meaning friends or family might tell you there are no "right" ways to grieve. And neither are there "right" stages which everyone must pass through in a "right" sequence.
When you meet with an online grief counselor you will be understood, and carefully guided towards finding a way forward.
Just fill out the online questionnaire and within minutes you will be assigned the professional grief counselor most suitable for your needs. You don't even have to use your own name if you don't want to.
You'll pay an affordable fee set according to the length of the subscription plan you choose.
Access your counselor whenever you want via chat, messaging, video or phone.
Or find out more about

how online grief counseling works

.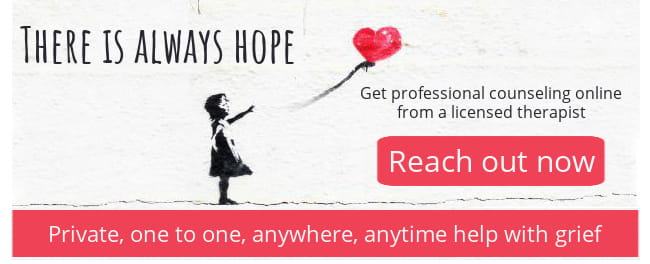 * Read independent BetterHelp customer reviews on TrustPilot.