Eulogy for Helen Davis Cecil
by James Cecil
(Baltimore, Maryland)
November 26, 2016 Church of The Immaculate Heart of Mary.

My mother was a liberated woman, and she liked to talk, a lot. And she especially liked to quote her mother, my grandmother, Marie A. Davis: the original liberated woman. Marie would say to her; " Sissy, when I'm gone, I don't want any tears."

So recently, Helen said to me, "James, when I'm gone, I don't want you to cry. There's no crying in baseball."

She liked that, so she said it a lot. "Well," I finally told her; "that's not gonna happen Helen." She looked irritated, and said, "Don't you think I know that? And another thing: no tears at my party."

I can tell you this: she knew a lot. She always had large thoughts; and she had her own, unique brand of wisdom...with no filter. My brother Bobby says..."She's never had an unspoken thought." But we all agreed; it wasn't always easy, but there was a lot to like.

If I ever knew anyone impassioned about everything; it was her. She loved many things:
She loved her friends. She loved her Family; all of us.

She loved: Camelot, William Butler Yeats and Everybody Loves Raymond.

She loved, La Boheme, Moonstruck, JFK and Jackie; and Johnny Unitas.

She loved, Tap dancing, Scrabble; Cheating at Scrabble.

She loved buying herself things on QVC, and returning them. I think she liked buying them more than having them.

She loved The Prime Rib, Pikesville Rye Whisky, Milwaukee's best lite. (It tasted like real beer, she said).

And she loved all things poetic.

She loved BAL and NPR. And she liked crab cakes fried; not broiled

But of all these treasures she loved the four of us; her children, the most. There was never a day we didn't know that.

She loved "The Catholic High of Baltimore". In her yearbook she was called Dave, below her picture were the the words: vim, vigor and vitality. And below that listed her ambition to review a Russian ballet. And you know, I think she did.

She loved beauty. And she loved love. She knew both very well. She was deep in knowing that love and beauty often reside on the border of anguish.

On Christmas night in 1989 she insisted that we, as a family take in a performance of Beethoven's 9th Symphony, on the tube. The title, "Ode to Joy," was replaced with "Ode to Freedom." This was a big deal - and she was worldly. There on the screen, the Berlin Wall was cracked open and thousands of East Germans poured through to be united with their brothers, sisters and children. She believed in the power of human spirit and talents; especially literature and music.

This event, if you could call it that, lay on the heels of yet, another Christmas morning where her children and grandchildren; and many friends would be the recipients of her most beautiful handmade quilts and sweaters; all of these designed to warm and hold each of us in her love. This was Helen.

Over the last months, my brothers: Bob and Thomas, and myself would visit with her as often as we could. One day she asked us if we thought my brother Billy would be there to greet her in heaven. Bobby said, I don't think so. She laughed.

We watched her outspoken signature fade. Discussion and debate were replaced by reflection; not necessarily of the past, but rather of the here and now. She was in there; listening to Bobby's enthusiasm as he shared with all of us, his sixty some year old perspective on being a student again- studying art of the great impressionists. She loved that.

Thomas and Tracy's travels to Salzburg and Italy: and most recently to Scotland would fill the room. No one can tell a story quite like Thomas.

Sometimes I would read her poems. Her favorites were love poems by Pablo Neruda. Although she had loved and lost, she was never cynical about a good love story.

And then, there were the recipes; they always found their way in the room as well. This assembly of thought by us, her children - as she lay there; still taking it in; still learning was something she cherished until the very end.

So Helen - if I shed a tear; if any of us shed a tear, it is not sad; but rather like the ones that you loved to shed yourself many times when you were held by something beautiful.


Do you need someone to talk to about grieving?
Have you considered online grief counseling?
Private, one to one, anytime, anywhere, help with grief
In the interests of transparency, this information about online grief counseling and support is sponsored by BetterHelp. When a person signs up for counseling from write-out-loud.com I receive a commission for providing the link enabling the connection.*
Grieving is a zig, zag, slip, sliding journey.
Some days it can be hard to eat, to breathe, sleep, brush your hair, get out of bed, get dressed, answer your phone, have a shower or, go to work.
Finding a reason, or the energy, to do things you once regarded as so ordinary you did them without thinking, is tough. Especially when you feel alone. 
Is this you? 
Online counseling can offer the support you need.
Despite what well-meaning friends or family might tell you there are no "right" ways to grieve. And neither are there "right" stages which everyone must pass through in a "right" sequence.
When you meet with an online grief counselor you will be understood, and carefully guided towards finding a way forward.
Just fill out the online questionnaire and within minutes you will be assigned the professional grief counselor most suitable for your needs. You don't even have to use your own name if you don't want to.
You'll pay an affordable fee set according to the length of the subscription plan you choose.
Access your counselor whenever you want via chat, messaging, video or phone.
Or find out more about

how online grief counseling works

.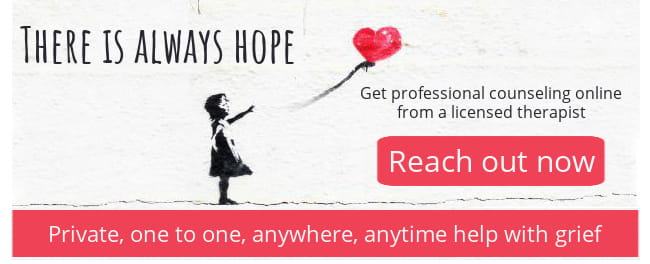 * Read independent BetterHelp customer reviews on TrustPilot.