Eulogy for my Father
by Charles Ijeh
(Dublin, Ireland)
Farewell the Perfect Gentleman
Papa, your life with us will always be remembered. You have been the perfect gentleman to everyone you came across. They'll always remember you for the different things you are to them.
To me, you are the man that loved your family, loved your music, loved the BBC world news, and you loved God.
To your children, you were a good father. You gave us the very best in life. Every single one of us got the highest level of education.
To our mother, you loved and cared for her all her life; even through her difficult times.
To your brothers and sisters, you remained a caring and loving brother. Always there to contribute positively to peace and togetherness.
To the government, you dedicated 35yrs of service up till retirement. You climbed gracefully through the rungs of your career as an auditor to the highest level.
To the church, you were the gentle organist guaranteed to be there every Sunday with the choir to do what you do best with the Organ.
To your neighbours and in-laws you were the peacemaker. Your role in their lives remain exemplary. I never remember you to have a quarrel with anyone. You are always there to help, advice and to give.
You remained gentle and jovial up to your death. I am so proud to be your son. It is painful to loose you now Papa but God knows what's best. We wish you farewell as you join our mother in the bosom of the lord.
Farewell the perfect gentleman.
Do you need someone to talk to about grieving?
Have you considered online grief counseling?
Private, one to one, anytime, anywhere, help with grief
In the interests of transparency, this information about online grief counseling and support is sponsored by BetterHelp. When a person signs up for counseling from write-out-loud.com I receive a commission for providing the link enabling the connection.*
Grieving is a zig, zag, slip, sliding journey.
Some days it can be hard to eat, to breathe, sleep, brush your hair, get out of bed, get dressed, answer your phone, have a shower or, go to work.
Finding a reason, or the energy, to do things you once regarded as so ordinary you did them without thinking, is tough. Especially when you feel alone. 
Is this you? 
Online counseling can offer the support you need.
Despite what well-meaning friends or family might tell you there are no "right" ways to grieve. And neither are there "right" stages which everyone must pass through in a "right" sequence.
When you meet with an online grief counselor you will be understood, and carefully guided towards finding a way forward.
Just fill out the online questionnaire and within minutes you will be assigned the professional grief counselor most suitable for your needs. You don't even have to use your own name if you don't want to.
You'll pay an affordable fee set according to the length of the subscription plan you choose.
Access your counselor whenever you want via chat, messaging, video or phone.
Or find out more about

how online grief counseling works

.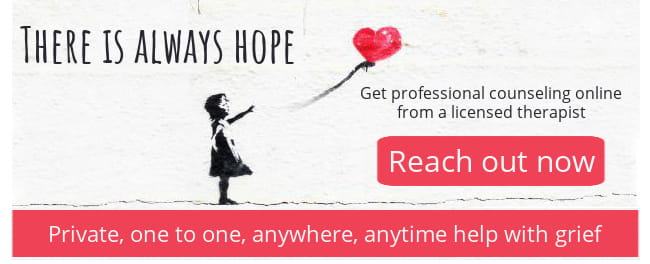 * Read independent BetterHelp customer reviews on TrustPilot.