Eulogy for my friend Cecil Wayne Pulliam
by Leo Du Bose
(Oakland,Ca.)
This eulogy was given in response to being asked to speak on behalf of the congregation we both belong to.
Some of the ideas for it came from this site. Thank you.
Spirit of the living God fall fresh on me.

Spirit of the living God fall fresh on me.

Break me,

Melt me,

mold me,

Fill me.
Often we, you and I, are given an honor that surpasses what we deserve. This honor has fallen on me. You see I only knew Cecil a short time. We are a new congregation, we have only been here five years. I can't regale you with stories or amusing anecdotes about fishing, attending a game together, or even remolding a bath. We did not have those times together.
Some of you probably only knew Cecil a short time too. You see he did not serve at the front. Nor did he stand at the rear. But he served this congregation well. He was the chairman of the committee for the physical improvement of this building. He was a member of the men's morning Bible study group. I had the privilege of serving with him in both of those settings.
I was privileged to visit with him in his home after this disease struck him. I saw the love and support for him displayed by his wife and by his children and grandchildren. I, also, observed the love and respect he had from his sisters and brothers. He was well loved.
This disease came upon him fast and hard. He was often in excruciating pain. He smiled through his great pain. He fought the disease. He wanted to be here for his wife , children, and grandchildren. He fought the disease, but he accepted death. He took the treatment: radiation, and chemical therapy. The disease won the battle, but he won the victory. You see, he knew Jesus Christ as Savior. He knew that when this tabernacle is destroyed, he had a habitation eternal in the Heavens. He knew absence from the body meant presence with the Lord. He accepted death. He did not leave here kicking and screaming. He just slipped away. He died with dignity and respect. Cancer beat his body, but love redeemed his soul.
You may see tears here today. Our Lord Jesus arrived at Bethany three days after Lazarus' death. He went to the tomb of Lazarus. There, the scripture says," Jesus Wept" (St. John 11:35). It is the shortest verse in the Bible. But its meaning is emphatic. Note that it does not say that Jesus shed a tear. He wept! The Jews said, (John 11:36), See how He loved him. He displayed His love for Lazarus and His compassion for Mary and Martha. You will never know the value of a friend or family member until you lose one. Cecil was a friend. I did not know Cecil long, but I knew him well.
Things I learned from Cecil
You can always smile. It makes you feel good and it brighten the day for others. It does not cost anything either. When you think about it, all the best things in life are free: a walk in the park; a sunset; a lovely flower; the touch of a love one; the words, I love you; salvation. Cecil smiled through his pain.
Don't complain, find a solution. I never heard Cecil complain. He was too bust determining the next best thing.
Let me finish with this.
There is a balm in Gilead that makes the wounded whole.

There is a balm in Gilead that heals the sin sick soul.

Sometimes I feel discouraged and think my work in vain.

But then the Holy Spirit revives my soul again.

There is a balm in Gilead that makes the wounded whole.

There is a balm in Gilead that heals the sin sick soul.
Cecil you have gone before us. But soon and very soon, each of us will leave this earth. All of us have an expiration date stamped on us. You can't see the date, but soon we will leave this place: many to eternal pain and torture, but some to eternal bliss in the presence of our Lord.
Do you need someone to talk to about grieving?
Have you considered online grief counseling?
Private, one to one, anytime, anywhere, help with grief
In the interests of transparency, this information about online grief counseling and support is sponsored by BetterHelp. When a person signs up for counseling from write-out-loud.com I receive a commission for providing the link enabling the connection.*
Grieving is a zig, zag, slip, sliding journey.
Some days it can be hard to eat, to breathe, sleep, brush your hair, get out of bed, get dressed, answer your phone, have a shower or, go to work.
Finding a reason, or the energy, to do things you once regarded as so ordinary you did them without thinking, is tough. Especially when you feel alone. 
Is this you? 
Online counseling can offer the support you need.
Despite what well-meaning friends or family might tell you there are no "right" ways to grieve. And neither are there "right" stages which everyone must pass through in a "right" sequence.
When you meet with an online grief counselor you will be understood, and carefully guided towards finding a way forward.
Just fill out the online questionnaire and within minutes you will be assigned the professional grief counselor most suitable for your needs. You don't even have to use your own name if you don't want to.
You'll pay an affordable fee set according to the length of the subscription plan you choose.
Access your counselor whenever you want via chat, messaging, video or phone.
Or find out more about

how online grief counseling works

.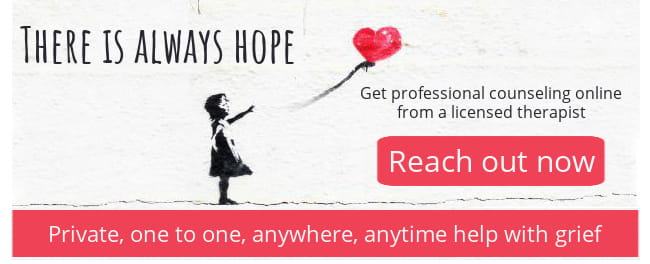 * Read independent BetterHelp customer reviews on TrustPilot.