Farewell Tribute
by Sarian Bouma
(Maryland)
Farewell, B Robinson, the Perfect Gentleman
B. C., Brother Opeh; your life with us will always be remembered. You have been the perfect gentleman to everyone you came across since you were born.
You will always be remembered for the different things you are to one and all.
To all of us here today, you are the man who loved your family, loved your music, loved the BBC world news, CNN and of course, SaLone news but most of all you Loved God.
To the Church, you faithfully serve and support in your quiet caring way.
To your wife, you never gave up in faith that she will someday join you here in the States as your love for her remains constantly strong!
To your children, grandchildren, nephews and nieces you were a good father, grandfather and uncle. You gave them the very best in life. Every single one of them got the very best from you. Your role in their lives will forever remain exemplary.
To your brother, Rev. P. Ekundayo, his wife Yvette and all family members; you remained a caring and loving brother, and brother in law. Always there for everyone, to contribute positively to peace and togetherness.
And to your baby sister R, you kept her under your wings throughout all these years faithfully joining hands with Ekundayo to do all you can to see her well!
To your late mother, late father and your late sister you loved and cared for them all their lives; even through difficult times.
To the government, you dedicated 15yrs of service from Capitol Hill office buildings, to State and Local government buildings. You climbed gracefully through the ranks of your career as a supervisor to site manager.
In the words of a former senior executive: "You were one of the BEST Workers." You were indeed a great asset to the company and government agencies.
To your co-workers and colleagues, friends and neighbors, you were the peacemaker, especially those of us from Boyle Street. I never remember you to having a quarrel with anyone, from Freetown, to the USA. You are always there to help, advise and to give to every one that you cross paths with.
On a personal Note: You always pulled me to the side and asked that I stop fighting at the pump on Boyle Street. Several years later, here in the States you confided in me, that I was indeed very bright and knew that someday I will be blessed!
You remained gentle and jovial up to your death. I am so proud to call you a neighbor, and later on found out that The Ballay and Robinson Family are related, and thank God I can call you a cousin. It is painful to loose you now Brother Opeh, but God knows what's best.
We wish you farewell as you join Mama Gonto, Phillppa, Pa. Robinson, Pa Ballay and all the many other family members in the bosom of God Almighty and our Lord and Savior Jesus Christ.
May St. Peter and all the saints open wide the gates of heaven as the angels welcome you with great trumpet and open hands!
Farewell the perfect gentleman!
May we rise and send Brother Opeh's Holy Spirit to heaven with the greatest round of applause for a Job well done on Earth!
Do you need someone to talk to about grieving?
Have you considered online grief counseling?
Private, one to one, anytime, anywhere, help with grief
In the interests of transparency, this information about online grief counseling and support is sponsored by BetterHelp. When a person signs up for counseling from write-out-loud.com I receive a commission for providing the link enabling the connection.*
Grieving is a zig, zag, slip, sliding journey.
Some days it can be hard to eat, to breathe, sleep, brush your hair, get out of bed, get dressed, answer your phone, have a shower or, go to work.
Finding a reason, or the energy, to do things you once regarded as so ordinary you did them without thinking, is tough. Especially when you feel alone. 
Is this you? 
Online counseling can offer the support you need.
Despite what well-meaning friends or family might tell you there are no "right" ways to grieve. And neither are there "right" stages which everyone must pass through in a "right" sequence.
When you meet with an online grief counselor you will be understood, and carefully guided towards finding a way forward.
Just fill out the online questionnaire and within minutes you will be assigned the professional grief counselor most suitable for your needs. You don't even have to use your own name if you don't want to.
You'll pay an affordable fee set according to the length of the subscription plan you choose.
Access your counselor whenever you want via chat, messaging, video or phone.
Or find out more about

how online grief counseling works

.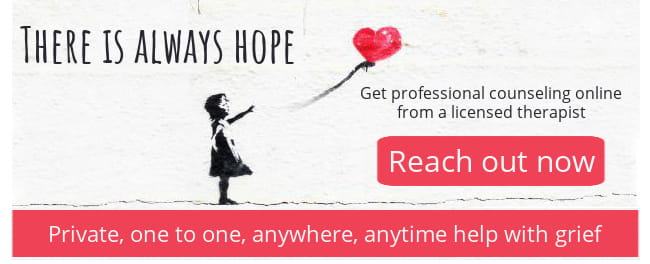 * Read independent BetterHelp customer reviews on TrustPilot.