When I was younger, my grandmother used to take me to reading time at the library every week. I don't remember much about the actual library sessions, but I do remember being so excited to spend time with her. That's not a feeling that I ever lost.

Granny would bookmark passages in the books she was reading that she wanted me to hear. When I visited, she'd sit me down and read them aloud to me, whether I wanted her to or not. Sometimes they were really relevant to me, but most of the time it was about something totally useless. But it was always nice knowing she'd thought of me when she was reading them. If she didn't have a passage to read me, she'd sometimes just fill me in on the "Bold and the Beautiful" plot twists from the last week instead.

Something my Grandmother and I had in common was a tendency to cheat at Scrabble. We would spend half the game yelling at each other across the board, each of us trying to convince the other that the random assortment of letters one of us had just put down actually made a word. Her favourite tactic was trying to steal letters back off the board when I wasn't looking, or simply pushing half a word off to make room for a new one and saying "It's late in the game so I can do it."

She loved a good joke, or more fittingly, she loved terrible jokes that made no sense. She would write the jokes down on scraps of envelope so she could remember them and tell me later. They might have made more sense if she didn't have a habit of accidentally saying the punch line first.

We accidentally bought almost identical bathing suits. She realised before I did, and laughed so hard that she cried. It took her forever to calm down enough to tell me that we matched. Every time she saw me in the pool wearing mine, she'd put hers on too and come sit by the edge of the pool preening and discussing what a pretty pair we were.

Granny and I used to do breakfast together. She'd make challah and I'd fill her in on my life. I went down to Granny's house for breakfast on Thursday. I walked in and she said "I've made something for you!" and proudly handed me a long coil of mandarin peel that she'd managed to peel off in one piece.

I think that one gesture sums up my Granny for me pretty well. It was the small things she did that I'm going to remember the most. The time she gave me a mandarin peel because she was so excited to have done it in one go. The dog-eared book pages from where she marked those passages for me. Her putting on her swimsuit so we could match. The snickering from the other side of the table as she tried to tell me whatever rubbish she had just put down on the scrabble board was a real word. Her face lighting up whenever she opened the door to me. Her calling out that she loved me as I crossed the garden.

Granny was one of my favourite people. I'm going to remember her for the little bits of joy she bought me, and I know that wherever she is now, she's bookmarking a page to read to me for when I see her again.


Do you need someone to talk to about grieving?
Have you considered online grief counseling?
Private, one to one, anytime, anywhere, help with grief
In the interests of transparency, this information about online grief counseling and support is sponsored by BetterHelp. When a person signs up for counseling from write-out-loud.com I receive a commission for providing the link enabling the connection.*
Grieving is a zig, zag, slip, sliding journey.
Some days it can be hard to eat, to breathe, sleep, brush your hair, get out of bed, get dressed, answer your phone, have a shower or, go to work.
Finding a reason, or the energy, to do things you once regarded as so ordinary you did them without thinking, is tough. Especially when you feel alone. 
Is this you? 
Online counseling can offer the support you need.
Despite what well-meaning friends or family might tell you there are no "right" ways to grieve. And neither are there "right" stages which everyone must pass through in a "right" sequence.
When you meet with an online grief counselor you will be understood, and carefully guided towards finding a way forward.
Just fill out the online questionnaire and within minutes you will be assigned the professional grief counselor most suitable for your needs. You don't even have to use your own name if you don't want to.
You'll pay an affordable fee set according to the length of the subscription plan you choose.
Access your counselor whenever you want via chat, messaging, video or phone.
Or find out more about

how online grief counseling works

.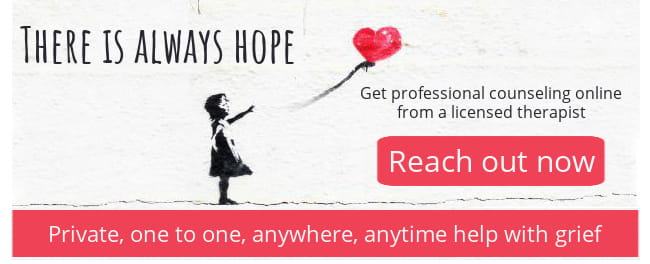 * Read independent BetterHelp customer reviews on TrustPilot.