Grandma Helen, a member of "The Greatest Generation"
by Sarah DEUTSCHMANN
(Washington DC)
Helen and Fred
Hello. My name is Sarah and I am Helen's granddaughter. I want to thank you all for coming. Your attendance here speaks volumes about the impact that this wonderful woman had on all of us.

Some of you knew her as Mom, Great Grandma, Aunt Helen, or simply as Helen; but to me and her five other grandchildren she was simply Grandma; and to all of us, she was a pretty amazing lady.

To highlight this, I reached out to my sisters and cousins and asked them a pretty simple and straightforward question:

"What are the 3 words that you would use to describe Grandma?"

Their responses, while simple, begin to paint a detailed portrait of the woman we all knew and loved. I will read them out to you and highlight a few of them.

Strong, snarky (in a funny way), and dedicated – always to her family.

Helen Suzanne Jochum Tunno was born on August 12, 1920 – at the tail end of Woodrow Wilson's presidency, World War I, and just before Warren G. Harding's new election to the Presidency – which I'm sure we all remember well. This was a woman who lived through the Great Depression and World War II - a member of "The Greatest Generation".

Patient, a listener, caring, an awesome cook.
Grandma married my late grandfather, Freddie, in 1946 and had two daughters: Joann and Jane. I know my mother definitely got her cooking skills from Grandma because my mother too is an awesome cook. My cousins though, report really looking forward to dinner at Grandmas! Now, I believe both of our mothers received plenty of Grandma's other wonderful traits as well so we'll just continue the eulogy at this time.

Strong German Woman
We celebrated the big milestones of life together: birthdays, graduations, holidays, and weddings. (Well, not mine yet but I made sure to apologize for that two weeks ago when I saw her. Back to the subject at hand -) Grandma traveled far and wide to make it for my birth in Alaska and my sister Liz's in Florida, and all the while, she was also around and available for the tougher moments in life: the many military moves we made and the moves my Aunt Joann and her family made as well. Packing, stacking, moving, driving – wait, no she didn't have a driver's license but that woman certainly knew where she was going at all times!

Genuine, proud.
My cousins reminded me, who could possibly forget her LIST – good or bad, you might make her LIST and believe me, you didn't want to be anywhere near, The LIST.

Personally, I remember visiting during hot, humid Missouri summers, watching rabbits jumping around all over my grandparents back yard that sloped upwards just a bit, crumb horns at Christmas made by my mother but always a reminder of my German grandmother, Italian meatballs, sausage and sauerkraut, and plenty of coffee and Entenmen's coffee cake year round.

It seems like the older I get, the more I appreciate my grandparents. It's amazing how often their names have come up in conversation in recent years – I am confident that my grandmother, Helen Tunno, will live on through our memories of her always honest and poignant advice.

Here to close out the eulogy and give us a few of her infamous quotes, my 10 year old nephew, Andrew – mostly because I think they will sound even better coming from a 10 year old:

1. "The way you make your bed IS the way you're going to lay down in it."
(Explaining why it's important to be on good behavior, and this, the second, describing the way someone takes care of their home.):

2. "I bet whatever doesn't stand up in that home, lays down."

(And lastly, before there was streaming on-demand television, one had to arrive timely to their tube):

3. "I have to get home in time for my show."

We love you Grandma, you will be missed.


Do you need someone to talk to about grieving?
Have you considered online grief counseling?
Private, one to one, anytime, anywhere, help with grief
In the interests of transparency, this information about online grief counseling and support is sponsored by BetterHelp. When a person signs up for counseling from write-out-loud.com I receive a commission for providing the link enabling the connection.*
Grieving is a zig, zag, slip, sliding journey.
Some days it can be hard to eat, to breathe, sleep, brush your hair, get out of bed, get dressed, answer your phone, have a shower or, go to work.
Finding a reason, or the energy, to do things you once regarded as so ordinary you did them without thinking, is tough. Especially when you feel alone. 
Is this you? 
Online counseling can offer the support you need.
Despite what well-meaning friends or family might tell you there are no "right" ways to grieve. And neither are there "right" stages which everyone must pass through in a "right" sequence.
When you meet with an online grief counselor you will be understood, and carefully guided towards finding a way forward.
Just fill out the online questionnaire and within minutes you will be assigned the professional grief counselor most suitable for your needs. You don't even have to use your own name if you don't want to.
You'll pay an affordable fee set according to the length of the subscription plan you choose.
Access your counselor whenever you want via chat, messaging, video or phone.
Or find out more about

how online grief counseling works

.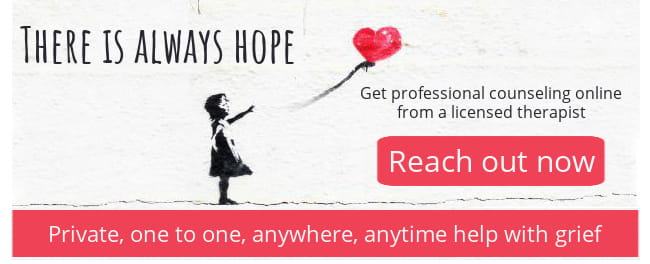 * Read independent BetterHelp customer reviews on TrustPilot.