Grandmother Eulogy
by Kelly
(Amherst, MA)
In many families, grandparents are a somewhat abstract concept; there are pictures of them around the house, you might get a birthday card in the mail, or see them on holidays, but in my family grandparents are a part of everyday life.
Grammie has been one of my neighbors for almost my entire life; my brother and sister and I could always walk to her house for a visit, or see her and my grandfather going for a walk around the village. They came to all of our school functions, and rejoiced in all of our achievements, big and small. If we were sick, mom would walk over and get us a 7-up from her fridge, and her house was always our first stop when we went trick-or-treating. Of course, the year I had chicken pox, it was my ONLY stop!
We celebrated the big milestones of life together; birthdays, graduations, and holidays, but also got to enjoy the informal, everyday "just dropping by" moments that together add up to a deep and meaningful relationship that is something I will always remember and cherish.
I know that each of my siblings got to enjoy a different part of my grandmother's personality, and got to know her from a unique perspective. I will always remember all of the time we got to spend together when she taught me how to drive, and how much fun we would have talking about all the latest movies, though she always seemed to have seen them first!
I also have many memories of meals at her house. Whether it was pancakes at the kitchen table or formal Thanksgiving served on the fine china in the dining room with California wine for the whole family, I knew my grandmother loved presiding over a table filled with loved ones.
While I know that the fine china has been getting dusty lately, she has been enjoying more meals with my mom, my sister-in-law, and with the many new friends she has made since my grandfather passed away. One of the great joys in her life was sharing a meal with the people who are important to her, and that remained unchanged throughout the years.
Grammie has had a deep and lasting impact on my life, and I'm sure that years from now I will notice new areas that she influenced. She is such an integrated and ingrained part of my life, that I am sure I will think of something new to miss about her everyday. I can only hope that with each passing day I will carry her memory with a little more joy and a little less sorrow than the day before.
Do you need someone to talk to about grieving?
Have you considered online grief counseling?
Private, one to one, anytime, anywhere, help with grief
In the interests of transparency, this information about online grief counseling and support is sponsored by BetterHelp. When a person signs up for counseling from write-out-loud.com I receive a commission for providing the link enabling the connection.*
Grieving is a zig, zag, slip, sliding journey.
Some days it can be hard to eat, to breathe, sleep, brush your hair, get out of bed, get dressed, answer your phone, have a shower or, go to work.
Finding a reason, or the energy, to do things you once regarded as so ordinary you did them without thinking, is tough. Especially when you feel alone. 
Is this you? 
Online counseling can offer the support you need.
Despite what well-meaning friends or family might tell you there are no "right" ways to grieve. And neither are there "right" stages which everyone must pass through in a "right" sequence.
When you meet with an online grief counselor you will be understood, and carefully guided towards finding a way forward.
Just fill out the online questionnaire and within minutes you will be assigned the professional grief counselor most suitable for your needs. You don't even have to use your own name if you don't want to.
You'll pay an affordable fee set according to the length of the subscription plan you choose.
Access your counselor whenever you want via chat, messaging, video or phone.
Or find out more about

how online grief counseling works

.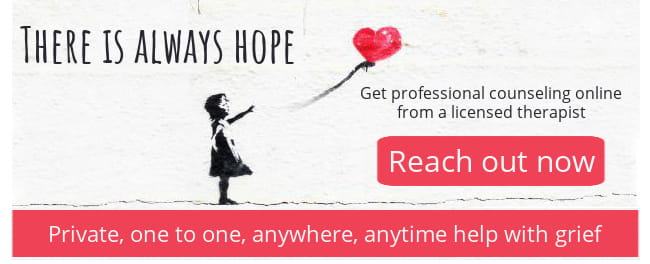 * Read independent BetterHelp customer reviews on TrustPilot.