In loving memory of Meagan Lourens, our Manager
by Pumza
(East London, Eastern Cape, South Africa)
We often say that the hour of death cannot be forecast. When we say this we imagine this hour would be in a distant future. We never thought we would be thinking about Meagan as a memory.

Yes, it came a little soon. She did her best to prepare us for her passing, however it still came as a shock and still feels a bit unreal.

We all have different memories of Meagan but one thing they all have in common is the way she loved and lived for her family.

She had the most inspiring love for her family. Every time she shared one of her family stories, her eyes would light up with the most amazing shine. A shine that could never be unnoticed.

She had the most amazing courageous strength and tenacity that every single person who ever came into contact with her could feel while in her presence. She went through so much in the past 9 years, things that would have broken a lot of people but never Meagan. She carried on gracefully because she knew she had to be strong for the people who were watching her, her children.

She was a manager, mentor, friend and a mother to us. She had a way of making each one of us in the team feel like we were her favorite.

We are so privileged to have worked with such an amazing, strong woman, who had such a deep care about her team members. Meagan taught us strong values and the importance of working together tightly as team, tolerance towards one another, generosity and tolerance towards one another's weaknesses.

We will always remember her as a leader, a fighter, a lover, a nurturer and a very resilient woman with strong ethics.

Your courage, determination and sense of humor is something we will always carry with us and hope that we can display those same characteristics especially in trying times.

We wish everyone could be so lucky to work with someone like you once in their lifetime. We are so grateful for the brief time we were able to spend with you and believe that the Angels are rejoicing because one of their own has rejoined them.

Let me close with a quote from an unknown author. "A great leader will deflect credit to his people. A bad leader will look to take the credit". Meagan was definitely in the former category, even on her last message to our team she said working with us was her greatest joy outside of her family.

A piece by Ariana that best describes Meagan:

"She made broken look beautiful and strong look invincible. She walked with universe on her shoulders and made it look like a pair of wings."

By so saying we bid you farewell and good night to your physical body. As we know that you will for-ever be in spirit.

Till we meet again beautiful soul rest in Peace.

Your L&D team

PS. Ayesha would like to add this from Kahil Gibran - "When you are sorrowful, look again in your heart, and you shall see that in truth you are weeping for that which has been your delight."


Do you need someone to talk to about grieving?
Have you considered online grief counseling?
Private, one to one, anytime, anywhere, help with grief
In the interests of transparency, this information about online grief counseling and support is sponsored by BetterHelp. When a person signs up for counseling from write-out-loud.com I receive a commission for providing the link enabling the connection.*
Grieving is a zig, zag, slip, sliding journey.
Some days it can be hard to eat, to breathe, sleep, brush your hair, get out of bed, get dressed, answer your phone, have a shower or, go to work.
Finding a reason, or the energy, to do things you once regarded as so ordinary you did them without thinking, is tough. Especially when you feel alone. 
Is this you? 
Online counseling can offer the support you need.
Despite what well-meaning friends or family might tell you there are no "right" ways to grieve. And neither are there "right" stages which everyone must pass through in a "right" sequence.
When you meet with an online grief counselor you will be understood, and carefully guided towards finding a way forward.
Just fill out the online questionnaire and within minutes you will be assigned the professional grief counselor most suitable for your needs. You don't even have to use your own name if you don't want to.
You'll pay an affordable fee set according to the length of the subscription plan you choose.
Access your counselor whenever you want via chat, messaging, video or phone.
Or find out more about

how online grief counseling works

.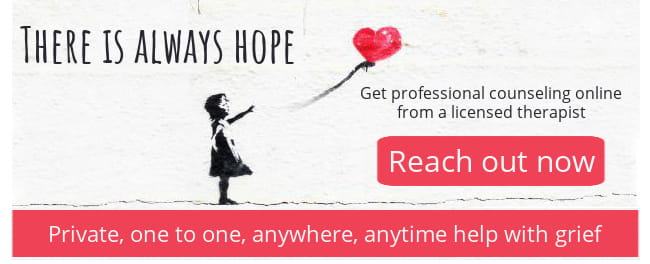 * Read independent BetterHelp customer reviews on TrustPilot.