Jimbo Bro - my wee brother
by Chery
(Fife, Scotland )
Hi!
Firstly, on behalf of my family and myself, I'd like to thank you all for being here, and for all your thoughts, prayers, and kindness we have received over the past few weeks. It's a real comfort to know Jamie was loved by so many of you and had a place in each of your hearts.

I was going to come up here and introduce myself as Jamie's wee sister, but my family are here and they would stick me in. Nah, Jamie is my wee brother. I was 4 when Jamie was born.

I remember being absolutely raging when my mum came back from Forth Park with another brother. I wanted a sister to play with and thought it was only fair to level the playing field. I fell out with my mum for weeks and wanted nothing to do with this boy she brought back.

That quickly changed when I realised Jamie was a real life baby doll. It wasn't long before I was trying to steal him away to put my doll's clothes on him. Mum couldn't turn her back for a second. From there on I loved my wee brother.

We used to get up to all sorts. We'd pinch Mum's fags and run up to the hut at the back of the garden or into the coal shed under the stairs to smoke them. We preferred the hut though. It had a better view point, we'd see her coming and had the length of the garden get rid of the evidence. The shed she would just open the door and catch us red handed.

Jamie would do the face that you all know. The 'been caught' face... I used to tell him, if we get caught you take the blame coz you're younger and she'll not be as hard on you. Jamie did it every time.

Occasionally, when we, or I should say, Jamie, wasn't grounded we'd get to go to the pool. I remember one time, we hadn't been for a while. We were walking along the prom, Jamie was so excited.

All the way along he was telling me, "I can swim noo Cheryl." "I'm going to jump the diving board coz I can swim noo."

We got in and split to get changed. I was coming out of the female changing rooms when I saw a wee skinny body run past. I then saw this wee skinny body run along the diving board and jump in the pool. It took a second to register that this skinny body was Jamie and when I walked out to the pool, Jamie was splashing around in the deep end, drowning.

The pool guards were completely oblivious. I jumped in and rescued him. Jamie's head was down the rest of the day because he realised he couldn't swim. Jamie was an awfy boy for, "A kin dae that."

We never got to spend a lot of time with Jamie. He was always on wee breaks to either Falkirk, Perth, Edinburgh, or near Tilibudy.

But in the last 4 years we had seen a big difference. It was like he had grown up and he was doing so well. A few slip ups, but generally doing well. We were all so proud.

Jamie spent a lot of time with the family. He was in his element when he was with us. Just a few weeks before he died, he helped me move house. He was lifting heavy furniture with fingers he had broken just a few days before. He loved helping out wherever he could.

It's a real shame despite coming through all he has, that he lies here today. This isn't supposed to happen.

I actually cannot believe I am saying goodbye to my wee brother. Every time Jamie said goodbye he would say "I love you sis". Well, today, Jamie son, for the last time, goodbye Jimbob. I love you bro.

Hope to see you again some day.


Do you need someone to talk to about grieving?
Have you considered online grief counseling?
Private, one to one, anytime, anywhere, help with grief
In the interests of transparency, this information about online grief counseling and support is sponsored by BetterHelp. When a person signs up for counseling from write-out-loud.com I receive a commission for providing the link enabling the connection.*
Grieving is a zig, zag, slip, sliding journey.
Some days it can be hard to eat, to breathe, sleep, brush your hair, get out of bed, get dressed, answer your phone, have a shower or, go to work.
Finding a reason, or the energy, to do things you once regarded as so ordinary you did them without thinking, is tough. Especially when you feel alone. 
Is this you? 
Online counseling can offer the support you need.
Despite what well-meaning friends or family might tell you there are no "right" ways to grieve. And neither are there "right" stages which everyone must pass through in a "right" sequence.
When you meet with an online grief counselor you will be understood, and carefully guided towards finding a way forward.
Just fill out the online questionnaire and within minutes you will be assigned the professional grief counselor most suitable for your needs. You don't even have to use your own name if you don't want to.
You'll pay an affordable fee set according to the length of the subscription plan you choose.
Access your counselor whenever you want via chat, messaging, video or phone.
Or find out more about

how online grief counseling works

.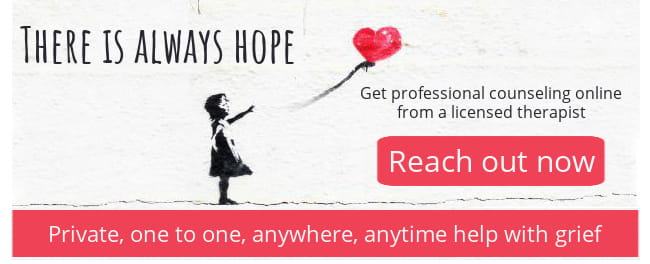 * Read independent BetterHelp customer reviews on TrustPilot.