by M. Powell
(Skegness, England)
Today I stand in front of you all with a deep hole in my heart. And this is not just my heart that has a hole it is all of yours as well. From wife, father, son, brother, friend and most of all, Uncle to me. We are all here today to celebrate the life of one incredible man with a heart full of love.

I sadly wasn't able to be as close as all of you were to my Uncle as my Mum and I were across the pond living in the States. I used to get sad because know I missed out on so many memories but when I was able to come here to Skegness/England every moment we shared was captured in my heart forever.

He would always mention the horrible baby I was who would be screaming as loud as possible and with my face bright red. Or talk about when the family came all the way across the pond to visit me for my dance competition where I won my first solo award. He said I was a star on stage and that I shined bright with joy, energy , passion, love and talent across the stage like my mom did when she was young.

He was at almost every show of hers, being the loving big brother that he was.

My uncle had to bear the role of not just a son and a brother, but also the role as the head in the house as their father passed at a young age.

He then later had his own family who he raised, loved and adored.

He was happy with the little things in life; the simple things and I admired that so much about him.

He was a man of many talents but his best is his ability to bring out the best in every person that he came across.

Something that no one knows about my uncle and I is that we shared a bond not most shared. We shared a tough bond on illness.

As many of you know I too am a fighter of cancer and we both had some tough times ahead of us through the treatments and doctors visits. Injections. Pokes. Ivs. Surgery. We promised after each treatment we would call one another and tell each other no one can keep these black sheep down. Ha ha - it was our sincere joke.

As kids my mom was the popular one. The beautiful dancer and popular woman that everyone knew of in this little town Skegness. Some even thought my mom was an only child due to the age difference in my mom and uncle. So we all used to joke and say to my uncle he was the black sheep.

When I got sick, he used to say no one is going to keep my black sheep of a princess down. My uncle had two sons and I think I was his special edition as close to a daughter if he had one so he treated me as that. I told him I would be a black sheep with you any day. And we would make sheep noises around the house.

I'm sorry if I am bouncing from topic to topic and crying but I have been trying to gather my words since I first found out and all I have come up with is my uncle was the bravest man I knew and I know if he were here right now he would tell me to smile and know that he is right here next to me and to keep on fighting and he will be looking down on all of us.

So today is March 7th, which is quite ironic because 7 was both of our lucky numbers. I will hold the black sheep you got me and make a sheep noise so that you can hear all the way up to heaven and I will know you will hear me.

Today is to celebrate you Uncle Greg and to remember you in, not just our minds but, our hearts forever. I love you so very much. Thank you Lord. You have gained a true angel.


Do you need someone to talk to about grieving?
Have you considered online grief counseling?
Private, one to one, anytime, anywhere, help with grief
In the interests of transparency, this information about online grief counseling and support is sponsored by BetterHelp. When a person signs up for counseling from write-out-loud.com I receive a commission for providing the link enabling the connection.*
Grieving is a zig, zag, slip, sliding journey.
Some days it can be hard to eat, to breathe, sleep, brush your hair, get out of bed, get dressed, answer your phone, have a shower or, go to work.
Finding a reason, or the energy, to do things you once regarded as so ordinary you did them without thinking, is tough. Especially when you feel alone. 
Is this you? 
Online counseling can offer the support you need.
Despite what well-meaning friends or family might tell you there are no "right" ways to grieve. And neither are there "right" stages which everyone must pass through in a "right" sequence.
When you meet with an online grief counselor you will be understood, and carefully guided towards finding a way forward.
Just fill out the online questionnaire and within minutes you will be assigned the professional grief counselor most suitable for your needs. You don't even have to use your own name if you don't want to.
You'll pay an affordable fee set according to the length of the subscription plan you choose.
Access your counselor whenever you want via chat, messaging, video or phone.
Or find out more about

how online grief counseling works

.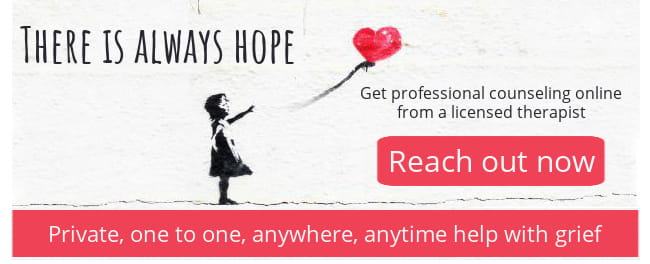 * Read independent BetterHelp customer reviews on TrustPilot.