My Grandma - The Farmer's wife
by Aaron
(St. Cloud, Minnesota)
Good Morning! I'm xxxxxxx, one of Judy's many grandchildren. On behalf of our family we thank you for helping us pay respect to a wonderful person, someone who was always happy, nice, and loving! She would be proud you are all here. So thank you.

I want to thank my family very much for giving me the honor to Eulogize my Grandma Judy. It's an honor I have not taken lightly and am proud to able to do this. So thank you .

I have a rule for today. I like Rules.

Let's not be sad today, but please be happy. She is pain free, has both legs, she is dancing, kissing, smiling, telling stories, laughing, with Grandpa my Aunt Lucille, Uncle Gib, Uncle John and cousin Christopher and many others. We had our time on earth with her, now they get their time, and that's fair! I'm sure thankful I got 36 of her 90!

I have been asking people "What will you miss most about Grandma Judy?"

Many spoke of how do I choose? Some even just couldn't choose. There was just soo many things.

The number one reply was... Any guesses???? Her cookies! Number 2, her smile, and then it was the laughs, kisses, and also the pride in her eyes and voice! How proud she always was. Someone said her homemade jelly and bread. I loved that stuff. Someone also said Grandma was the Matriarch. I agree. She was our queen. We didn't exist without her. I also love thinking of how we are her best crop. She loves watching her crops, both the ground or in our case human.

A couple of my personal memories of Grandma are watching a 5' tall German gal run out and control a what seemed to look like a 25' tall cow, the story about learning German, being her little angles, and Grandpa letting me run the tractor but running out of gas.

In conclusion I have a poem for you.

God looked down on his planned paradise and said, "The farmer needs a caretaker". So on the 9th day, God made a Farmer's wife.

God said, "I need somebody willing to get up before dawn, feed the farmer, work all day in town, come home to work alongside her farmer, make supper, and then go to town and stay past midnight at a meeting of the school board". So God made a Farmer's wife.

"I need somebody with arms strong enough to keep up with the farmer yet gentle enough to cuddle a newborn baby. Somebody to run for parts, help in the fields, move trucks, deliver meals, look the farmer in the eyes and tell him 'I love you and the life we've built' – and mean it". So God made a Farmer's wife.

God said, "I need somebody willing to sit up all night with their newborn babies, and raise them right. I need somebody who can use a wrench and know where to find it, doesn't mind getting dirty, who can remove stains, and keep a house clean. And when its planting time and harvest season, cooking, cleaning, taking care of the kids, the fieldwork, putting in 115 hours in a week." So God made a Farmer's wife.

God had to have somebody willing to cancel appointments and change plans and be ready in a minute's notice for change and yet will never stop that person will never stop to complain about this way of life. So God made a Farmer's wife.

God said, "I need somebody strong enough to clean out bins and heave bails, yet gentle enough to raise kids, grand kids and bottle feed calves and tend to the house, who will drive the tractor and always pray to God about the weather. It had to be somebody who'd be able to handle the house and field work and not cut corners. Somebody to seed, weed, feed, breed and wash and dry and cook and clean and remember scheduled events and feed the farmer and stock the cupboards and can everything, finish a hard week's work with a five-mile drive to Sunday Mass. So God made a Farmer's wife.

"Somebody who'd bale a family together with the soft strong bonds of sharing, who would laugh and then sigh, and then reply, with smiling eyes!" So God made a Farmer's wife.

He made a great mother, wife, grandmother, great grandmother, sister, daughter and great friend to us all. On July 4th 1926 God sent us my Grandma. On July 23rd 2016 he took her back. She had accomplished way more than even god had intended on this Earth.

We are thankful, grateful and we are better because of her love, her joy on this earth. The cookies and the jam helped too. Grandma. We thank you Grandma. God bless you! We will miss you! Amen.


Do you need someone to talk to about grieving?
Have you considered online grief counseling?
Private, one to one, anytime, anywhere, help with grief
In the interests of transparency, this information about online grief counseling and support is sponsored by BetterHelp. When a person signs up for counseling from write-out-loud.com I receive a commission for providing the link enabling the connection.*
Grieving is a zig, zag, slip, sliding journey.
Some days it can be hard to eat, to breathe, sleep, brush your hair, get out of bed, get dressed, answer your phone, have a shower or, go to work.
Finding a reason, or the energy, to do things you once regarded as so ordinary you did them without thinking, is tough. Especially when you feel alone. 
Is this you? 
Online counseling can offer the support you need.
Despite what well-meaning friends or family might tell you there are no "right" ways to grieve. And neither are there "right" stages which everyone must pass through in a "right" sequence.
When you meet with an online grief counselor you will be understood, and carefully guided towards finding a way forward.
Just fill out the online questionnaire and within minutes you will be assigned the professional grief counselor most suitable for your needs. You don't even have to use your own name if you don't want to.
You'll pay an affordable fee set according to the length of the subscription plan you choose.
Access your counselor whenever you want via chat, messaging, video or phone.
Or find out more about

how online grief counseling works

.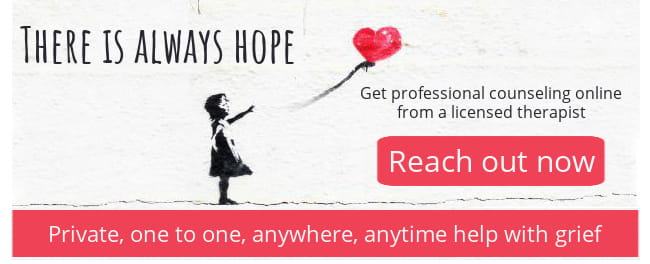 * Read independent BetterHelp customer reviews on TrustPilot.