My mother was the greatest and most wonderful woman
by Anthony
(Sacramento, Ca, USA)
My beautiful mother in high school.
My mother, Lucy Marie Duran, was born on January 23 1949, in Mesilla, New Mexico. She was one of the eight children, five girls and three boys, who were born to my grandma, Jesus Marie Duran and my grandpa, Candelario Duran.

My mother has three children; my sister Melissa, my sister Jenell, and I am the baby, Anthony.

So all of you who knew my mother knew she was very sweet, kind, loving, caring, and generous. Sometimes I wish at least half of us could be as selfless as she was.

My mother was so carefree and hardly had any worries in life. Also she was very nonjudgmental. She accepted every one no matter who they were and she loved every one from family to friends. And she made friends every where she went.

I remember asking my mother before she passed away if she was scared to pass. And my mother told me, without skipping a beat, no, Mijo. I'm not afraid to die because I know the Lord will be waiting for me.

She added, I just don't want to leave my children and family behind!

I told her don't worry. We will be alright and we will be there for each other the best way we know how.

All I know is my mother lit up a room where ever she went and now she is lighting up heaven with the beautiful smile she always had and her beautiful laugh. She is lighting up our paths as we are walking. She is letting us know that she is OK, that she is in heaven and that she wants us to love each other and treat each other with respect.

So before I close this, I just want to thank everyone who showed up for this beautiful, wonderful women and for you to remember all the good times we had with her and all the lives she changed with her love!


Do you need someone to talk to about grieving?
Have you considered online grief counseling?
Private, one to one, anytime, anywhere, help with grief
In the interests of transparency, this information about online grief counseling and support is sponsored by BetterHelp. When a person signs up for counseling from write-out-loud.com I receive a commission for providing the link enabling the connection.*
Grieving is a zig, zag, slip, sliding journey.
Some days it can be hard to eat, to breathe, sleep, brush your hair, get out of bed, get dressed, answer your phone, have a shower or, go to work.
Finding a reason, or the energy, to do things you once regarded as so ordinary you did them without thinking, is tough. Especially when you feel alone. 
Is this you? 
Online counseling can offer the support you need.
Despite what well-meaning friends or family might tell you there are no "right" ways to grieve. And neither are there "right" stages which everyone must pass through in a "right" sequence.
When you meet with an online grief counselor you will be understood, and carefully guided towards finding a way forward.
Just fill out the online questionnaire and within minutes you will be assigned the professional grief counselor most suitable for your needs. You don't even have to use your own name if you don't want to.
You'll pay an affordable fee set according to the length of the subscription plan you choose.
Access your counselor whenever you want via chat, messaging, video or phone.
Or find out more about

how online grief counseling works

.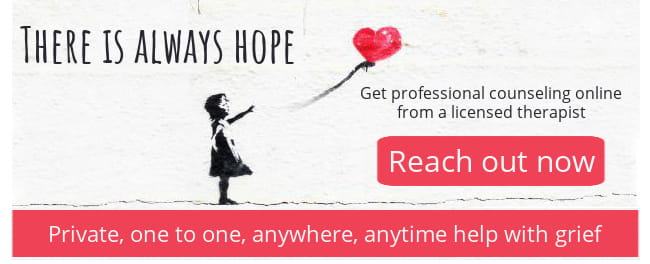 * Read independent BetterHelp customer reviews on TrustPilot.