I am Sam's mother. I am going to do the hardest job of speaking at the funeral of my son Sampuran Mann.

He was born on 11 April 1960. It was a puranmashi (full moon) day and a Monday too. My mom named him Sampuran. It means "full, complete".

When he was 2 years old he saw the moon in the sky he said "tuts Hoya chand". It means broken moon.

He landed in Canada in 1987. He sponsored us all. We thank him.

He was a very hard working person and technical minded. He used to help his co workers and people used to ask for help with some electronics. He worked on the school board.

One day he told me Mom be like the song "Don't worry, be happy". Another song he liked was Na much chipa ke jiyo au r na sar jhuka ke. Jiyo, game ka daur bhi aye to muskura ke jiyo. He lived his life like it.

On 4 Jan 2017 my moon Sam got broken. He was 56 yrs.only. It was my time to go, but cruel death took him away. He left us all crying for our loss.

Now he is at peace he is with Waheguru, the god. Sam, I will never ever forget you till I die.

Good bye my precious son. We all love you, son Sampuran.


Do you need someone to talk to about grieving?
Have you considered online grief counseling?
Private, one to one, anytime, anywhere, help with grief
In the interests of transparency, this information about online grief counseling and support is sponsored by BetterHelp. When a person signs up for counseling from write-out-loud.com I receive a commission for providing the link enabling the connection.*
Grieving is a zig, zag, slip, sliding journey.
Some days it can be hard to eat, to breathe, sleep, brush your hair, get out of bed, get dressed, answer your phone, have a shower or, go to work.
Finding a reason, or the energy, to do things you once regarded as so ordinary you did them without thinking, is tough. Especially when you feel alone. 
Is this you? 
Online counseling can offer the support you need.
Despite what well-meaning friends or family might tell you there are no "right" ways to grieve. And neither are there "right" stages which everyone must pass through in a "right" sequence.
When you meet with an online grief counselor you will be understood, and carefully guided towards finding a way forward.
Just fill out the online questionnaire and within minutes you will be assigned the professional grief counselor most suitable for your needs. You don't even have to use your own name if you don't want to.
You'll pay an affordable fee set according to the length of the subscription plan you choose.
Access your counselor whenever you want via chat, messaging, video or phone.
Or find out more about

how online grief counseling works

.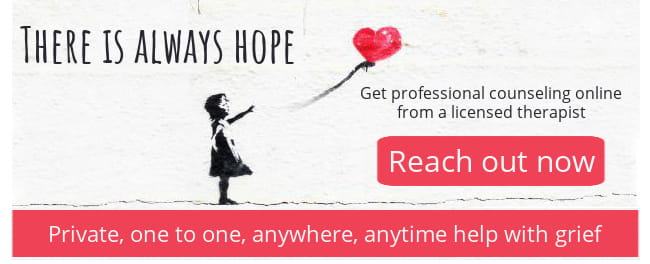 * Read independent BetterHelp customer reviews on TrustPilot.