Remembering Dad
by April
(Melville, NY, U.S.)
First I would like to thank all of you for your support. It means so much to us all.

Vincent was my father but he was also father to Donna, Joey, John Sr., Miriam, Harel, and Alex, and Grandfather to John Jr. Alison, Hailey, Kayla, Jake, Lila and Carissa, plus Uncle to many nieces and nephews here with us today.

We all have memories of Vincent. I want to share some of my most precious childhood memories with you now.

The most fun I had with him was staying up all night playing video games, watching hockey together, walking to Smoke Stax down the block and racing home, and painting Christmas ornaments with him. Getting a ride on my Dad's motorcycle was also the coolest!

But what I cherished most about my Dad was that he also loved animals. If a person found any hurt animal they knew my Dad would help them.

Hopefully you all had a chance to look at the college pictures. Not to sound weird but when I saw his high school picture I was like, "Wow! Dad was hot!"

My Mom didn't stand a chance! They met when my Mom was 16 and my Dad was 19. My beautiful Mom was waiting at a bus stop with her friends. My Dad, riding in a car with his friends, noticed the girls and asked if they wanted a ride. Of course no one takes rides with strangers, right kids?! So they said no.

Then one of my Dad's friends said to my Mom, "Vinny LaManna wants to talk to you!" and my Mom said, "Tell Vinny LaManna to go fly a kite!"

Maybe not exactly those words but you know what I'm saying. Well, that's all my stubborn Italian Dad had to hear and he said "I have to meet that girl!"

My Mom and her friends took the bus to an ice cream parlor not knowing that the boys had followed them. Once they got inside the ice cream parlor Dad pulled my Mom into a booth and my Mom saw those piercing green eyes and dark hair. She didn't stand a chance.

They were married for 51 years and when they moved into their first apartment all they had to eat for dinner was a hard boiled egg which they shared. They worked, making honest livings as bus drivers and we were proud. They provided all they could. They made sure we always had the presents we wanted on Christmas and the feeling of love was always there.

My father was an old fashioned Italian who struggled with showing emotions. Growing up with him was not always easy. Most of the time I just wanted to slap him in the back of the head and say, like Cher from Moonstruck, "Snap out of it"!

I know my Dad loved us but unfortunately he didn't know how to show us. With all of that, I have learned a very valuable lesson from my father. I will not live in fear or anger. I will love and I will grow and I will not let something like age tell me I can't learn something new or do something I enjoy.

When I make a mistake I will forgive myself and not live in regret. I've decided to take him on that journey with me because I know he would be proud and think, I'm nuts but, that's what life is about - love, learning, growing, pushing for more. That's what he taught me and I will not let him down. I want to experience the things he couldn't.

Again thank you to our family and friends for your your support.

Dad we love you...


Do you need someone to talk to about grieving?
Have you considered online grief counseling?
Private, one to one, anytime, anywhere, help with grief
In the interests of transparency, this information about online grief counseling and support is sponsored by BetterHelp. When a person signs up for counseling from write-out-loud.com I receive a commission for providing the link enabling the connection.*
Grieving is a zig, zag, slip, sliding journey.
Some days it can be hard to eat, to breathe, sleep, brush your hair, get out of bed, get dressed, answer your phone, have a shower or, go to work.
Finding a reason, or the energy, to do things you once regarded as so ordinary you did them without thinking, is tough. Especially when you feel alone. 
Is this you? 
Online counseling can offer the support you need.
Despite what well-meaning friends or family might tell you there are no "right" ways to grieve. And neither are there "right" stages which everyone must pass through in a "right" sequence.
When you meet with an online grief counselor you will be understood, and carefully guided towards finding a way forward.
Just fill out the online questionnaire and within minutes you will be assigned the professional grief counselor most suitable for your needs. You don't even have to use your own name if you don't want to.
You'll pay an affordable fee set according to the length of the subscription plan you choose.
Access your counselor whenever you want via chat, messaging, video or phone.
Or find out more about

how online grief counseling works

.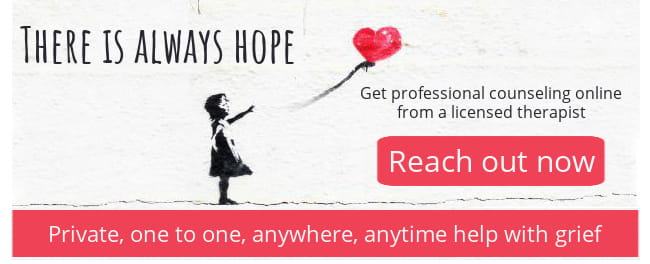 * Read independent BetterHelp customer reviews on TrustPilot.