Sometimes - a eulogy for my mother
by Paul Burrows
(Southend)
Sometimes, the distance between what we think and what we want to say is unbridgeable. And no matter how much we arrange and re-arrange the words they can never convey how we really feel inside.
Each person present today knows how affected they have been by my mother – both in life and in death. Those impressions are too minute and delicate to be substantiated in language.
But with your patience, I shall try.
It is fair to say my mother's early life was very fruitful. From 1954 until 1969 she bore five sons and three daughters. We all muddled along nicely in a modest three bedroom house. I can't remember wanting for anything except perhaps a room of my own. And there was always food on the table even if it was just cheese and crackers.
Unfortunately, through no fault of her own, my mother was left to raise the family by herself.
Struggling to make ends meet doesn't come close to describing her new circumstances. And yet, whenever a birthday came around …
April (David + Sandra)
May (Bryan)
July (Vanessa)
August (Sylvia)
September (Jonathan)
October (Paul)
November (Robert)
…there was always something to unwrap.
If she was pleased when a member of the family left home to make a new life it did not show. In fact, I think she was very upset. She was never happier when surrounded by her family.
Tragically, in 1978, after a long illness and a brave fight, my brother Jonathan died. He was 17. We should take comfort in the belief that he is reunited with his mum after all these years.
My brothers and sisters formed partnerships of their own. Some set up homes nearby whereas other traveled further afield. Grandchildren arrived and kept arriving. There were 19 when I last counted.
Looking back at old family photographs there are very few of my mum by herself. It was her family that defined her and the values which she fought so long and so hard for - values that she tried to instill in us so that we might instill them in our own families.
Her devotion also extended to the partners of her sons and daughters.
Special credit must go to Ian F., husband of Sandra, who gave up so much of his time to make my mother's home and garden as comfortable and as beautiful as possible.
My mother may not have led the life she fully deserved. But she found happiness and fulfillment in helping and taking care of those around her. For that we are truly thankful.
Do you need someone to talk to about grieving?
Have you considered online grief counseling?
Private, one to one, anytime, anywhere, help with grief
In the interests of transparency, this information about online grief counseling and support is sponsored by BetterHelp. When a person signs up for counseling from write-out-loud.com I receive a commission for providing the link enabling the connection.*
Grieving is a zig, zag, slip, sliding journey.
Some days it can be hard to eat, to breathe, sleep, brush your hair, get out of bed, get dressed, answer your phone, have a shower or, go to work.
Finding a reason, or the energy, to do things you once regarded as so ordinary you did them without thinking, is tough. Especially when you feel alone. 
Is this you? 
Online counseling can offer the support you need.
Despite what well-meaning friends or family might tell you there are no "right" ways to grieve. And neither are there "right" stages which everyone must pass through in a "right" sequence.
When you meet with an online grief counselor you will be understood, and carefully guided towards finding a way forward.
Just fill out the online questionnaire and within minutes you will be assigned the professional grief counselor most suitable for your needs. You don't even have to use your own name if you don't want to.
You'll pay an affordable fee set according to the length of the subscription plan you choose.
Access your counselor whenever you want via chat, messaging, video or phone.
Or find out more about

how online grief counseling works

.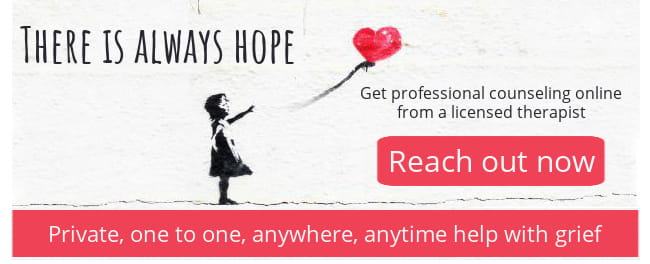 * Read independent BetterHelp customer reviews on TrustPilot.