Ted Jacobs
by Bruce Bevan
(Amherst, Ohio)
So many hats ... So many titles ... So many words I have learned to call Ted Jacobs;
- Businessman,
- Proprietor,
- Teacher,
- Mentor,
- Solider,
- Boxer,
- Golfer,
- Boss,
and the one that I am most proud to have earned the right to use; Friend.
Gail reminded me of an observation that her Dad and her had made back in the late 80's.
Ted had brought a number of us together for a goal setting class... not the usual sales figures and opens to buys.
No. This session was extra special.
Ted had already introduced us to the likes of Dale Carnegie, Earl Nightingale, Norman Vincent Peale, and Zig Ziglar. Now it was time to address our life goals.
You see he cared about us and he cared about our futures. Sure he wanted to make us better sales people but he really wanted to show us the way to be better people.
We developed our goals and reviewed them over the next few weeks and I realized that one of my goals was to own my own business. Selflessly Ted guided me toward that goal and it's achievement a year later.
Years later when I took up the sport of auto racing, Ted had Gail drive them to Sandusky Speed way. I knew they weren't there because of their love of burning rubber, squealing tires or the smell of gasoline. They were there to watch me because after all those years I was a member of the Ted Jacobs family.
I still have the recorded message on my phone of the thrilled Ted congratulating me on my win that night.
So today I toast Ted, and thank him for changing my life
Do you need someone to talk to about grieving?
Have you considered online grief counseling?
Private, one to one, anytime, anywhere, help with grief
In the interests of transparency, this information about online grief counseling and support is sponsored by BetterHelp. When a person signs up for counseling from write-out-loud.com I receive a commission for providing the link enabling the connection.*
Grieving is a zig, zag, slip, sliding journey.
Some days it can be hard to eat, to breathe, sleep, brush your hair, get out of bed, get dressed, answer your phone, have a shower or, go to work.
Finding a reason, or the energy, to do things you once regarded as so ordinary you did them without thinking, is tough. Especially when you feel alone. 
Is this you? 
Online counseling can offer the support you need.
Despite what well-meaning friends or family might tell you there are no "right" ways to grieve. And neither are there "right" stages which everyone must pass through in a "right" sequence.
When you meet with an online grief counselor you will be understood, and carefully guided towards finding a way forward.
Just fill out the online questionnaire and within minutes you will be assigned the professional grief counselor most suitable for your needs. You don't even have to use your own name if you don't want to.
You'll pay an affordable fee set according to the length of the subscription plan you choose.
Access your counselor whenever you want via chat, messaging, video or phone.
Or find out more about

how online grief counseling works

.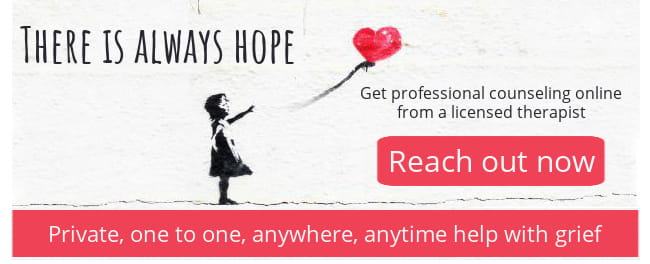 * Read independent BetterHelp customer reviews on TrustPilot.