My mother always said that we could be whomever we wanted to be. She was a person you could really depend on and was a constantly supporting her children no matter if they wanted to climb the tallest mountain or build the biggest block tower. She was our rock and she is one lady who will be missed by not only her children, but everyone.

When we were growing up my mother made sure my siblings and I were always taken care of. She would sacrifice her own happiness for ours.

When we were younger we didn't understand that, but she was just that type of giving person. As we grew up we begin to realize Mum was one of the good ones. She always said you had to be nice to everyone even if they weren't nice to you, because you didn't know what might be going on in their lives. I could never understand how she could be so compassionate to people who were not nice to her. That was just the way Mum was. She cared more for everyone else than she did for herself.

You can never get as much time with the ones you love as you think you are owed. We didn't know Mama's time with us was short, but we still enjoyed every second with her. She was just as sweet, supportive, and full of joy as always right up to the end.

Mum was a light in my life as I am sure she was a light in all of yours. She would give anyone the shirt off her back and go out of her way to help a friend in need. I remember one time when I was little Mum got a phone call late at night from a friend who lived on the other side of the Street. She had fought with her husband and was really upset. Mum dressed us and went out in her nightgown with us to go console her because Dad was working that night. She would always be there for her friends and family.

There are so many memories of my mother that come to mind so it would be next to impossible for me to pick a favorite. When her time was growing short in those last few days she spent time with each one of us telling us how much we had meant in her life. That will go in my memory bank as one of my favorite times with her. We were lucky to have such a great mother, and even luckier that we were able to spend so much time with her at the end of her life.

Mum is with us today in our hearts. Words can't express how much she meant to me and my family. I know she is watching us and is with us in spirit. Let us remember Tina Anderson as the carefree and loving person she was and celebrate the life of a great woman as we honor her memory today.


Do you need someone to talk to about grieving?
Have you considered online grief counseling?
Private, one to one, anytime, anywhere, help with grief
In the interests of transparency, this information about online grief counseling and support is sponsored by BetterHelp. When a person signs up for counseling from write-out-loud.com I receive a commission for providing the link enabling the connection.*
Grieving is a zig, zag, slip, sliding journey.
Some days it can be hard to eat, to breathe, sleep, brush your hair, get out of bed, get dressed, answer your phone, have a shower or, go to work.
Finding a reason, or the energy, to do things you once regarded as so ordinary you did them without thinking, is tough. Especially when you feel alone. 
Is this you? 
Online counseling can offer the support you need.
Despite what well-meaning friends or family might tell you there are no "right" ways to grieve. And neither are there "right" stages which everyone must pass through in a "right" sequence.
When you meet with an online grief counselor you will be understood, and carefully guided towards finding a way forward.
Just fill out the online questionnaire and within minutes you will be assigned the professional grief counselor most suitable for your needs. You don't even have to use your own name if you don't want to.
You'll pay an affordable fee set according to the length of the subscription plan you choose.
Access your counselor whenever you want via chat, messaging, video or phone.
Or find out more about

how online grief counseling works

.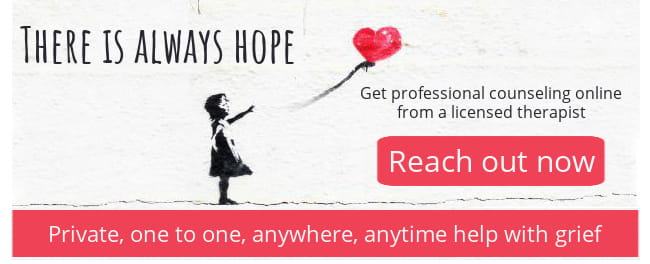 * Read independent BetterHelp customer reviews on TrustPilot.