A Tribute to Jaye, My Sister-In-Law
by Marina Cahill
(Saint Louis, Missouri, United States)
So often when asked speak on behalf of the family, it has fallen to one of my brothers but today, I, Marina Cahill better known as Pill, have the honor and privilege to pay tribute to a very special, and irreplaceable person in our lives - my beloved sister-in-law, Janet-Jaye.
I struggled with what to say. I didn't know where to start. There were so many beautiful things that I wanted to say about Jaye. But how could I conceivably communicate what a wonderful person Jaye was?
How could I explain the kindness in her heart, the contagiousness of her joy, or the depth of her love? It's just that she was so remarkable. How could I ever be able to sum up her beautiful life in the short few moments I have with you here today? Then I realized I couldn't. But it was my duty to tell you how much she meant to the Cahill family.
Shortly after a terrible accident, brother Clyde traveled to Boston to bring Chris home. Scarred, bruised, his leg in a cast, he walked with a cane and we really didn't know if he'd ever walk without a limp. Even returning to Tufts was doubtful. But Chris took a class at UMSL where he met Jaye. And life for him and us changed.
It was like that song, "One of a Kind Love Affair". Chris was that lame man who walked again. He got rid of the cane, he lost the limp, returned to Tufts and got his degree. All because of Jaye and his love for her.
And it wasn't just Chris, all of us fell in love with her.
Jaye was not only beautiful on the outside, she was a beautiful soul. She saw the beauty in others. Jaye took her time, forming her own thoughts and opinions about the people and things around her. And when they decided to marry, I was ecstatic that I finally was going to have a little sister.
Hey, I had those 4 younger brothers. Like Ruth, Chris's people were hers and her people were his. My parents were always Mom and Dad to her.
For every memory that I share here, there are hundreds that will come flooding back every time we think of Jaye.
We learned the Electric Slide one New Year's Eve, we sat through a time-share presentation to get free tickets for a show in Vegas, we had a cousins/sisters sleepover, complete with a movie, Pokeno and a 2am trip to the Casino Queen, we attached false fingernails even though we only had one set between us- I think I had one thumbnail- and we took a long bus trip to a Mississippi family reunion.
I know there is something that she found to love in every one of us.
She was always bright, colorful, creative, vibrant and full of life. Now I am a fashionista but Jay had me topped because she was able to decorate more than just herself. You just got inspired when you'd see her new renovations or color scheme. And you knew, even without asking that everything she did reflected her own personal style.
Brother Randall is right, she brought both sass and class to our family. She was outspoken; never bullied or cowed. Always a truth-teller, she was kind with her words, never with meanness or malice and always generous with her grace. Merciful in everything because she was always true to herself.
She was a fantastic mother. Look at Clayton, remember Christopher! I learned a lot about parenting just watching her. Even my parenting failures were something she could see the positive in. I know that she was a loving and caring aunt, ask her nieces and nephews.
Shortly after leaving Seattle, I had this bright idea that we'd meet as a family once a week. Now I know everyone was thinking, "what the heck is she thinking", but on that first Thursday Jaye brought a box of photographs for us to go through. We laughed and recalled memories of past parties, gatherings and just about everything and "Family Night" established.
I struggled in adjusting to the Midwest and Jaye was such a good listener, without judging. She let me know she was my support in my ramblings and anxiety and when things got a little tough, we went for pedicures, we laughed and often we just hugged. She told me "what one man can do, another man can do". Encouraging me to keep going. She brought me shoes when all mine where in storage due to my move.
How did she love us? She accepted us for what we were, flaws and all. She included us in her life with her presence, her love and encouragement. She empathized with our struggles and she let us empathize with hers. She forgave us our mistakes and trusted that we'd forgive hers. She wanted us to be a forever family. And it would all be okay.
Words cannot describe how much she will be missed. I feel like we still had so much left to teach one another, to give one another, to share with one another.
We must remind ourselves that when we look for her, we can look to the stars at night and we can look into the eyes and hearts of everyone here and find a little piece of her. She will live on forever.
Every Mother's Day I would scribbled a corny poem in her card. Putting my poem to music, let me share it.
You were chosen by my brother
You're the mother of his sons
He chose you to be my sister
And I am, the blessed one
Gentle woman, quiet light
Morning star, so strong and bright
Gentle mother, peaceful dove
Teach us wisdom, teach us love.
Do you need someone to talk to about grieving?
Have you considered online grief counseling?
Private, one to one, anytime, anywhere, help with grief
In the interests of transparency, this information about online grief counseling and support is sponsored by BetterHelp. When a person signs up for counseling from write-out-loud.com I receive a commission for providing the link enabling the connection.*
Grieving is a zig, zag, slip, sliding journey.
Some days it can be hard to eat, to breathe, sleep, brush your hair, get out of bed, get dressed, answer your phone, have a shower or, go to work.
Finding a reason, or the energy, to do things you once regarded as so ordinary you did them without thinking, is tough. Especially when you feel alone. 
Is this you? 
Online counseling can offer the support you need.
Despite what well-meaning friends or family might tell you there are no "right" ways to grieve. And neither are there "right" stages which everyone must pass through in a "right" sequence.
When you meet with an online grief counselor you will be understood, and carefully guided towards finding a way forward.
Just fill out the online questionnaire and within minutes you will be assigned the professional grief counselor most suitable for your needs. You don't even have to use your own name if you don't want to.
You'll pay an affordable fee set according to the length of the subscription plan you choose.
Access your counselor whenever you want via chat, messaging, video or phone.
Or find out more about

how online grief counseling works

.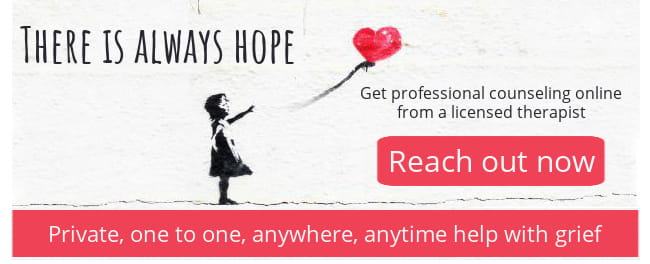 * Read independent BetterHelp customer reviews on TrustPilot.