Eulogy for a Special Dad
by Jacqui
(Cornwall, UK)
When I was little Dad would sometimes take me along on one of his work trips. You'd think eight hours stuck in a car with a child would be torture, but some of my happiest memories are from those days.

He'd entertain me with nothing more than a bit of scrap paper and a pencil. We'd play word games, he would tell me tales, and tease me with riddles. We'd do sketches for each other on napkins in cafés, and when we'd exhausted all that we'd use the scrap paper to play battleships.

Later, when I was a teenager, it was just the two of us. Growing up in a single parent family where that parent was your father was still a rare thing at the time. Dad wasn't perfect, but I wouldn't have had him any other way. If occasionally times were hard, he made sure I never went without. What we couldn't afford he would build from whatever material he could get his hands on. How many people can say they got to watch their father build their fitted kitchen from scratch?

Anyone who spent any time with us will tell you it was often hard to follow our conversations. Dad had a terrible habit of starting them in the middle:

"She got stuck up the chimney again…" he'd begin.

He meant the cat, but it was okay because I knew that.

He had his own language. He regularly bemused my friends by saying things like "Can you get me a Spignell?", and once, when cut up at a junction, by shouting: "Oh furkemblangers!"

I've an envelope at home covered in names that we used to think up over breakfast: names such as Lavender Mackintosh and Iona Bucket. There's a question mark after that one. That envelope was pinned to the wall in our kitchen for years, yellowed and dotted with blobs of glue. For Dad, language was fun. It was something to be moulded, like the Plasticine he used when modelling his figures.

If I say little it's because Dad always had enough to say for the both of us. He was a teller of stories. He could befriend, literally, anybody, and he did. But watch out, if he thought you were a fool…

If he were here today he would be in the back, paper out, sketching each of us. The drawings wouldn't be flattering, but they would catch us just the same.

Dad saw the world the way he drew it. He could be cutting, but always very funny. I shan't tell you some of the names he had for my childhood friends. Needless to say their mothers wouldn't have been impressed.

I think those of us who knew him in the last few months of his life will agree, he kept that outlook right to the end.

My father was known for his love of art, and of music, and books. He was known for his knowledge, and his wit. Since his passing my Dad has been described to me as many things: a real gentleman, a character, an intelligent man. He was all of these. He was also sharp, generous, resourceful, stubborn, and wickedly funny.

I miss the way he saw the world, the way he refused to take it seriously.
I miss arguing with him, cooking with him, walking with him.
I miss watching him work.
I miss his way with words.


Do you need someone to talk to about grieving?
Have you considered online grief counseling?
Private, one to one, anytime, anywhere, help with grief
In the interests of transparency, this information about online grief counseling and support is sponsored by BetterHelp. When a person signs up for counseling from write-out-loud.com I receive a commission for providing the link enabling the connection.*
Grieving is a zig, zag, slip, sliding journey.
Some days it can be hard to eat, to breathe, sleep, brush your hair, get out of bed, get dressed, answer your phone, have a shower or, go to work.
Finding a reason, or the energy, to do things you once regarded as so ordinary you did them without thinking, is tough. Especially when you feel alone. 
Is this you? 
Online counseling can offer the support you need.
Despite what well-meaning friends or family might tell you there are no "right" ways to grieve. And neither are there "right" stages which everyone must pass through in a "right" sequence.
When you meet with an online grief counselor you will be understood, and carefully guided towards finding a way forward.
Just fill out the online questionnaire and within minutes you will be assigned the professional grief counselor most suitable for your needs. You don't even have to use your own name if you don't want to.
You'll pay an affordable fee set according to the length of the subscription plan you choose.
Access your counselor whenever you want via chat, messaging, video or phone.
Or find out more about

how online grief counseling works

.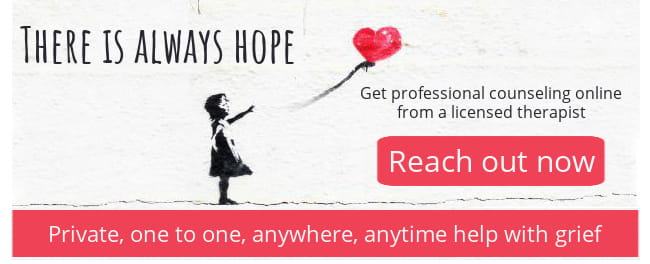 * Read independent BetterHelp customer reviews on TrustPilot.