Eulogy for Mom
by Anne-Marie
(San Francisco)
A mother and child connection is so profound. How can the limitations of language ever do this archetypal relationship justice?

It feels almost impossible to put words to the love I feel for my mother, but I will try.

I have tremendous gratitude for past five years I was able to spend time with my mother since she was first diagnosed with stage 4 lung cancer. We were very open with one another - sharing our feelings; laughter, tears, and, some bickering here and there. The conversations and closure we were able to have were a gift. I will miss her forever.

In my mother's life there was hardship, but also huge blessings. My mother's death, as is often the case, was similar to her life as a whole in this way. It was an invaluable experience to have, along with my family, been by my mother's side in her final days and nights, and I am amazed to recollect the bright, warm, large look in her hazel colored eyes after she was told she did not have much time left.

As my mother began to pass away I thought maybe she does not want to go. For, she was a fighter and her incredible tenacity had showed up in her strong will to live with this terrible disease these last five years. Yet in her final moments the peace and tranquility that came over my mom's face was breathtaking. She was beautiful and glorious as an angel as she smiled and transitioned out of this world and into the next. For sure she had agreed to pass on and by the ecstatic look on her face I rest knowing mom was greeted by her loved ones who went before her.

My mother Mary was 32 when she gave birth to me. Younger than I am now. Her own mother died while she was pregnant with me, and I imagine that tragedy must have played a role in our tight bond. I always felt close to my mother. But our relationship was a paradox. On the surface the way we have lived our lives may seem contrary. However, in spite of traditional and generational differences, our core strengths and beliefs were so congruent; and it was the spirit with which my mother imparted her love that transcended all our differences.

My mother's core motivating force was- LOVE and it was her love that has had a profound impact on the essence of who I am. My mother lives on in my heart.

She gave me the foundation on which my whole life is built. A calling to live a life of service and to help make the world a better place. This is the greatest lesson my mother taught me; how to be caring, affectionate, forgiving, and empathetic towards others, especially those in need. She exemplified service, be it to the elders she visited weekly for years in the nursing home, caring for my beloved Aunt Nonie, or her persistent efforts to meet the needs of her own children and grandchildren. I will always feel love and gratitude for the warm gifts she so beautifully embodied. My mother Mary, was a force for spreading good in the world, and her legacy - this compelling force of good continues in the many of us here, whose lives she touched.


Do you need someone to talk to about grieving?
Have you considered online grief counseling?
Private, one to one, anytime, anywhere, help with grief
In the interests of transparency, this information about online grief counseling and support is sponsored by BetterHelp. When a person signs up for counseling from write-out-loud.com I receive a commission for providing the link enabling the connection.*
Grieving is a zig, zag, slip, sliding journey.
Some days it can be hard to eat, to breathe, sleep, brush your hair, get out of bed, get dressed, answer your phone, have a shower or, go to work.
Finding a reason, or the energy, to do things you once regarded as so ordinary you did them without thinking, is tough. Especially when you feel alone. 
Is this you? 
Online counseling can offer the support you need.
Despite what well-meaning friends or family might tell you there are no "right" ways to grieve. And neither are there "right" stages which everyone must pass through in a "right" sequence.
When you meet with an online grief counselor you will be understood, and carefully guided towards finding a way forward.
Just fill out the online questionnaire and within minutes you will be assigned the professional grief counselor most suitable for your needs. You don't even have to use your own name if you don't want to.
You'll pay an affordable fee set according to the length of the subscription plan you choose.
Access your counselor whenever you want via chat, messaging, video or phone.
Or find out more about

how online grief counseling works

.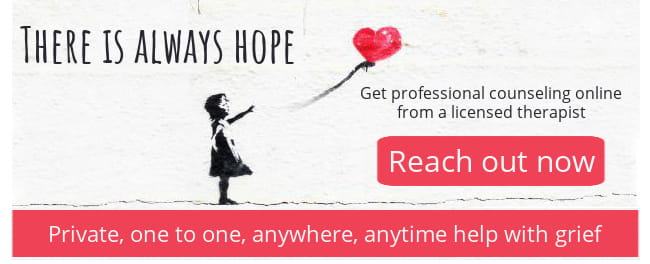 * Read independent BetterHelp customer reviews on TrustPilot.